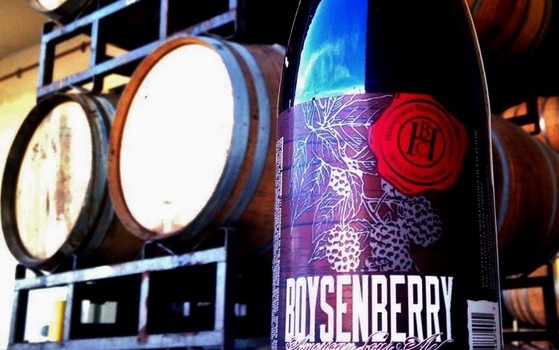 San Jose's Hermitage Brewing Company (HBC) hosts a special, holiday seasonal release party set for later today, Dec. 17, from 4-8pm at their Tap Room (1627 S. 7th St.).
The release party features the next two offerings from their barrel-aging program – Boysenberry Sour and Barrel-Aged Hermit, both on tap and available in bottles.
Those tasting the Boysenberry Sour will in fact be trying an ale that has taken over two years to make. The Barrel-Aged Hermit represents the Ale of the Hermit aged in American Oak barrels.
"We are really excited for numbers two and three in our barrel-aging program to hit the shelves," says Director of Marketing Carolyn Hopkins-Vasquez. Their first barrel-aged release was last year's successful winter seasonal release Ryetopia, a rye barley wine ale aged for about a year in whiskey barrels.
Due to the limited nature of these offerings, there will be a limit of one case of each per customer. Anyone who purchases a bottle of one of these new releases will be entered to win a brand new HBC logo'd stainless steel growler.
Sweet Dragon is bringing peanut brittle infused with Maltopia Scotch Ale and Ale of the 2Tun Imperial Stout to sample and purchase, and Paddy Wagon Sliders will be parked in front of the Tap Room, selling sliders, tots and fries.
Below is a sneak peek to the very interesting beer and tasting notes, courtesy of Hermitage Brewing Company and Head Brewer Greg Filippi.
Barrel-Aged Hermit:
The inspiration for the Ale of the Hermit recipe was a beer originally made popular in the late-19th and early 20th-centuries, and seen by many beer geeks as one of the driving forces behind the modern American craft beer movement. The original brewery had two versions of their pale brew: the regular offering available to the general public, and another that was aged in wooden barrels for 10-20 years (yes, years!) and only given as gifts to friends of the brewery around the holidays. Barrel-Aged Hermit Ale is the culmination of our homage to that original vision. A smooth-sipping pale ale, bursting with both barrel and hop complexity.
Boysenberry Sour:
Boysenberry Sour is the very first sour project that we put together for ourselves here at Hermitage, way back in July of 2012. The base beer was actually fermented in the wood, so the beer spent its entire life inside California wine barrels. After a long, slow aging process of about two years we added hundreds of pounds of Boysenberries to the barrels and let the fruit deliciousness meld with the delicate wine-like character of the beer. The end result is a complex-yet-drinkable, pleasantly tart, fruit-forward beer that develops on the palate with every sip. Sour beer the Hermit way.
[This post was shared on Examiner.com.]