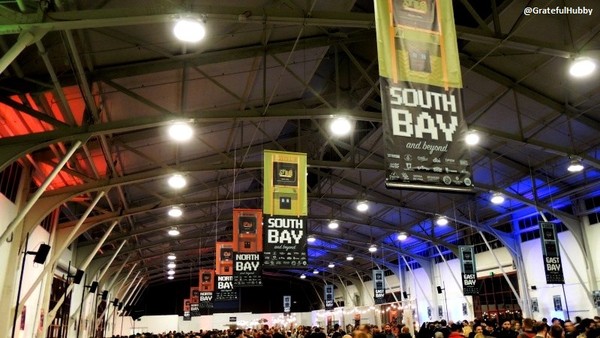 Let us get right to it. SF Beer Week runs through Sun., Feb. 15, and as the opening weekend comes to a close, below is a list of some of the standout, predominantly South Bay-centric events scheduled from Monday through Wednesday.
Note: Some of the events will likely be crowded and have long lines. Some of them will require tickets to be purchased ahead of time. Visit the SF Beer Week website for the complete schedule of events.
MONDAY, FEB. 9
Mission Creek Brewing Company, 777 The Alameda, San Jose: Lagunitas Huge Tap Takeover and SF Beer Week Fusion Beer Release Party, 4:20-11pm. It is a CouchTrippin' party as Lagunitas takes over all 19 taps with a special cask release of SF Beer Week Fusion. Replete with food pop-ups.
Good Karma Artisan Ales & Café, 37 S. First St., San Jose: To Feel Dank & Rustic After a Good Meal, 6-11:30pm. Good Karma is proud to showcase a number of offerings from Sante Adairius and Cellarmaker, including, among others, Saison Bernice, West Ashley, Christopher Riwaka, Bangerang and their collaboration beer I See a Dankness.
The Table, 1110 Willow St., San Jose: Brewmaster Dinner: David Walker of Firestone Walker, 6-9pm. David Walker, co-founder of Firestone Walker Brewing Company, hosts a 4-course tasting menu featuring Pivo Pilsner, Opal Dry-Hopped Saison, Wookey Jack Unfiltered Black Rye IPA, Velvet Merlin Oatmeal Stout and Lil' Opal Barrel-Aged Saison. Seating is limited and by reservation only. $75 (excluding tax & gratuity).
TUESDAY, FEB. 10
Brew Hub (inside Whole Foods Market Cupertino), 20955 Stevens Creek Blvd.: Faction Brewing Take Over, 11am-10pm. An all-day tap event with 5 rotating taps from Alameda-based brewery Faction Brewing open to close.
Steins Beer Garden & Restaurant, 895 Villa St., Mountain View: Tap It Event, 5-9pm. Steins hosts San Luis Obispo's Tap It Brewing Company with a lineup of their IPA, 3 on the Tree Triple IPA, Rimfire Red, a specialty cask beer plus their new pilsner.
Harry's Hofbrau Redwood City, 1909 El Camino Real: Hangar 24 Takeover with Pugachev's Cobra!, 5-11pm. Hangar 24 will be bring special beers, including their 19% ABV beer Pugachev's Cobra.
Fibbar Magees, 156 S. Murphy Ave., Sunnyvale: Trivia Night with Karl Strauss. It is trivia night and Karl Strauss Day with the opportunity to meet the owner Chris Cramer! There will be special kegs as well as a Karl Strauss question round for prizes.
O'Malley's Sports Pub & Grub, 2135 Old Middlefield Way, Mountain View: Heretic Tap Takeover Night, 5-11:30pm. O'Malley's will present a whole roster of Heretic beers, including Evil Cousin, Evil Twin, Chocolate Porter, Petite Rouge, Tafelbully, Shallow Grave, Torment and Evil Bee. Beer flights will be available.
Good Karma Artisan Ales & Café (37 S. 1st. St., San Jose) and Original Gravity Public House (66 S. 1st. St., San Jose). Almanac Sour Pub Crawl, approx. 5-11pm. Join Good Karma, Original Gravity and ISO: Beers (75 E. Santa Clara St.) for a downtown San Jose beer crawl featuring Almanac Beer Company. Good Karma will pour Devil's Advocate, Cerise Sour Blonde and Dogpatch Strawberry. OG is set to pour Farmer's Reserve: Pluot, Farmer's Reserve: Citrus and Farmer's Reserve: Blueberry, while ISO will pour Valley of the Heart's Delight, Farmer's Reserve: Blackberry and Dogpatch Sour. Each stop is offering 3-oz. individual samples as well as flights of all three for $3 and $9, respectively.
Kukar's House of Pizza, 257 S. Almaden Ave., San Jose. Tahoe Mountain Brewing Company Tap Takeover, 6-11pm. Enjoy offerings from Tahoe Mountain Brewing, including Passion Pale Ale, Hop Song IPA (Amarillo Dry-Hopped), Party Boy Farmhouse Style IPA (fermented entirely with a Brettanomyces), Viejo Rojo American Wild Ale and Ms. Coco and Delicate Oatsters Oatmeal Stout.
WEDNESDAY, FEB. 11
Wicked Chicken, 2565 The Alameda, Santa Clara: Altamont Beer Works, 11am-11pm. Wicked Chicken routinely features South Bay and nearby local breweries. Up next will be Livermore's Altamont Beer Works.
Rose & Crown Pub, 547 Emerson St., Palo Ato: Pliny the Younger/IPA Day, 11:30am-11:30pm. Rose & Crown has been celebrating SF Beer Week longer than most local establishments. They host their 6th annual Pliny the Younger event, which will also feature IPAs from Russian River, Palo Alto Brewing, Drake's, Auburn Alehouse, Bear Republic, Faction and others. Follow them on Twitter (@PaloAloBrewing) for additional information.
O'Flaherty's Irish Pub, 25 N. San Pedro St., San Jose: Stone Cold Trivia Night, 6-11:30pm. Trivia Night will consist of 12 Stone beers on tap and 12 beer-centric trivia questions. Beers on tap will include: Arrogant Bastard Ale, Stone IPA, Stone Pale Ale, Stone Delicious IPA, Passion Project, Baird/Ishii/Stone Japanese Green Tea IPA, Enjoy by 2.14.15, 2013 Barrel Aged Old Guardian Barley Wine, 10 Barrel/Blue Jacket/Stone Suede Imperial Porter, Bang Bang and 2016 Double Bastard Ale.
Original Gravity Public House, 66 S. 1st St. California Craft Throw Down and Blind Double IPA Contest!, 6-10:30pm. Original Gravity will host a contest to determine which of the 11 participating breweries will be voted to having the best Double IPA. Doors open at 6pm. The contest begins at 7:30pm, and results will be announced at 9pm. Tickets are $30 and available online, and include one full draft beer of your choice and bar snacks, including house-made BBQ meat balls, baked panko mac and cheese and duck fat blanched green beans with bacon and roasted garlic. Additional beers and food can be purchased at the bar.
Brewery representatives will bring brewery swag, including glassware and other beer-related packages. In addition to the Double IPAs, most breweries will bring two other offerings: one core beer and one specialty or seasonal offering.
Greg Robles (Owner), Altamont Beer Works, Livermore
– Hella Lite
– Hella Revolutionary (Beer Revolution Anniversary Collab.)
John Gillooly (BrewMaster), Drake's, San Leandro
– Dry Stout (Nitro)
– Hopocalypse (Green Label)
– Special TBA
Steve Donohue (Owner/BrewMaster), Santa Clara Valley Brewing, San Jose
– Electric Tower
– Heart's Delight
Antoine Riffis (Senior Sales Manager), Firestone Walker, Paso Robles
– Pivo Pils
– Double DBA (2014)
Jamil Zainasheff (Owner/BrewMaster), Heretic Brewing, Fairfield
– Evil3
– Evil Bee
Kim Lutz (BrewMaster), St. Archer, San Diego
– White Ale
– Coffee Brown
David Johnson (Director of Distribution), Port Brewing, San Diego
– Shark Attack
– Barrel Aged Santa's Little Helper (2014)
Gordon Brown (Brewery Rep.), Coronado Brewing, Coronado,
– Orange Ave Wit
– German Chocolate Cake
Jeb Taylor (Pilot Brewer), Knee Deep, Auburn
– Citra Pale Ale
– Hella Deep (Altamont Collab)
Aaron Justus (Brewing Manager), Ballast Point, San Diego
– Grunion
– Sculpin (Nitro)
Jeremy Marshall (BrewMaster), Lagunitas, Petaluma
– Day Time
– Fusion 27
– Special TBA
Week-Long Specials
Little Wine Counter, 1875 S. Bascom Ave., Suite 560: Little Local Beer Contest. Little Wine Counter has teamed with South Bay breweries Santa Clara Valley Brewing, Strike and Hermitage to provide opportunities to win prizes by earning points. Visit the contest website for the details.
SmokeEaters Cupertino, 10650 S. De Anza Blvd.: 36 IPA Tap Takeover. On tap all week will be IPAs of the single, double, triple and quad varieties, including Altamont Scarcity (Triple), Knee Deep Hop-De-Ranged, (Quad), Ballast Point Grapefruit Sculpin, Ballast Point Sculpin Nitro, Drake's Hopocalypse, Lagunitas Fusion 27, Altamont Hella Deep and Stone Delicious IPA.
Mixx, 420 Castro St., Mountain View: Mixxing with Firestone: 4 Course Pairing Menu. Chef Joel Whitaker will prepare four courses to pair with four of Firestone Walker beers, including Pale 31 baby crab cake with Pale 31, butter lettuce wedge with mustard vinaigrette with Double Barrel Ale, salmon with Thai curry with Union Jack IPA and a scoop of housemade Wookie Jack sorbet with spiced cake bite with Wookie Jack. $40.
Half Moon Bay Brewing Company, 390 Capistrano Rd.: Beer and Dessert Pairing. Each dessert bite created by chef Gaston Alfaro has been paired with one of brewmaster James Costa's seasonal beers (4-oz.), including Mavericks gingersnap mascarpone tart paired with Brown Ale, mini bleu cheese cheesecake with candied bacon and a maple bourbon reduction paired with Double Bore IPA, spiced poached pears paired with PaPa Juice Barleywine and beeramisu paired with Calf-eine Coffee Milk Stout. $20.
[This post was shared on Examiner.com.]