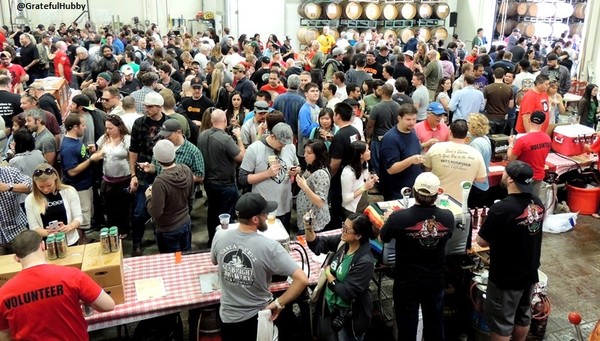 SF Beer Week rages on, though it is more than half way over. Below is a list of some of the standout, predominantly South Bay-centric events remaining on the schedule.
Note: Some of the events will likely be crowded and have long lines. Some of them will require tickets to be purchased ahead of time. Visit the SF Beer Week website for the complete schedule of events.
THURSDAY, FEB. 12
Brew Hub (Inside Whole Foods Market Cupertino), 20955 Stevens Creek Blvd.: Stone Brewing Old Guardian Barleywine 5-Year Vertical Tasting, 11am-10pm. This is an all-day event or until the beers run out.
Fibbar Magees, 156 S. Murphy Ave., Sunnyvale: Dogfish Head Night!, 5-11:30pm. The lineup includes 120 Minute IPA and World Wide Stout, among others.
Good Karma Artisan Ales & Café, 37 S. First St., San Jose: In Bugs & Barrels We Trust!, 5-11pm. Events at Good Karma are consistently special, and this event is no exception. Enjoy the well-regarded wild and barrel-aged beers from Port Brewing/Lost Abbey, including Spontaneous Cheer, Red Poppy, Cuvee de Tomme, Framboise de Amarosa, 2013 Deliverance, Angel's Share, Track 8, Track 10, Avant Gourde, Older Viscosity, Agave Maria and more.
Steins Beer Garden & Restaurant, 895 Villa St., Mountain View: Schubros Brewery Night & Meet the Brewer, 5-9pm. Schubros has prepared two special beers for SF Beer Week: Kirov Russian Imperial Stout, aged for 7-8 months in cab barrels and Aalbeke Golden Ale, aged in cab barrels since May. Steins will also feature Dante's Door Belgian Dubbel, Rock City Amber Ale and Branch Line Double IPA.
Harry's Hofbrau San Jose, 390 Saratoga Ave.: Firestone XVIII Deconstructed, 5-11pm. A marquee event, Brewmaster Matt Brynildson will, once again, be on hand to present a seminar on brewing and barrel aging. On tap will be Helldorado, Bravo, Stickee Money 2014, XVIII Anniversary, Parabola 2014, Sucaba 2015, Velvet Merkin 2014, Double DBA 2014 and Agrestic, as well as Double Jack, Union Jack, Pivo, Pale 31 and more.
Market Beer Company, 100 N. Almaden Ave., San Jose: Karl Strauss Brewing. Expect Mosaic Session Ale, Red Trolley, Big Barrel Double IPA, Queen of Tarts and more.
O'Flaherty's Irish Pub, 25 N. San Pedro St., San Jose: For FIRK Sake, 6pm-11:30pm. It is no surprise that O'Flaherty's has come up with another exciting beer event. Featured firkin casks include Stone Ruination with Dried Cranberries and Apple Blossoms, Sierra Nevada Scotch Ale, Knee Deep Hella Deep Wheat IPA, Strike Wit Firkin with Orange Peel, Coriander and Chamomile, Drake's Oaked Denogginizer and Firestone Walker Double DBA. Tickets are $50 and can be purchased online. Tickets include unlimited pours and all-you-can eat from the evening's menu.
FRIDAY, FEB. 13
Mission Creek Brewing Company, 777 The Alameda, San Jose: Mission Creek's Imperial Porter & Chocolate Pairing Party, 11am-10pm. Enjoy a special flight chocolates and craft beers, including a house-brewed Mission Creek Imperial Porter.
Harry's Hofbrau San Jose, 390 Saratoga Ave.: Deschutes Abyss Vertical and Barrel Aged Madness, 5-11pm. Just as the event title indicates.
Harry's Hofbrau Redwood City, 1909 El Camino Real: A Taste of San Francisco, the Breweries of the SF Brewers Guild Takeover! All 28 taps will be dedicated to SF Breweries 21st Amendment, Almanac, Magnolia, Fort Point, Triple Voodoo, Southern Pacific, Beach Chalet, Speakeasy, Social Kitchen, Southpaw, Cellarmaker and more. Plus opportunities to meet the brewers.
SATURDAY, FEB. 14
Original Gravity Public House, 66 S. 1st St., San Jose: Pucker Up! Valentine's Day Sour Fest 4.0, 12-11:30pm. OG will pour 15 domestic and international sour, tart and funky beers on tap and release some very rare and specialty bottles for purchase. Draft sours include Allagash – Golden Brett (2014), Almanac – Cerise Sour Blonde, Brouwerij Hof Ten Dormaal – Zure Van Tildonk, Bruery – Sour in the Rye (2014), De Proef – Sour Barrel #1, Drakes Brewing – Brette Davis Eyes, Firestone Walker – Agrestic (2014), Freigeist – Sauer Porter Raspberry (2013), Gueuzerie Tilquin – Oude Gueuze (Draft Version), Hermitage – Boysenberry, Lost Abbey – Framboise De Amorosa (2014), Mikkeller – SpontanSourCherry, New Belgium – La Folie (2014), Prairie Artisan Ales – Cherry Funk! and Struise – WeltKrieg (2014).
Good Karma Artisan Ales & Café, 37 S. First St., San Jose: St. Valentine's Barrel Aged Sweeties!, 5-11pm. This special barrel-aged beers event serves as a companion event to the aforementioned OG's Pucker Up!
Hermitage Brewing Company, 1627 S. 7th St., San Jose: Meet the Brewers, 1-5pm. It is the sixth year for this quintessential South Bay beer event. Hermitage has recently acquired more space at their location, which means room for additional breweries and food trucks compared to past years. There will be live music and a special SJMADE pop-up mini market. Tickets are $40 and available for purchase online. Tickets will be $45 at the door if not sold out in advance. Participating breweries include:
8 Bridges Brewing
Almanac Beer Co.
Alvarado Street Brewery
Calicraft
Campbell Brewing Company
Clandestine Brewing
Craft Artisan Ales
Drake's
Discretion Brewing
El Toro Brewing Company
Faultline Brewing
Firehouse Brewery and Grill
FreeWheel Brewing
Gordon Biersch
Hermitage Brewing Company
High Water Brewing
Peter B's Brewpub
Rabbits Foot Meadery/Red Branch Cider
Rock Bottom Campbell
Santa Clara Valley Brewing
Santa Cruz Ale Works
Seabright Brewery
Strike Brewing Company
Tied House
Uncommon Brewers
SUNDAY, FEB. 15
Rose & Crown Pub, 547 Emerson St., Palo Alto: Sour Sunday in PA (Part 2), 11:30am-11:30pm. Expect sour beers from Russian River Brewing, Bear Republic, Palo Alto Brewing, The Bruery plus many more on tap and in bottles.
Harry's Hofbrau San Jose, 390 Saratoga Ave.: Annual IPA Day!, 11am-11pm. Harry's first IPA Day back in 2012 invigorated the local beer community and helped to elevate the South Bay beer scene to newfound heights. Come experience the joys of hoppy beers as Harry's will have 31 well-regarded IPAs, DIPAs and 3XIPAs on tap.
Black label
Younger
Scarcity
Evil3
Monstrous cabal (faction/gigantic)
Notorious
Hopocalypse
Fusion 27
Night time
Stoopid
Ruination
Enjoy by (3.14)
Hop soup
Hella deep
Dub red
Elder
120 minute
Burton baton
Simtra
Hoptologist
Nitro sculpin
Pizza port poor man's IIPA
Pizza port thruster IIIPA
Double jack
Mongo (kegged a week ago)
Dank and Sticky
Idiot
Dorado
Denog
Don't act like you're not impressed (alpine/mission)
Duet
What beer events, if any, will you be sure to attend?
[This post was shared on Examiner.com.]