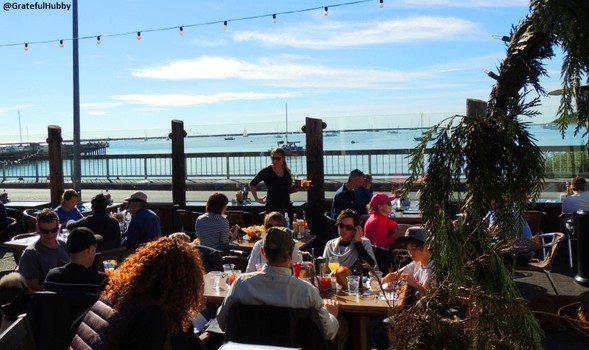 Sometimes nothing beats a visit to the coast in Half Moon Bay for the fresh air and a leisurely stroll along the shoreline. At least for my family and me. And the first stop after the quicker-than-it-seems hour drive is often at Half Moon Bay Brewing Company (390 Capistrano Rd.) to enjoy the tasty food and beers. Another visit soon to the Brewing Company seems very likely, thanks in large part to the specials taking place this month.
Beer + Grilled Cheese Pairings
In conjunction with Half Moon Bay Brewing's participation in the 9th Annual California's Artisan Cheese Festival later in the month, Chef Gaston Alfaro and Brewmaster James Costa have created a Beer + Grilled Cheese pairing menu that will change weekly in March and will include a pint of beer, the gourmet grilled cheese sandwich and a choice of a seasonal side for $20. Each week the focaccia bread will be made with a different house-brewed beer, depending on the flavor profiles of the sandwich.
Beer + Grilled Cheese Menu
March 2 – 8: Caprese Grilled Cheese
Roasted Roma tomatoes, fresh basil, buffalo mozzarella, basil pesto, baby spinach and arugula with a balsamic vinaigrette
Paired with Pillar Point Pale Ale
March 9 – 15: Linguica + Red Hawk Grilled Cheese
Seared linguica, housemade beer mustard, Cowgirl Creamery Red Hawk, sharp cheddar, baby spinach and arugula with sweet and spicy onions
Paired with IPA
March 16 – 22: Humboldt Fog Grilled Cheese
Cypress Grove Humboldt Fog goat cheese, provolone, roasted grapes, baby spinach and arugula
Paired with Not For Sale Saison
March 23 – 29: Cochinita Queso Blanco Grilled Cheese
Pork Cochinita, pepper jack, provolone, jalapeño, baby spinach, bell pepper and red onion with a honey lime vinaigrette
Paired with Amber Ale
St. Patrick's Day Specials
The Brewing Company will feature St. Ginger Irish Red Ale (5.6% ABV). This seasonal beer – which pours a deep red color and has characteristics of a heavy malt flavor, a fresh, smooth mouthfeel and a toasted dry finish – complements the St. Patrick's Day menu, which will be available from Fri., Mar. 13 to Tues., Mar. 17.
St. Patrick's Day Menu
St. Paddy's Day Salad
Avocado, applewood smoked bacon, mandarin oranges, baby mixed greens, spinach vinaigrette. $18.
Corned Beef & Cabbage
Homemade corned beef, pickled cabbage, fingerling potatoes, baby carrots and mustard sauce. $18.
Corned Beef Hash with Eggs ($13.50) will be available for breakfast on the weekend only.
There will also be live music throughout the weekend.
Brews and Views
This year marks the 6th year of Brews and Views, a monthly discussion held on the first Thursday of the month that is free and open to the public and invites members of the community to join organizers for a beer and fresh views on American politics and social issues. Brews and Views, begun in Nov. 2009, is the brainchild of HMB Brewing Company owner Lenny Mendonca, a retired senior partner of the San Francisco and Washington D.C. offices of McKinsey & Company.
This month's Brews and Views takes place March 5 at the Mavericks Event Center and features an exclusive screening of Merchants of Doubt by Participant Media, the company that has brought the ground-breaking documentaries An Inconvenient Truth, Food, Inc., Waiting for "Superman" and Citizenfour. Merchants of Doubt focuses its attention on the troubling story of a group of influential scientists who have clouded public understanding to further a political agenda.
The movie screening is complimentary, but reservations are required. Additionally, "Dinner and a Movie" tickets are available for $30 per person, which include tax and gratuity. Tickets can be purchased online, and the dinner menu is listed below.
Pasta Bar
Roasted Vegetable Pasta
Fresh seasonal vegetables marinated in garlic, balsamic vinegar and fresh herbs, tossed in homemade marinara sauce over penne pasta
Chicken Pesto Primavera
Grilled chicken breast with penne pasta and mixed seasonal vegetables in a fresh pesto sauce
Fresh Seasonal Salad Bar
Baby Mixed Greens
Organic local mixed greens with tomato, cucumber, artichoke hearts, red onions, and carrots. Choice of housemade balsamic vinaigrette or ranch dressing
Classic Caesar Salad
Fresh Romaine, asiago cheese, housemade croutons with housemade Caesar dressing
Chef's Cookie Assortment
Mavericks Brewing Releases Tunnel Vision IPA
A visit to Half Moon Bay Brewing Company also provides the opportunity to enjoy the offerings of Mavericks Brewing. Launched last June and led by CEO Steve Morgan, Mavericks Brewing is an independent craft brewery devoted to creating innovative craft beer in cans and is the official licensee of the Mavericks beer brand originated by Half Moon Bay Brewing. Consider Mavericks Brewing the sister brewery to HMB Brewing.
After product development and testing throughout 2013 with assistance from Pete Slosberg of Pete's Wicked Ale fame, Mavericks Brewing solidified its market position and focused its attention on creating exceptional canned craft beer.
Mavericks Brewing released their fourth beer earlier last month – Tunnel Vision IPA – their first non-session beer at 6.8% ABV and over 100 IBUs. The IPA is made from a combination of Columbus, Chinook and Crystal hops and is a strong, dry ale that blurs the line between a single and double IPA. "We are extremely excited to unveil the Tunnel Vision IPA in cans…" says Morgan. "It started as a special Half Moon Bay Brewing Company release to celebrate the opening of the tunnels at Devil's Slide on Highway 1. It immediately sold out, and we've had people asking for more ever since."
Mavericks Brewing takes its name from the legendary big wave surf spot which is located directly offshore from the Brewing Company. Head Brewer Shane Aldrich leads the Mavericks brewing team, with assistance from Brewmaster Costa.
South Bay folks can find Mavericks beers at the Brewing Company and a bevy of other local establishments that carry craft beer, including Cost Plus World Markets.
[This post was shared on Examiner.com.]