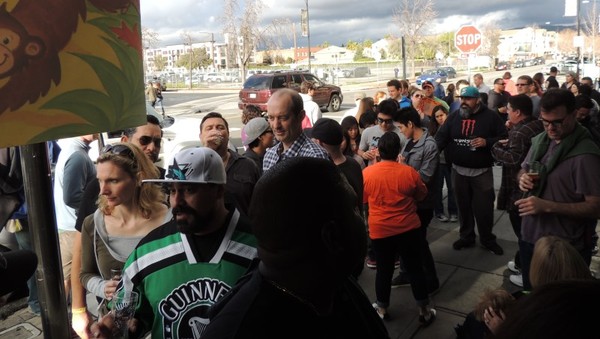 The next installment of the Beerwalk – number 15 by my count, if you can believe it! – will take place in downtown Mountain View on St. Patrick's Day, Sat., March 14, 2pm-6pm.
Participating South Bay breweries include:
Faultine
FireHouse
Gordon Biersch
Hermitage
Santa Clara Valley
Strike
Tied House
Other participating breweries include:
6 Rivers
21st Amendment
Anchor
Ballast Point
Calicraft
Hangar 24
Karl Strauss
Knee Deep
Lagunitas
Lost Coast
Sierra Nevada
Speakeasy
Stone
Tasting locations include the following downtown Mountain View businesses:
Agave Mexican Bistro
Allure Salon
Ava's Downtown Market
BierHaus
Blue Line Pizza
Book Buyers
Books Inc.
Boutique 4
Buffalo Beers + Burgers + Baos
Mtn. View General Store
Empire Vintage Clothing
Dana Street Coffee Roasters
Julie Q Salon
Mixx
Molly Magees
Orens Hummus Shop
Savvy Cellars
Studio 364
Steins Beer Garden
Therapy
Tied House Café & Brewery
Yoogl / Midtown
The Beerwalks have successfully provided an outlet for folks to come together to explore neighborhoods and local businesses while enjoying samples of a variety of beer styles. The Beerwalks also consistently highlight the members of the South Bay brewing community as well as contribute proceeds to various local organizations.
Tickets to the Mountain View Beerwalk are $30 if purchased in advance and are available online. Any remaining tickets can be purchased the day of for $35. Check-in begins at 1pm and proceeds will benefit the Mountain View Central Business Association and the Bay Brewers Guild.
For more details of this upcoming Beerwalk and to purchase tickets, visit the event website.
[This post was shared on Examiner.com.]