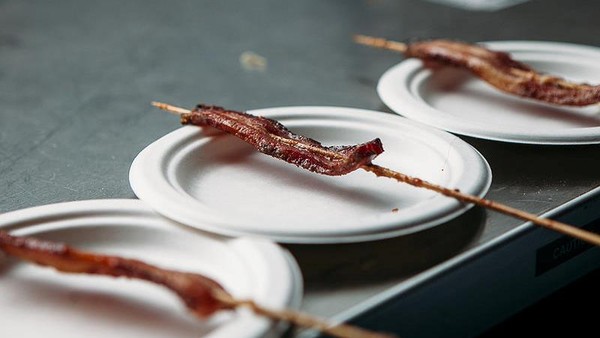 After a successful inaugural year in 2014 hosting events in New York City and Seattle and serving over 12,000 bacon and beer enthusiasts, the Bacon and Beer Classic expands to over 8 cities throughout the country this year. And the Bacon and Beer Classic will kick off this year's entire tour in San Jose on Sat., March 21 at Municipal Stadium.
Organized by Cannonball Productions, the Bacon and Beer Classic is a unique event seeking to unite bacon and beer enthusiasts nationwide as they visit baseball parks and stadiums across the states. The Bacon and Beer Classic brings in local breweries and restaurants for an event full of beer and bacon samples, accompanied by music, games, beer school and cooking demos.
"We are so excited to be bringing the Bacon and Beer Classic to California!" says Kate Levenstien, founder of Cannonball Productions and Bacon and Beer Classic. "With California being home to some of the biggest foodies and sports fans, we knew it was only fitting for us to kick off 2015 in San Jose, and we can't wait to share the bacon and beer selections we've brewed up."
Cannonball Productions marketing coordinator Sam Schaible adds, "We definitely chose San Jose as a destination because it is a growing beer area. Both the Silicon Valley and the Bay Area are developing into beer hot spots, and of course we wanted to tap into that."
A growing list of breweries have signed up to serve at least two of their offerings, including South Bay breweries:
Faultline Brewing Company
Gordon Biersch
Red Branch Cider Company
Santa Clara Valley Brewing
Strike Brewing Company
Other participating breweries include:
21st Amendment
Anchor Brewing
Ballast Point
Calicraft Brewing Co.
Common Cider Company
Discretion Brewing
Drake's Brewing
Hangar 24
High Water Brewing
Knee Deep Brewing
Lagunitas
Mendocino Brewing
Oskar Blues Brewery
Rogue
Saint Archer
Samuel Adams
Santa Cruz Aleworks
Santa Cruz Mountain Brewing
Schubros Brewery
Speakeasy Ales & Lagers
Trumer Pils
TW Pitchers' Brewing Company
Woodchuck Hard Cider
Local restaurants will be challenged to bring their most inventive and delicious bacon-inspired dishes to the plate. The current list of restaurants include:
7 Stars Bar & Grill
71 Saint Peter
Armadillo Willy's
Barefoot Coffee Roasters
Caketerest Bake Shop
CaliDog
California Café
Casa de Cobre
Cecil's Smok'n BBQ
Consuelo Mexican Bistro
Crepe Em Coming
Fattoria e Mare
Faultline
Firehouse No. 1 Gastropub
Frozen Kuhsterd
Habana Cuba
Henry's World Famous Hi-Life
Kindred Cooks
Konjoe Burgar Bar
Les Marguerites
Lilly Mae's House of Soul Food
Loteria Taco Bar
Luscious Lovelies Confections
Meathead Truck
Oak & Rye
OMi Ninja
Park Place
Pizza Party
Psycho Donuts
Spuds Potato Bar
Soulnese
Sweet Tooth Confections
The Bold Knight Steakhouse
The Lumpia Company
Willow Street Pizza
Zone 8 Sports Bar & Grill
Fans can attend the Brunch Session from 12pm-3pm or the Evening Session from 7pm-10pm. For the hearty, the option to attend both sessions is available, but separate entrance tickets are required.
General Admission tickets are $59. There is also the VIP Experience ticket for $99 – VIP guests will have one-hour early admission (11am and 6pm, respectively), access to VIP areas and other exclusive perks. Designated driver tickets are $29, and tickets for those between 5 and 20 years are $19. Children under 5 are free. For more ticket details, click here.
Judges will be on hand to sip and taste, and award winners in select categories. They include head of brewing for Gordon Biersch Brewing Company Dan Gordon, Pete Slosberg of Pete's Brewing Company and creator of Pete's Wicked Ale, Chef Keriann von Raesfeld of Exposed Gastronomy and season 12 of Top Chef, executive chef and owner Tanya Holland of Brown Sugar Kitchen and B-Side BBQ, certified cicerone and beer consultant and author of the Beer Scholar Study Guides Chris Cohen and food writer, blogger and cookbook author Amy Sherman.
For up-to-date information on the event and to purchase tickets, visit the San Jose Bacon and Beer Classic website.
[This post was shared on Examiner.com.]