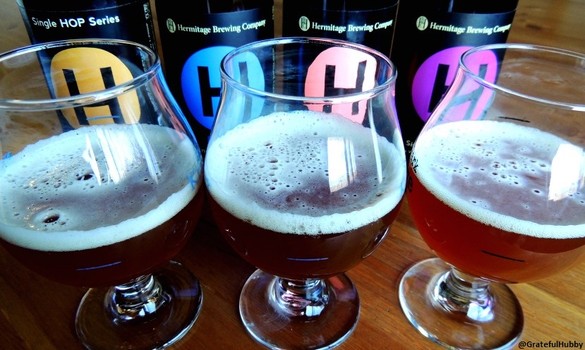 The Single Hop Series has been an ongoing, featured product line for San Jose's Hermitage Brewing Company, established in 2009. Offering up their first batch of the series in 2010, the Single Hop Series focuses on IPAs and was introduced by brewmaster Peter Licht as a means to better inform the public about hops, one of beer's main ingredients.
Each beer released in the Single Hop Series showcases one hop varietal while keeping the rest of the brewing recipe essentially the same. In this way, drinkers get a better sense of the aroma and flavor characteristics of the selected hop.
In recent years, the Citra Single Hop IPA has become a favorite for many. In fact, head brewer Greg Filippi, who celebrates his fourth anniversary with Hermitage Brewing this month, says that it was the Citra – which debuted in 2011 – that helped "put [Hermitage Brewing Company] on the map." The Citra's popularity is one of the main reasons that it is the only beer in the series currently brewed year round.
The Citra was one of four offerings from the Single Hop Series during an informal beer tasting session with some relatives several months ago. The other three beers showcased Mosaic, Galaxy, and Polaris hops. All were enjoyed from bottles.
We picked up floral and strong citrus notes in the aroma of the Citra and tasted resinous pine and citrus flavors. There was a strong level of bitterness in the beer that the hopheads among us greatly enjoyed.
The aroma of the Mosaic Single Hop IPA consisted of ripe orange and tropical fruits with flavors of orange, mango and pine. I thought the mouthfeel stood out with this one – a particularly silky texture.
The Galaxy Single Hop IPA was defined by its ripe grapefruit and orange qualities both in the aroma and flavor. There was a pleasant bitterness in the finish.
The Polaris Single Hop IPA had a unique, sweet aroma that we could not quite decipher, though I did pick up hints of butterscotch. Flavors included ripe citrus and pine.
The tasting of these Single Hop Series beers was a fun, tasty and educational experience, and the differences in our favorites reflected the diversity of our tastes and preferences.
For me, it seems like each new Single Hop IPA quickly becomes a personal favorite. Case in point: the latest release, experimental hop 07270 – which I tried at the recent Beerwalk in downtown Mountain View – is dank with grapefruit undertones and bitter goodness. Just delicious.
Currently, you will find a number of different Single Hop Series beers as well as other Hermitage Brewing offerings at many of the local stores that carry craft beer. You can also enjoy the latest offerings directly at the source – the Hermitage Brewing Company Tap Room (1627 S. 7th St.), which recently expanded their hours to include Sunday afternoons.
Tasting Room Hours
Wed: 4pm – 9pm
Thu: 4pm – 9pm
Fri: 4pm – 9pm
Sat: 1pm – 6pm
Sun: 1pm – 6pm
[This post was shared on Examiner.com.]