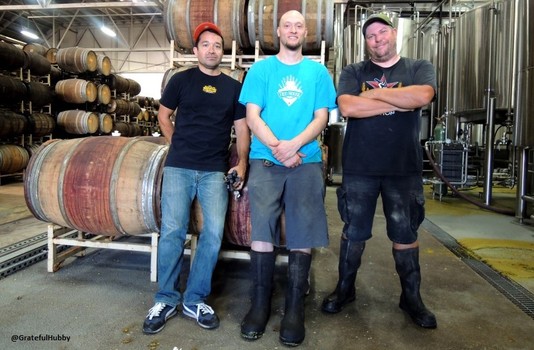 The latest project to come out of San Jose's Hermitage Brewing Company promises to be a special one, and fans of imperial stouts – and barrel-aged stouts in particular – should be especially pleased.
On Wed., March 25, Hermitage will unveil Single Bourbon Barrel Aged 2 Tun Imperial Stout. Head brewer Greg Filippi put their regular Ale of the 2 Tun in a single Kentucky bourbon barrel close to three years ago, and the beer has now been deemed ready for release. Availability of the Single Bourbon Barrel Aged 2 Tun will be limited as the one bourbon barrel produced a total of just eight five-gallon kegs.
The beer will be available draft only at the Hermitage Brewing Company Tap Room (1627 S. 7th St.) and sister company Tied House in Mountain View (954 Villa St.).
Tapping at the Hermitage Tap Room takes place at 4pm. Hermitage will host Brother Baby's BBQ until the closing at 9pm.
Tapping at Tied House is set for 11:30am. To pair with the beer, Tied House will feature a new menu item – Paulet Bon Femme: Mary's free-range chicken, pearl onions, house-smoked bacon, smashed potatoes and sauce veloute ($18.95).
Brewer's Notes
The descriptive brewer's notes from Hermitage Brewing's head brewer Greg Filippi offer a peek into the characteristics of Single Bourbon Barrel Aged 2 Tun (ABV: 8%):
"This beer began as a small side project back in the summer of 2012. We took a batch of our 2-Tun Imperial Stout and racked it into a freshly-dumped bourbon barrel, straight from Kentucky. Then we tucked it away in a cozy corner of our barrel cellar and forgot about it. Two-and-a-half years later, the result is a F**KING AWESOME big, bold beer, absolutely dripping in sweet bourbon deliciousness.
"The whiskey character is strong up front and dominates the aroma, but beneath it lie the familiar chocolate and espresso notes of the stout. Whiskey shines through again as the beer crosses the palate, but quickly gives way to smooth, silky chocolate. That chocolate lingers in the finish, dancing with the sweet bourbon in perfect form, the way only years together can produce."
Hermitage Brewing Company's Continuing Rise
Ever since getting hired by founding brewmaster Peter Licht at Hermitage Brewing Company in 2011 (Hermitage itself was established in 2009), Filippi – who is as humble as they come – has done much to elevate the brewery's reputation thanks to his ingenuity, work ethic and diligence.
The Hermitage brewing team has been very busy as of late expertly executing the recipes on behalf of a bevy of brewery clients. Yet, it is great to see Hermitage Brewing Company continue the commitment to creating their own unique beers.
Head Brewer Greg Filippi
This month marks Filippi's four-year anniversary at Hermitage. I reached out to him to learn how the ride has been these past years.
Filippi shared, "The ride at Hermitage has been crazy. We have grown pretty fast in the past few years. Dealing with all of the different clients and being able to share ideas back and forth has been an incredible learning experience. And our shared successes have enabled us to get some really cool new toys… I mean equipment.
"The brewery is at full capacity all of the time, and we're working every day. I have three full-time shift brewers, Larry Hoang, Brandi Ivy, and Grant Goodman. Jim Turturici is going to be joining our team part-time as he works on getting his own endeavor up and running. Then there are all of the other support personnel: an awesome lab, new sales team, our warehouse and packaging staff, and all of the taproom guys and gals. It seems like there's always someone new. It's almost surreal sometimes, and we have definitely experienced a few growing pains. But really, it's just a lot of fun."
Filippi also shared a bit of what to expect in the coming months. "This year is going to be great. We have an awesome lineup of single hop IPAs – both exciting new varieties and revisiting a couple of our favorites. We have several new seasonals coming out this summer. And we will be doing our fall favorites Fruit Crate Pumpkin Ale and Ryetopia. Should be good drinking all year!"
I was curious to know if the barrel-aged 2 Tun was Filippi's favorite release to date. He said, "I am very stoked about the way this beer turned out and can't wait to share it with everyone. I'm proud of a lot of the projects we've worked on for different reasons; you know you can't pick a favorite child. But I do think this one is really something special. So far the reaction of everyone who has gotten to try it has just been, "Wow!" I think [my] notes pretty much cover it. It is definitely a warmer though. The first sip just puts a smile on your face."
[This post was shared on Examiner.com.]