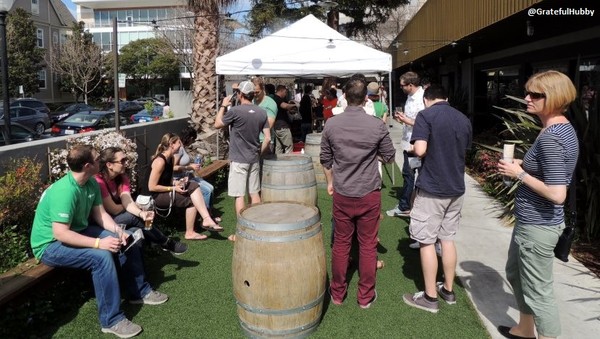 Local beer aficionado Ted Kim and his team opened Steins Beer Garden & Restaurant in downtown Mountain View (895 Villa St.) two years ago. To commemorate their second anniversary, Steins will throw a celebration on Sat., March 28 from 12-7pm that features BBQ, live music and a beer competition.
Executive chef Colby M. Reade will be roasting a whole pig in the outdoor beer garden, as well as grilling vegetables, BBQ chicken, house-made sausages and ribs. Guests can enjoy a tasty meal for $5 per protein with house-made coleslaw, assorted house-made pickles and an assortment of sauces.
The celebration also features five live bands from 12-5pm and specialty beer kegs, such as North Coast Old Stock Ale Cellar Reserve 2013, Allagash Special Hoppy Blonde and Almanac Valley of the Heart's Delight.
Judging will begin at 5pm for Steins' inaugural homebrew competition. The contest is a legitimate one – it is a BJCP (Beer Judge Certification Program) sanctioned event. One entrant will win a contract with a local nanobrewery and have their beer sold on tap at Steins. All the proceeds will go to the charity of the winner's choice.
Steins owner Ted Kim was gracious in taking time recently to share his thoughts on reaching the two-year milestone and provide additional details about the upcoming celebration.
Congrats on the two-year mark! How do you feel about it?
Enormously grateful and thrilled that we've made it two successful years. The endeavor has been a large one, but I feel that I've accomplished what I set out to do, and it's been extremely fulfilling.
What have you learned in the past two years that was surprising or unexpected?
The beer universe is so much larger than I ever expected! I've met super talented brewers and very passionate beer lovers during my time here, and I'm still amazed at how beer is able to impart a deep sense of joy and community among people.
Anything super special we can look forward to?
I'm excited about all the fun projects we have in the works. In addition to a ton of seasonal beer events, the home brew competition is something we hope will become a big success and turn into an annual event.
We've also been scouring the beer-scape acquiring "ageable" beers that we plan to cellar for up to 20 years! We've received awkward glances when we've asked about ageable beers from our reps. Apparently, this sort of thing hasn't been done before. All the more reason to give it a try!
Every five years we'll tap several and share with our customers. Really excited to see how these beers age and what they'll taste like!
How did the idea of the Steins homebrew competition come about? Have you gotten a good number of applicants?
We've always tinkered with the idea of hosting a home brew competition. We regularly meet so many home brewers, and eventually it just made sense. Once announced, the competition filled up really quickly. We hit capacity a few weeks after announcing the competition.
There is a great sense of community when talking to home brewers. Folks are proud of the rich beer cultured being formed in the Bay and excited to partake in it.
For our competition, we will be producing the winner's beer at a local nano-brewery and serving at Steins with all proceeds being donated to a charity of the winner's choosing. We hope the competition spurs greater interest in home brewing!
What special beers will we see on tap on Saturday?
Still working on a couple great specialty kegs, but here is what we have for sure so far:
Allagash Bourbon Barrel Black
Allagash Special Hoppy Blonde
Almanac Valley of the Heart's Delight
Almanac Farmers Reserve Strawberry
Lost Abbey Angel's Share Barrel Aged Grand Cru
The Bruery Melange #3
Hangar 24 Pugachev's Cobra
North Coast Old Stock Cellar Reserve 2013
Palo Alto Brewing Barrel Aged Cuvee
Palo Alto Brewing Barrel Aged Sour Porter
Speakeasy Joe's Ale of Strength
Anything else you'd like to mention?
Mountain View has been especially good to us. We really could not have come as far as we have without all the great locals in the area and regulars who come through our doors. Big thanks to everyone who has helped us reach two amazing years!
WHAT: Steins Two-Year Anniversary Celebration
WHEN: Saturday March 28, 2015 beginning at noon
Food | 12:00 p.m. until it runs out
Live music | 12 – 5:00 p.m.
Beer judging | 5 – 8:00 p.m.
WHERE: Steins Beer Garden & Restaurant, 895 Villa Street Mountain View, CA 94041
[This post was shared on Examiner.com.]