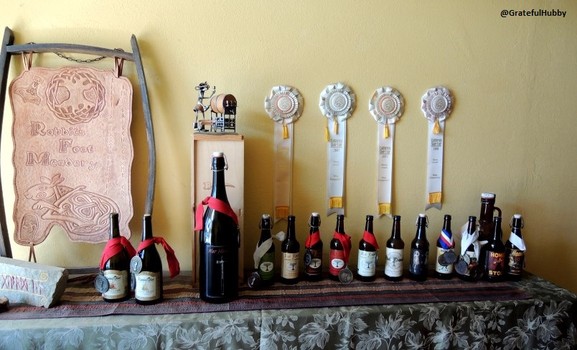 The second annual Bay Area Cider Summit will take place on Sat., April 25 from 12-6pm at the Civil War Parade Ground in San Francisco's Presidio. The cider festival will feature over 150 ciders from over 45 cider companies.
"Consumer interest in artisanal cider is growing at a phenomenal rate, and we look forward to providing the region's largest-ever tasting opportunity for both cider lovers and the cider curious," shared event co-founder Alan Shapiro of SBS Imports from an earlier media release.
Indeed, all signs point to a rapidly growing local interest in ciders. Case in point: On a recent visit to the Rabbit's Foot Meadery tasting room in Sunnyvale (also home to sister company Red Branch Cider Company) at 1246 Birchwood Drive, a lively and friendly crowd had already formed. The service was excellent and the good vibes especially impressive given the visit occurred in the early afternoon on a weekday.
The popularity of their offerings – a variety of meads (honey wines), dessert mead, ciders (or "cysers" – cider fermented with honey – to be exact) and braggots (honey ale) – are at all-time highs, thanks in large part to the artisanship of Mike Faul, who first created commercial versions of historical mead recipes back in 1995. As well, meads and ciders are nice options for those who cannot handle gluten, as meads and ciders are naturally gluten free.
And many of the Rabbit's Foot Meadery and Red Branch Cider offerings have garnered widespread acclaim, winning multiple awards, including four medals – one gold, one silver and two bronze – at last month's prestigious Mazer Cup, the world's largest mead competition held annually in Colorado. The medals represent a three-medal sweep in the Braggot style category for Honey Stout (gold), Bier de Miel Kolsch (silver) and Diabhal Belgian Style Golden Ale (bronze), and a bronze in the Varietal – Sweet style category for dessert mead Melia.
The appearances of founders Mike and Maria Faul and their daughter Siobhan on a CBS This Morning segment that focused on meads in Nov. 2013 also helped to raise their profile and increase demand for their products.
Red Branch Cider is scheduled to pour their Johnny Jump-Up Dry-Hopped Apple Cider and Black Cherry Hard Cider at the upcoming Cider Summit SF. Other highlights for this year's cider fest include:
More than 20 California cideries stretching from San Luis Obispo to Eureka
Ciders from at least a dozen other states and seven other countries
Variety of fresh-pressed apple juice tastings
Apple bowling courtesy of presenting sponsor Whole Foods Market
Many of the owners and cider makers are scheduled to be on hand throughout the tastings, where ciders will be available in four-ounce pours. The event will also feature specially selected food pairings from Whole Foods, Slow Hand BBQ and others, and Wag Hotel/Berkeley Humane Dog Lounge.
Tickets are $35 in advance and $40 (cash only, if tickets remain) at the door and include a souvenir tasting glass and 10 tasting tickets. Additional tasting tickets will be available for sale onsite at $2 per ticket. Designated driver tickets are available for $5 and include a bottle of water. There is no charge for accompanied minors.
Cider Summit SF will benefit The Institute for Myeloma & Bone Cancer Research, Berkeley Humane and the California Cider Association.
For more information, including the full lineup of cider makers and ciders and to purchase tickets, visit the event website cidersummit.com.
[This post was shared on Examiner.com.]