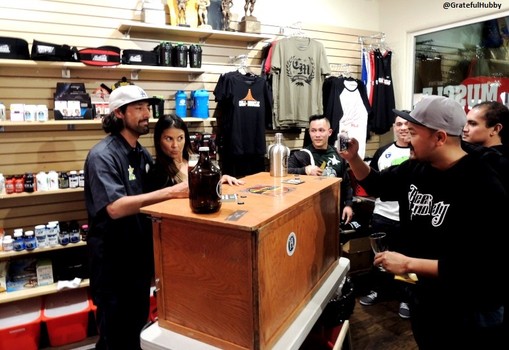 The folks of Beer Snobiety – short for Beer Snob Society – have spent the past year enthusiastically supporting the local beer scene in San Jose in the most non-snobbish way, and their branded products featuring glassware, tees and hoodies are becoming a familiar sight throughout the South Bay and beyond.
They are actively engaged on social media – Instagram in particular – and those fortunate enough to catch them at a local beer event are treated to complimentary swag, assuming they have not run out.
On Sat., June 27 from 4-8pm, Beer Snobiety will celebrate their one-year anniversary at Mission Creek Brewing Company located at the Whole Foods Market in San Jose on The Alameda (777 The Alameda, to be exact).
The celebration features:
The newest line of Beer Snobiety products and special event pricing on their most popular items
A canned food drive to benefit the nonprofit Loaves and Fishes
Craft beers, oyster bar and burgers in the breezeway underneath the brewpub
Happy hour prices on all draft beer ($1 off) at Mission Creek Brewing
Raffle prize winners announced every hour
Raffle tickets will be given out for every beer purchase and for every can or non-perishable food item brought to the event. Raffle prizes will come from local beer-centric establishments that have contributed gift certificates, bottles and other swag. For the latest updates on raffle prizes, check the Beer Snobiety Instagram account.
Q & A with Beer Snobiety co-founder
The five 30-something founders of Beer Snobiety have known each other since their high school days. All have day jobs, and each has taken on a particular role with regards to their labor of love. The founders are Joe Nguyen (social media), TJ Dinh (marketing), Jay Perera (logistics), Glen Canlas (designer) and Herb Real (photographer).
Joe recently took the time to share more about the creation of Beer Snobiety and the people behind this good-natured group.
What is Beer Snobiety?
Beer Snobiety has evolved from a logo on a tulip glass into a nationwide community of craft beer enthusiasts. It started as a way for a small group of friends to become involved in the local beer movement without actually brewing the beer.
And slowly over time, it has become less about the products we sell, and more about the new relationships we have built with people near and far, new and old. We have reconnected with old friends and have established new relationships with people as far away as Australia who we hope to someday share a glass with.
How did the name Beer Snobiety come about?
We wanted a name that people in the craft beer community could relate to. We value the commitment, passion, and the craftsmanship involved in the beer that we drink. There's nothing wrong with wanting to drink great beer in the company of awesome people, because it's the people that makes beer more than a drink, but rather an experience.
In that sense, we are glad to consider ourselves a society of beer snobs without the highbrow attitude.
Who are the folks behind Beer Snobiety? Are you all friends from back in the day? What are your ties to the South Bay?
Beer Snobiety was founded by 5 of us who have all been friends since high school, some since grade school. We are locally based in San Jose and all of us grew up in the South Bay Area. We all have day jobs with different backgrounds. We've always kept in touch, but as we got older life happened as it normally does.
Before Beer Snobiety was created, we would meet at each other's houses and have bottle shares or go to local spots like Antipasto's or Good Karma for some good brews. For us, it was a natural transition to evolve from what we enjoy as a hobby into a company.
How did you discover craft beer? How long have you been a beer fan?
Speaking for myself, I disliked beer in early adulthood. It was disgusting. It lacked flavor, and it took like 10 bottles to get a buzz. Little did I know that there was a world of great tasting craft beers out there! It wasn't until I went to a restaurant and tried a flight of beers. My taste buds jumped for joy for an IPA we all know and love, Bear Republic's Racer 5. For the first time, this beer had complexity, flavor and depth. After that, I would go to Whole Foods or Cask'n Flask and find the gnarliest bomber I could find and drink all the IPAs and DIPAs out there!
Like many people, easy-drinking, great-tasting gateway craft beers from the likes of Lagunitas and Bear Republic quickly got us hooked. We all kind of discovered the craft scene separately on our own over the last 4+ years, and it's really what brought us all back together.
What do you think about the local San Jose/South Bay beer scene?
What we love most about the San Jose scene is how energetic and generous people in the craft beer community have become. There has been so much growth and enthusiasm; we simply love it. Events like SF Beer Week, BeerWalk and Silicon Valley Beer Week have made it easier for people to discover and expand their palettes for beers in ways they never could have imagined.
Congrats on the 1-year anniversary! How does it feel to reach this milestone? Any surprises or highlights?
We are truly blessed to receive such a positive welcome into the community. We are passionate about what we do and will continue to highlight and represent the local craft beer scene.
We'll strive to continue creating new and original products and designs so that people can identify themselves and others as craft beer enthusiasts.
The biggest surprise in our first year really is the social aspect of everything. We love getting out to talk and socialize with people in the community and connecting with local business for events and collaborations. We are strong believers in supporting small, independent and local businesses.
Anything you'd like to add about the anniversary event?
We'd like to remind everyone that this is also a canned food drive. Please help give back to the community and receive a raffle ticket for each can of food brought.
We have teamed up with many local businesses that have generously donated some amazing raffle prizes! Also, Mission Creek Brewery will be offering happy hour prices during the event – $1 off all tap brews.
We would like to thank the wonderful people of SmokeEaters, Good Karma, ISO Beers, Spread, The Wine Club, AntiPasto's, Cask'n Flask, Fermentation Solutions, Bibo's NY Pizza, and last but not least Whole Foods Market San Jose for believing in us and supporting our cause.
[This post was shared on Examiner.com.]