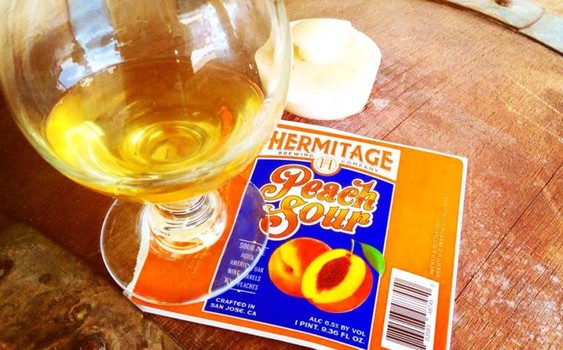 Officially a part of the Silicon Valley Beer Week festival of events, Hermitage Brewing Company is all set for their Peach Sour release party on Thurs., July 30 beginning at 4pm at their Tap Room (1627 S. 7th St.).
Peach Sour will be available on tap and in 750 ml. bottles (limit of two bottles per person) with Mediterranean fare from Brothers Gow Chow, who will be debuting their new appetizer, Hermitage beer-battered onion rings with tzatziki sauce.
Head brewer Greg Filippi shared his descriptive beer and tasting notes with me earlier today.
Filippi stated, "Peach Sour spent about two years in a blen­d of American red and white wine barrels­ before we added the peach in the spring­ of 2015. We then added about 1000 poun­ds of fresh peach puree and let that inf­use for another four months."
He continued, "The beer pours a hazy golden color with ­orange-copper hues. The aroma of sweet ­summer Peach greets you strongly as you ­take the first sip, mingling with the ea­rthy funk that one would expect from som­ething that spent years living inside a ­barrel. The beer is not overly sour bu­t refreshingly tart. Peach lingers in t­he back of the flavor, along with a dry,­ white-grape note and plenty more barrel­ derived funkiness. The finish is smoot­h and reminiscent of a buttery chardonna­y, then fades cleanly off the palate."
On the same day, sister company Tied House in Mountain View (954 Villa St.) will be offering a special beer pairing menu available throughout the day.
Heirloom Tomato Gazpacho
Cucumber, red onion and basil oil
Santa Rosa Plum Braised Chicken
Fresh honey-roasted pattypan squash and
Baby carrots with wedge cut sweet potatoes
Blueberry Bread Pudding
Marianne's vanilla ice cream
Topped with buttered rum peaches
The cost is $42 for the three courses and a glass of Peach Sour ($30 without the beer). To make reservations, call Tied House at (650) 965-2739.
[This post was shared on Examiner.com.]