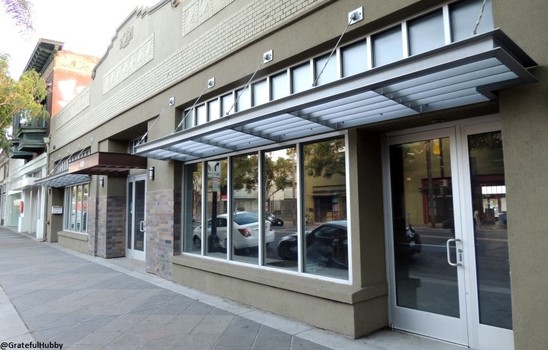 [Update 6/1/16: Co-founder Steve Vandewater has confirmed with me that local brewmaster Jim Turturici is the new head brewer for Uproar Brewing Company.]
Uproar Brewing Co. announced on Twitter early last month that construction of their brewery and taproom would start in several weeks in the SoFA District of downtown San Jose (439 S. 1st St.) to open in late winter. Since the initial announcement, Uproar has tweeted additional tidbits.
"A little fact about us: Our brewers are from Minnesota. Our Brewmaster worked at Surly Brewing, and his wife is also a professional brewer."
I was excited to see these tweets. A San Jose beer corridor has taken shape just outside of downtown San Jose with the likes of Santa Clara Valley Brewing, Hermitage Brewing Company and Strike Brewing Co. – and previously Clandestine Brewing. But I wondered, along with others, if there would ever be a new brewery in downtown San Jose. Thanks to Uproar Brewing, the time for a downtown brewery is upon us.
Mike Willaford, Uproar's brewmaster, and his wife Michele have been busy preparing their move from Minneapolis, Minnesota to San Jose. Mike generously took time out of his hectic schedule to answer questions about Uproar Brewing Co., including how Uproar came about, who the partners are, what his favorite beers were to make at well-regarded Surly Brewing, and more. I wrote a short piece on Uproar for SanJose.com last week, but the full interview is below. Note that Mike was quick to point out that his answers represented a collaborative effort from the members of Uproar, all of whom have been busy in helping to start the brewery.
Who are the folks behind Uproar Brewing Co.? Briefly share your backgrounds.
Steve Vandewater (not-so-silent partner and long-term member of the IT community): After a lifetime in information technology, Steve has finally seen the light. He grew up and went to school on the smallest of the Great Lakes. He says he has a couple of degrees but since they are from Canada, he's not certain they count. This does explain his ardent belief that hockey is the best sport in the world. He brings a long-time wine fanatics approach to beer which explains his devotion to "the nose." Moved around several states "whenever his picture showed up in the post office" but has found a home in the South Bay.
Christina Vandewater (not-so-silent partner and long-term member of the IT community): Born and raised in Indiana. Education: Computer Science (Major) / Mathematics (Minor) from Indiana University. Brewing education: Whatever Mike and Michele teach me. Lots of experience making bottles empty, none in filling bottles … yet. Spent the last 20 years doing major business transformations involving process and technology redesign in many industries; my propeller beanie hat spins faster than the rest of the team's. Hobbies: Harley-riding artist with a mini zoo.
Mike Willaford (Brewmaster): Mike is the brains behind the beer machine. Born in Oklahoma, he moved to Minnesota after moving on from touring and playing music. He has been in the beer business since 2006 and a brewer since 2008. In his career, has brewed for breweries like Surly Brewing Company, Lift Bridge Brewery, and most recently Sociable Cider Werks as Head Brewer. He believes metal is the best genre of music, that dogs that weigh under 130 lbs are small dogs, and bar-b-que is the best way to cook.
Michele Willaford (Lead Brewer): Michele was born in the Upper Peninsula of Michigan, and early in her life moved to Cambridge, Massachusetts. She began her collegiate career at Harvard University and The University of Massachusetts Boston before transferring to the University of Minnesota and finishing her bachelor in Anthropology. When she and Mike began dating she gained an interest in home brewing, which led her to a job with Northern Brewer Home Brew Supply. After years of honing her home brewing skills, she accepted a brewer position at Northbound Smokehouse and Brewpub in Minneapolis.
Dietrich Wahlstrand (Food): Dietrich, a native to San Jose, spent his youth causing a ruckus in the quiet neighborhood of Willow Glen. He attended Willow Glen High School and San Jose City College. He has spent the last 15 years pursuing his passion in catering; experimenting and creating cutting edge tasty eats. All the while tending to his two beautiful children, the teenager and toddler. You might spot the toddler at the brewery as the resident brewery baby and charmer. But don't fret; neither toddler nor teenager are brew taste testers. Dietrich enjoys a good run, taking on crazy construction projects and being a loving daddy and husband when he is not focused on opening this awesome brewery. In the past few months Dietrich and team have been dedicating their lives to this project and are very excited about aiming to please.
Grant Kjos (Taproom): Grant grew up in a small Minnesotan town, where all the women are strong, all the men are good looking, and all the children are above average. Studied American Studies at the University of Minnesota… and Latin, which was neat. Started home brewing about 8 years ago because his wife said he needed a hobby. Years of working at his LHBS (local home brew shop) has embiggened Grant with a noble spirit, and a cromulent sense of purpose. His vast knowledge of crystals and ancient aliens promises to serve Uproar with the best energies. You will find him behind the bar talking about movies and Hollywood gossip a bit too eagerly.
Everybody on the team is living, or has lived, in downtown San Jose, and almost everybody is an escapee from the lands of ice and snow.
How did the idea for Uproar Brewing Co. come about?
Actually that's a pretty good story. Michele and I have been talking for years about starting our own brewery. It's an expensive business to start so that made it more of a dream. That dream also involved opening a brewery someplace where snow was a rare experience.
Friends of ours, Grant and Tiffany Kjos, moved to San Jose when she was hired by Apple. They found a nice duplex to rent, and Grant asked the landlord if he minded him growing some plants in the yard. The owner, Dietrich Wahlstrand, asked him what kind of plants because you can't be too careful. Grant's answer was hops, which I think was about the second least likely answer Dietrich expected.
It turned out that Steve and Dietrich had been trying to put together a craft beer project for a while. They had some ideas but were missing someone to brew the beer. Grant said, "I know someone you need to talk to."
Shortly after that Michele and I came to San Jose and spent four days getting a rough idea of what we wanted to do. With the six of us sitting around Steve and Christina's dining room table, a plan came together. We have been working since April on the plan and the 8,000 things you have to do to start a brewery.
How did you come up with the name Uproar?
We really thought about what we wanted to achieve with our beer and who we are. Uproar fit that description. We want to cause a stir with our beers, an Uproar, if you will. Do something outside of the box.
What is the Uproar mission?
We want to create great beers and give San Jose a great place for people to enjoy themselves. Our mission for the brewery has been the same since day one: Complexity, finesse, dexterity. We also plan to be involved with the community as much as we can. One of the first things we talked about was how to set up our first charitable events.
Why select San Jose?
It has been a dream for Michele and me to start a brewery for a long time now, and when we visited the South Bay Area, we realized "This is where we want to live in and brew beer for." The team looked for good locations throughout the South Bay. We gained an amazing response and support from the city of San Jose, the Downtown Association and the other businesses in the SoFA district. That made San Jose an easy choice.
How did you manage to secure the downtown San Jose location?
Once it was on our radar, we felt that this was the space for us, and we inquired about it. All parties involved seemed to really like the idea of a brewery in downtown San Jose, and it worked out for the best.
Regarding the site/space, how big is it? (The former ZERO1 Garage spaced looked to be quite big.)
It's a little over 10,200 square feet with a lot of character, featuring exposed brick, industrial concrete floors, and a 24 foot high wood ceiling. We liked the kind of industrial feel that we plan to continue in our taproom.
Can you share some of the site details (size of the brewery space, size of the taproom, how many taps, etc.) and plans (space for barrel-aging programs, will the taproom offer food, etc.)?
We are going to have a very spacious taproom with a full kitchen. The brewery will take up a large portion of the building, leaving space for events. We will have twelve taps for house beers, and as we have shown via Twitter, there will be a barrel-aging program.
What are the specs. of the brewhouse?
We will open with a 10 barrel brew house from Criveller Brew Tech. It is a steam driven system. We will have six fermenters and one bright tank. I've worked with a Criveller brewhouse before, and I know we can make great beer with it.
What is your favorite Surly beer that you helped brew?
Blakkr. It was a collaboration brew with Three Floyds and Real Ale. It was great challenge of a beer to brew, and I was able to get to know some really awesome brewers through the process.
What beer styles do you enjoy drinking and brewing the most? What are your specialties?
I love lagers and a good Kolsch. With those styles of beer there is no place to hide. Either the brewer knows what they are doing or their mistakes will be pretty obvious. I also would say that those fall into my specialties as well.
What can we expect for the initial set of beer offerings?
Expect the unexpected. We plan to have four flagship beers and rotate different beers in and out. My wife and I will have his and hers tap lines, which showcase our individual brewing styles. I lean towards the side of creativity with my brewing while Michele gives the balance of classic styles.
Are you familiar yet with the San Jose/South Bay beer scene? (We've seen a lot of growth the past several years; yet many think – I agree – that there's room yet for more growth, especially on the brewery front.)
There are some good breweries in San Jose, but there is plenty of room for more. Michele and I visited in April and checked out a few of the breweries and bars, but we are more than excited to join and help grow the San Jose craft beer scene.
You and your wife (as you shared via Twitter last month) will be moving here to San Jose in late July. Do you have any ties to San Jose/the South Bay?
We have our Uproar team members and a few friends.
What's the best way for folks to connect with Uproar to keep tabs on construction and opening date statuses?
Twitter: @uproarbrewingco
Instagram: @uproarbrewingcompany
Facebook: uproarbrewingco
Website: www.Uproarbrewingco.com (coming soon)
Anything else to add?
Keep watching our progress. We can't wait to bring our beers to San Jose.
[This post was shared on Examiner.com.]