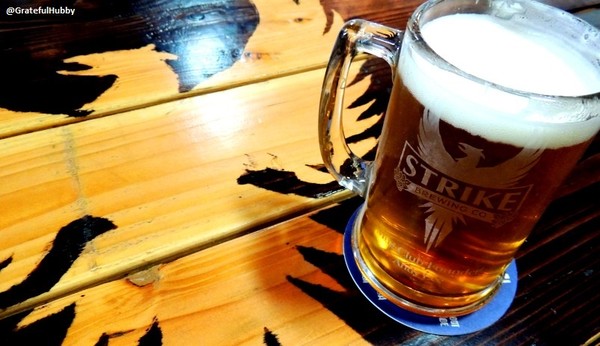 The year has been one of major growth for San Jose's Strike Brewing Company (2099 S. 10th St.). Next month, Strike celebrates a major milestone – the one-year anniversary of the opening of their production brewery and warehouse taproom. The anniversary bash takes place Sat., Oct. 3 from 1-9pm and features special food and brewery releases. There will also be brewery tours at 2pm and 4pm. Tickets to the bash can be pre-ordered: $20 for three pints and a Strike pint glass to take home.
Another highlight takes place later this evening when Strike brewmaster Drew Ehrlich throws the ceremonial first pitch during the Oakland A's vs. Seattle Mariners game at O.co Coliseum. Below is the press release issued earlier this morning:
Oakland, CA, September 4, 2015 – Strike Brewing Co. Brewmaster Drew Ehrlich will be throwing out the ceremonial first pitch prior to today's game when the Oakland A's take on the Seattle Mariners at 7:05 PM. An Oakland A's marketing partner at O.co, Strike Brewing Co. is also participating in the Oktoberfest Brewmaster Event prior to tonight's game.
"The sponsorship has been an amazing opportunity for us to share our beers with the East Bay," shared CEO and co-founder Jenny Lewis, "and it's only natural that Drew is on the mound once again here in the Bay Area".
The return to the mound is in reference to the Former Stanford baseball pitcher and graduate, Drew Ehrlich, who also pitched in the Boston Red Sox organization. Drew immersed himself in the brewing industry after baseball, and became co-founder of Strike Brewing Co. in San Jose, CA.
Strike Brewing Co.'s current lineup features Hunt for Oktoberfest, Horn Rounder IPA, Double IPA, Lucky Bullet Belgian Style Wheat, Lumber Buster Brown Ale, and the Colossus of Clout Irish Red Ale. Strike Brewing Co. beer is also available at several other locations throughout the ballpark.
Strike Brewing Co. is a craft brewery and warehouse taproom located in San Jose, CA. Strike makes thirst-quenching "session" beers, as well as seasonal and specialty brews. Founded by Los Altos native and startup veteran Jenny Lewis and brewmaster Drew Ehrlich, Strike beers are distributed throughout the Bay Area. Ehrlich played college baseball at Stanford University and within the Boston Red Sox organization, which led to the company's name Strike Brewing Co.
[This post was shared on Examiner.com.]