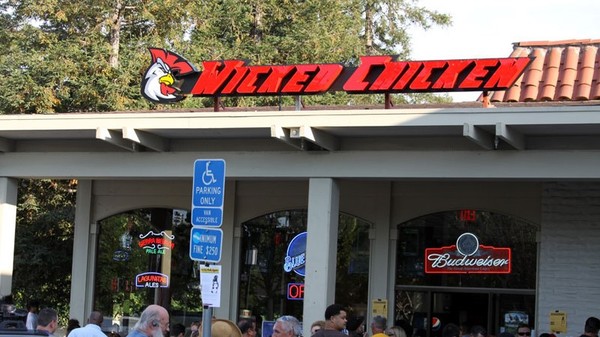 Having opened back in the fall of 2011, Santa Clara's Wicked Chicken (2565 The Alameda) has become a bona fide craft beer location thanks to the efforts of founder – and South Bay resident – Matt McClean. With their 10 craft beer taps, Wicked Chicken regularly hosts beer events, often shining the spotlight on local South Bay breweries.
Wicked Chicken celebrates their four-year anniversary with a celebration this Sat., Sep. 12 from 11am-11pm featuring beer and food specials. Matt – who grew up in Chicago and moved to California in 1993 to attend Santa Clara University – recently took the time to share how he started Wicked Chicken, his thoughts on the local beer scene, more details on the beer lineup for this Saturday and how he feels about reaching the four-year mark.
Can you share how you went about starting Wicked Chicken?
To make a long story short, I went to Santa Clara University and my first job was as delivery driver and prep cook for a place some may have visited named Cluck U Chicken. This is October 1995, and I worked and ran what became University Chicken and eventually Smoke Eaters for about 13 years. When the lease on the building expired, the landlord decided to rent the space to me, and I opened Wicked Chicken on September 12, 2011.
I don't drink anymore; In fact I reached five years of sobriety on the first of this month. But I do love chicken wings, sports and the people who have helped make this location something special.
As far as craft beer is concerned, I get a lot of information from various folks that I know. It's funny – I remember back in the day when Lagunitas couldn't give away the beer. Now the local beer scene is growing so fast.
When did you first develop an interest in craft beer, and when did you first begin to offer craft beer at Wicked Chicken?
When I first opened in 2011, I didn't offer any craft beer because from what I remembered, it didn't sell. Like I said, we couldn't even give Lagunitas away – that was back in 1997 or so. But soon I started to understand that there was definitely a change in the scene, and I started to get interested in the spring after opening. I was Drake's Brewing Company first draft account when they joined DBI Beverage. And since then I've been making the right contacts, like with Jake [McCluskey], now with Santa Clara Valley Brewing, Jaye Morales from The Beer Heads and a lot of good people who like to share and help me put together a very solid lineup. The guys from Original Gravity Public House were very welcoming, too, and helped me a lot.
How many craft beer taps do you currently have? Do you also sell bottles?
I have 14 taps and most times 10 of them devoted to craft. I added a nitro tap recently. I don't currently do bottles, though at times I receive limited bottled beers and will sell them.
What are your thoughts about the craft beer scene in the South Bay? Do you see a growing interest among your customers?
The craft beer business is huge, and the interest among my customers continues to grow. They ask me a lot of questions about the beers on tap. Craft beer definitely attracts a different type of customer. People think I drink from the amount of information I have, but I just research the beers and try to stay current with what's in demand. I definitely think that the craft beer scene has room to grow. I know that I am always learning new things.
Any special beer offerings at the anniversary celebration that you'd like to share?
A fresh keg of Drake's Aroma Coma (IPA) – my first craft beer. Two new beers are supposed to arrive on Friday thanks to Rudy [Kuhn] of Lagunitas – GravensTime (DayTime Fractional IPA mixed with Sonoma County Gravenstein apple juice) and DoppleSticky (Double Alt). Also something really good from Dust Bowl Brewing Company – Therapist (Imperial IPA). And I believe Dust Bowl is bringing their Hops of Wrath IPA. I'll also have 2014 Firestone Walker Velvet Mocha Merlin.
Finally, how does it feel to reach the four-year mark and milestone?
I love what I do. I have always loved chicken wings. And I honestly love the regulars and the whole brand. I always believed if you put out a good product and charge good prices, people will come.
As I hit the four-year mark, I am so grateful, especially for the last couple years – I found and married the woman of my dreams, got the chicken place and now have a four-month old.
[This post was shared on Examiner.com.]