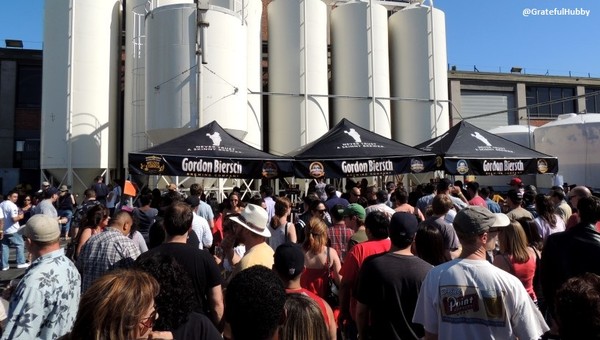 Gordon Biersch will celebrate its inaugural Oktoberfest this Sat., Oct. 10 directly outside its brewing facilities in San Jose's Japantown (357 E. Taylor St.). The event takes place from 12pm to 9pm and includes a selection of the brewery's signature German-style beers, traditional and contemporary food options, live music, stein-holding contest, free brewery tours and a five-story tall Ferris wheel.
Gordon Biersch will feature three of its traditional, unfiltered German-style beers – Märzen, Czech Style Pilsner and Festbier. Märzen, Gordon Biersch's original Oktoberfest beer, highlights the flavors of imported German, dark-roasted Munich and caramelized Munich malts. The Czech-style Pilsner utilizes Bavarian Hallertau and Tettnang aroma hops to produce fine bitterness and a floral aroma. The unique flavor and bouquet combine for a crisp, highly drinkable beer. Festbier emphasizes rich malty undertones with a moderately hoppy finish. The maltiness is created via a combination of dark-roasted Munich style malt, Pilsner malt and both light-roasted and dark-roasted caramel malt.
Look for WildCide Hard Cider – the first offering from Gordon Biersch's new cider venture – to make its public debut after the stealthily creative "No Name Cider" social media marketing campaign held earlier this year.
Gordon Biersch's signature garlic fries will be available in addition to offerings from Capelo's Barbecue, German-style soft pretzels from Wolfgang's Bavarian Pretzels, Bratwurst, other sausages and roasted pig and chicken. Seating will be housed under a sperry tent with hall-style seating for 500.
San Jose Mayor Sam Liccardo is scheduled to make a special appearance at 2pm to take part in the traditional tapping of the keg with Gordon Biersch brewmaster Dan Gordon.
Free brewery tours will be held at intervals throughout the day. Live music will include Santa Cruz soul band Pawn Shop Soul and San Francisco collective Jazz Mafia. Both groups focus on contemporary funk, soul and jazz.
Ticket Information
Tickets are available at gboktoberfest.brownpapertickets.com.
Price:
12 and under free
$15 13+ or designated driver
$20 entrance and 1 drink ticket
$25 entrance, 1 drink ticket, and .4 Litre (13oz) Gordon Biersch Willibecher glass
$30 entrance, 2 drink tickets, and 1 Litre (33oz) Gordon Biersch stein mug
$50 entrance, 4 drink tickets, and Gordon Biersch stein mug
Drink Tickets:
1 ticket fills a Willibecher or half a Stein
2 tickets fills a Stein
Additional drink tickets = $5
Given the past Gordon Biersch events I've been to, I expect this one to quickly become a local favorite. More information is below for those unfamiliar with the history of Gordon Biersch.
Beers from Gordon Biersch
All of Gordon Biersch's beer is brewed in strict adherence to the German Purity Law, a traditional German brewing philosophy that dates to 1487. In the declaration issued by Albert IV, Duke of Bavaria, it was stated that the only ingredients used in the production of beer should be water, barley, and hops. This traditional approach has been a cornerstone of Gordon Biersch's brewing philosophy since brewmaster Dan Gordon established the company's first brewery restaurant with restauranteur Dean Biersch in Palo Alto in 1988. Gordon was the first American in 40 years to graduate from the five-year brewing program at Technical University of Munich, the most prestigious brewing program in the world.
About Gordon Biersch
Dan Gordon first met Dean Biersch in 1987 through a mutual friend. Gordon was one of the most sought-after brewers in the country, while restaurateur and beer lover Biersch was looking for a partner to open a brewery restaurant.
Their mutual vision was clear from the start: a monument to beer, where people could come drink freshly-brewed beer and have a great meal. They would serve authentic, German-style beers in the tradition of the blends Gordon brewed while attending the Technical University of Munich, considered the world's most renowned brewing school. Their beer has always been brewed according to the age-old German Purity Law of beer known as Reinheitsgebot, utilizing only the finest ingredients: Hallertauer hops, two-row malted barley, and a special yeast strain imported directly from Germany.
In 1988, they opened their first brewery restaurant in Palo Alto. Since then, Gordon Biersch Brewery Restaurants have opened across the United States and world to include locations from California to Florida and even Taiwan.
The organization took its next major step in 1997 when it opened a state-of-the-art brewery and bottling facility in San Jose's Japantown neighborhood.
Since 1998, Gordon Biersch Brewing Company has more than doubled its production, increasing its capacity to 3.1 million gallons of beer annually, making the company the largest brewery in the San Francisco Bay Area.
[This post was shared on Examiner.com.]