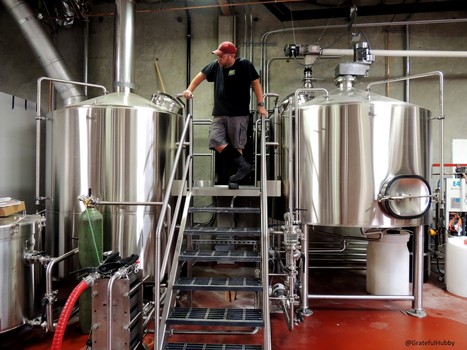 Santa Clara Valley Brewing will host their first ever beer-and-food pairing dinner at their brewery (101 East Alma Ave., San Jose) on Wed., Jan. 27, 6:30pm-9:30pm.
Guests will dine inside the brewery area, next to the stainless steel tanks, kegs and barrels. In addition to the views inside the brewery, co-founder Tom Clark adds that the brewery aroma will be amazing thanks to a fresh brewed batch of the popular Electric Tower IPA.
Brewmaster Steve Donohue shares that the idea for the dinner – an official SF Beer Week event – came about on a whim during a visit from friend Ryan McTighe, chef and owner of Handheld Catering. Ensuing discussions eventually led to the carefully constructed dinner menu.
The Menu
Appetizer
Beef Slider with Caramelized Onions and Sauteed Mushrooms
Paired with Dry Creek Blonde Ale
First Course
Electric Tower Beer Cheese Soup
Paired with Electric Tower IPA
Second Course
Seared Local Halibut with Cardamom and Coriander Scents, Wilted Spinach, Butter Braised Baby Carrots, Meyer Lemon Oil
Paired with Saison
Third Course
Pot De Creme
Paired with Peralta Porter
Tickets are $70 and limited to 40 guests. Tickets are available for purchase at the beer dinner's Eventbrite page. Event sponsor Maps & Taps will also be on hand to discuss their new social media platform for beer enthusiasts.
According to Clark, the dinner will be the first of many to take place at the brewery: "We have a great space, and we fully anticipate doing more of these."
[This post was shared on Examiner.com.]