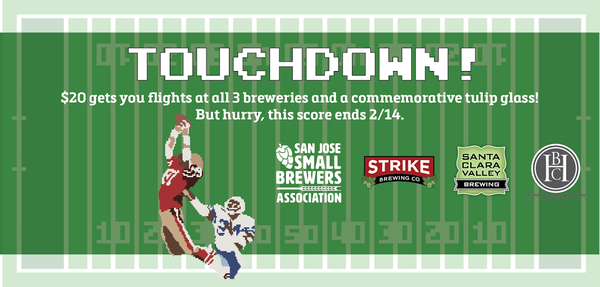 Local breweries Hermitage Brewing Company, Santa Clara Valley Brewing and Strike Brewing Company announced last week the formation of the San Jose Small Brewers Association (SJSBA). The three founding brewery members are all located about a mile from each other and just south of downtown San Jose, next to Spartan Stadium, Sharks Ice and Municipal Stadium, home of the San Jose Giants.
There are other breweries in the works nearby, and the hope is to grow the association as other small San Jose breweries open. According to Carolyn Hopkins-Vasquez, director of marketing for Hermitage Brewing, the SJSBA was formed to promote the neighborhood as a brewery district and destination.
Brewery Crawl
To celebrate the formation of the association, the three breweries have teamed up for their inaugural event – Super Bowl Brewery Crawl. Through Sunday, Feb. 14, visitors to any of the brewery taprooms can purchase a $20 ticket, good for one beer flight at each brewery. Once your ticket has been stamped by each brewery, guests will receive a commemorative tulip beer glass.
Brewery Taproom Hours
Hermitage Brewing Company
1627 South 7th St.
Wednesday-Friday: 4pm-9pm
Saturday-Sunday: 1pm-6pm
Santa Clara Valley Brewing
101 E. Alma Ave.
Wednesday-Friday: 1pm-9pm
Saturday-Sunday: 12pm-8pm
Strike Brewing Company
2099 S. 10th St., #30
Wednesday-Thursday: 4pm-8pm
Friday: 3pm-9pm
Saturday: 1pm-9pm
Sunday: 1pm-7pm
Carolyn adds, "There's no need to look beyond the city limits to find great, locally made beer, and that's what we want people to know."
[This post was shared on Examiner.com.]