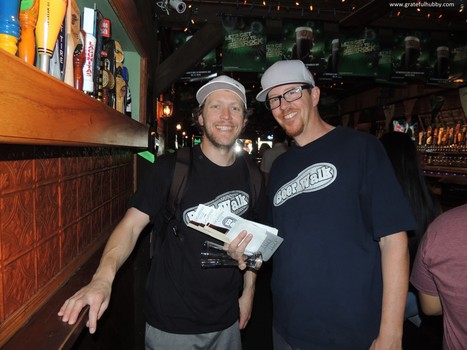 The next installment of the Beerwalk takes place in downtown Mountain View on Sat., March 12 from 2pm-6pm.
Participating South Bay breweries include:
Golden State Brewery
Hermitage Brewing Company
Santa Clara Valley Brewing
Strike Brewing Company
Tied House
Other breweries include:
10 Barrel Brewing Company
Six Rivers Brewery
Almanac Beer Co
Anchor Brewing Company
Ballast Point Brewing & Spirits
Calicraft Brewing Company
Drake's Brewing Co.
Elysian Brewing
Firestone Walker Brewing Co.
Golden Road Brewing
Goose Island Brewery
Knee Deep Brewing Company
Lagunitas Brewing
Lost Coast Brewery
New Bohemia Brewing
North Coast Brewing Company
Sierra Nevada
Speakeasy Ales & Lagers
Tasting locations include the following downtown Mountain View businesses:
Ava's Downtown Market & Deli
Bierhaus
Blue Line Pizza Mtn View
BookBuyers Used Books & Media
Books Inc. in Mountain View
Boutique 4
Buffalo | Beers, Burgers, Baos
Dana Street Roasting
Global Beads, Inc.
JulieQ's Hair Salon
Mervyn's Lounge & Restaurant
Midtown Cafe
Molly MaGees
Shell Shock Restaurant
Steins Beer Garden & Restaurant
Studio 364
Therapy Stores
Therapy Home Mountain View
Tied House Microbrewery
Xanh Restaurant
The Beerwalks have successfully provided an outlet for folks to come out and explore neighborhoods and local businesses while enjoying samples of a variety of beer styles. The Beerwalks also continue to highlight the members of the local brewing community as well as contribute proceeds to various local organizations.
Tickets to the Mountain View Beerwalk are $35 if purchased in advance. Any remaining tickets can be purchased the day of for $38. Check-in begins at 1pm at Tied House Microbrewery. Proceeds will benefit the Mountain View Central Business Association and the Bay Brewers Guild.
For more details of this upcoming Beerwalk and to purchase tickets, visit the event website.
[This post was shared on Examiner.com]