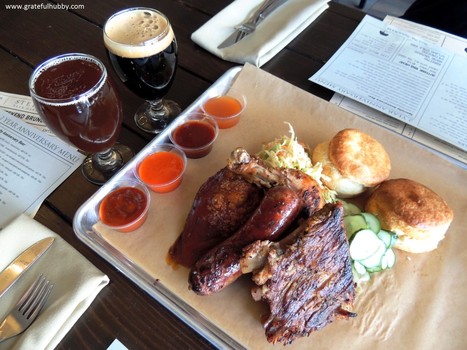 Downtown Mountain View's Steins Beer Garden & Restaurant (895 Villa St.) will mark their three-year anniversary with an all-day celebration of good food and beer on Sat., March 19 starting at 11am.
A special BBQ plate – replete with sides – comes with three choices of meats: roast pig, ribs and beer brat sausage. Executive chef Colby M. Reade confirmed that he would be roasting two pigs to make sure that there would be enough of this popular item to last throughout the day.
The following is the specialty beer list:
AleSmith Hawaiian Speedway Stout
Allagash St Klippensteins
Almanac Peche de Brettaville
Anchor Brewing Our Barrel Ale
De Proef / Hair of the Dog Fred's Sour Ale
Evil Twin Even More Jesus
Lagunitas High West-ified 2016
Midnight Sun Bar Fly
Omnipollo Abrahadabra
Tap It Cafe Noir
The Bruery White Oak
To ol F**k Art Let's Dance with Gooseberries
Also on tap will be homebrewer Giullaume Brivet's winning beer from last year's 1st Annual Steins Home Brew Contest – Wild Rye'd French-style rye saison, an ale fermented with French Saison yeast and aged with Brett Bruxellensis. All proceeds from this beer will go to the charity organization San Francisco Bicycle Coalition in memory of Brivet's good friend, Scott Smith.
Steins owner Ted Kim recently took the time to share his thoughts on reaching the three-year mark. He also shared a sneak peek of the upcoming Steins pop-up dinner on Thurs., April 7 and details about the second Steins location in Cupertino.
Your reaction to reaching the three-year mark with Steins? What have you been proudest of this past year?
This past year is the year I believe we really started to find our groove. We have a much better idea of who we are, who our customers are and the direction we want to go. Needless to say, I'm excited about what lies ahead!
Chef Colby told me that he would be roasting two pigs at the anniversary celebration this year.
Yes! Last year we ran out way too early. We had no idea the response for the pig roast would be so great. This year we have two and will have offerings of a beer brat sausage, roast pig and pork ribs along with an assortment of side dishes. Guests can go directly to the roast outside and order a la carte or can choose a special pre-set roast entree if dining inside.
Like last year, the winning beer from the Steins Annual Home Brew Competition will be announced at the anniversary celebration, correct?
Yes. We'll be announcing the winner of our 2nd Annual Home Brew Competition and serving last year's winning beer on tap. We'll be donating $2,500 to the charity of choice of last year's winner. We'll also be donating all proceeds from the beer to a charity of the winner's choosing.
We're looking forward to announcing this year's winner and recreating their beer for next year's celebration. We'd love to continue this tradition and encourage all home brewers out there to keep developing their passion for beer and creating wonderful brews that we all can enjoy.
Switching gears just a bit, can you provide any details yet about Chef Colby's upcoming pop-up dinner on April 7?
Yes! We've been tasting the menu, and it's out of this world. I'm not a big fan of foie gras, but Chef Colby's is stellar. I couldn't stop eating it.
I'm really excited for the beer pairings as well. Our bar manager Ryan Hummel did a fantastic job of preparing some excellent pairings!
Last year, both you and Chef Colby told me about securing a location for a second Steins in Cupertino on Wolfe Rd. at Vallco Pkwy. How did that location come about? By the way, I pass by that area every day during the week – what a transformation under way!
We started a preliminary search early on – I'd say in late 2014 – just to see what was out there. Turns out the nineteen800 development we are now located in was in the beginning stages of building out their tenant base, and there was a golden opportunity which we jumped on.
Absolutely! The entire area is set up for some serious development. With nineteen800, Main Street, and the proposed Hills project at Vallco, the new downtown Cupertino is definitely going to be a huge attraction.
When will construction start in Cupertino? When do you hope to open?
Construction hasn't started yet but should shortly. We're hoping to open in the early fall.
Any details you can share about the Cupertino location?
Interior is 6,400 sq. ft., and exterior is 2,500 sq. ft. Not quite as large as Mountain View, but we've designed a beautiful beer garden.
Steins Cupertino is also designed with events and banquets in mind. We'll have two private rooms and the rear portion of the beer garden will serve as a private area for events.
Number of taps at the Cupertino location? Similar to Mountain View?
We'll have 31 beers on tap, same as Mountain View. Same house staples but different rotating list.
We'll also be featuring a rare bottle selection. We've already been amassing a lot of fantastic bottles that we're excited to share with our guests.
Again, congrats on reaching the three-year mark! Anything else to share for the upcoming year?
2016 looks to be a really big year for us as we expand to two stores and grow our team. A lot of our existing staff members are moving up into key positions, and our guests will see a dramatic increase in the number and types of beer events, pop-up dinners, and new services offered at Steins.
This year we'll be rolling out online ordering and to-go pickups which our guests have been hounding us to implement, especially for lunch.
We'll also be partnering with a local delivery company to send our delicious food directly to your home or office.
Chef Colby will be pushing the envelope on unique and interesting weekly food specials, and we plan on continuing our pop-up dinner series with guest chefs and a wide variety of cuisine styles and beer pairings. Definitely an exciting year at Steins!
[This post was shared on Examiner.com.]