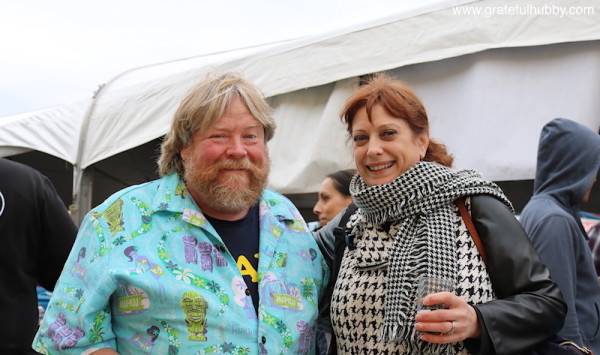 The second annual Pints for Pups fundraising event takes place Sat., April 16 from 2pm-6:30pm at Strike Brewing Company (2099 S. 10th St.).
Presented once again by the popular Facebook group Southbay Beer Hounds with Clay Planet, Pints for Pups combines local beer, art, food trucks and prizes to benefit the Silicon Valley Pet Project (SVPP), "a 501(c)3 non-profit organization made up of volunteers committed to saving local at-risk shelter pets through rescue, community involvement and education."
A Pint Glass and Growler Art Show will feature 20 tables of local artists selling one-of-a-kind functional art items – including steins, mugs, chalices and growlers – and competing for the Pint Glass- and Growler-of-the-Year awards.
Food trucks Waffle Amore and Los Jarochos Grill will be present, and there will be a silent auction and raffle.
Tickets are necessary to attend but are free and available at the Pints for Pups Eventbrite page. Donations are welcome – and tax deductible – and can be made through Eventbrite or at the event.
For more information, check out the Pints for Pups Evenbrite page.
I recently caught up with fellow Southbay Beer Hounds Lance Boyle and Deb Anderson. They graciously took the time to answer questions about how the idea for the Pints for Pups event came about. I also asked about the Southbay Beer Hounds, including the origins of the popular Facebook group.
How did the idea for Pints for Pup come about?
Deb: When we first started talking about Pints for Pups, I was the one who suggested that SVPP be our beneficiary because I had witnessed first-hand the passion this group has for helping dogs (and cats) at our local shelter find loving homes.
Our youngest dog, Molly Beans, was a parvo survivor who we fostered at eight weeks old and ended up adopting. She was the poster girl for the first Pints for Pups, showing what rescue is all about.
With my project management and event planning knowledge I took his idea of Pints for Pups and added a bit of structure (like an Eventbrite registration page) so we could have an idea of how many people to expect and help coordinate volunteers that first year to make sure the day flowed smoothly.
Lance: This is a funny place. Everyone who owns a house is a millionaire, but there is so much missing – humanities, fun, hijinx, whimsy…
I have long thought things like this just needed to be done. People don't know that art is made by artists and does not come from the mall. I thought an opportunity to knit segments of folks together would be fun and exciting. And who does not want one more glass… something special and different from anything on earth?
Rooting through tables of wonderful pieces of beautiful things and finding one that speaks to you… it's exciting. It's a treasure hunt.
The wonderful part is, you find your piece and feel it, and see how it was made by human hands. You meet the person who made it, chat with them. You learn the process of how your piece was made… maybe it's fired at cone 10 (super damn hot, total fusion, tap with your nail and it rings like crystal) or maybe it was wood fired, an ancient technique, which makes each piece drastically different.
It's just fun to do, especially at an event where others look and admire your mug or piece. It's like for a brief moment in a way, we all become title millionaires, collectors, patrons.
And the beneficiaries are pets who need a bit of help.
All of this was a chasm that needed to be crossed. I just happened to see the materials to create the bridge.
And Jenny Lewis at Strike has been incredibly easy to work with.
Care to share a bit of your backgrounds?
Deb: I've been involved in local theater for 40 years and am currently on the Board of Directors at City Lights Theater. My other passion is animal rescue, mostly dogs. :) I got involved in dog rescue several years ago, and all of our dogs have been rescues.
Lance: Deb won a Theatre Bay Area award in 2014, which is quite impressive.
I have an elaborate art background in illustration, cartooning and sculpture.
More importantly, I have long enjoyed going to the zoo in a gorilla suit, walking through a crowded church in a devil costume waving or wrapping myself in toilet paper and sneeking up behind people at the Rosicrucian museum.
I got mixed up with the Cacophony Society in the '90s when they were pilfering my cartoons for newsletters… decades of pranks and fun. I suppose the Beerhounds is just all my own extension of things like that.
Speaking of the Beer Hounds, could you share with me again how the Southbay Beer Hounds group started?
Lance: The Beerhounds got started kind of on a whim, originally because I thought it was an easy way to communicate about expensive Imperial Stouts released around Christmas which were not sold and then marked down in price by Groundhog's Day (the end of the holiday season) when in fact they were actually better (aged).
I also met folks who I thought should be friends. Often they had quirky things in common… love of odd beer was often one.
There were like 30 of us for years. Nobody posted much. Then one day my friend Eric had a lengthy rant about a beer he loved. Folks started chatting, and it seems like that spark made it jump from 35 or so to 700.
Getting close to 800 group members in fact. By the way, I know some folks who are a bit bummed that they never received those special Lance Boyle introductions.
Lance: It's a bit odd. The side of it nobody but me sees is who I don't let in, which is more than half the people who ask to be added. I block more people than I let in.
After a couple of scammers and sales clowns got in, I started screening their profiles a bit, perusing photos, seeing if the people even liked beer before I let them in. Lots of Nigerian royalty.
It felt a bit sinister, so to make it clear to people that I went through their profiles and looked them over, I started using a photo from their pages – which are all based on solid facts, as you know – for the introductions.
It also seems like a friendly touch, and I hope it lets new folks feel like they can jump right in.
What are some of the highlights from running the Southbay Beer Hounds group?
Lance: I suppose seeing that something silly and fun can be planned and can make a difference. That having a happy hour at a brewery or a sticker release or a fundraiser can, at this point, really create notice or business.
The original idea of Beerhounds loosely is to refine one's views to the period of one's life when we knew more, between nine and eleven I think… being unencumbered by life's drudgery and not yet driven by our loins.
It seems like the time in life when choices were the most sound. Things like a love of pranks, a disregard for spelling, the love of dogs as company and role models for etiquette, stickers, goofy images, nicknames…
I think our group is like a big bucket of that. At least I hope so.
This place is so stressful and serious. There needs to be a place where jackassery (our theme) is run up the flag pole and saluted.
Many of the people who are in Beerhounds, even some who don't drink beer (if you can imagine such a person), are people who have some vision and have risked a lot to create something… Folks like Fouad Eilian (Bibo's Pizza), Alex Hult (Hult's Restaurant), Lisa Mallette (City Lights Theatre), Matt Hartenstein (Taplands), Seth and Stephanie Hendrickson (Golden State Brewery), and the women from the Silicon Valley Pet Project who from nothing started this incredible life-saving group.
They are all risking their savings to create something concrete based on their vision and incredible hard work. It's truly a pleasure to help them, in any small way.
Any "Aha!" beer moments?
Lance: I spent much of my young life with an eccentric uncle who liked unusual beers. He was well traveled, always interested in odd libations from the far corners of the world. He was a surgeon and my aunt a nuclear chemist. We always had some experiment going on around the house, with fruits and grains. Later I had friends in the Peace Corps, who had to make their own hooch under difficult circumstances.
I've always loved the idea of making beer from different perspectives and wacky methods. It just happens to have become popular with others now.
Anything else to add?
Deb: Pints for Pups and its popularity and the fact that the first event was put together in less than three months and raised over $7,000 for SVPP… well, that's all due to Lance.
He has a way with people that's a bit like the Pied Piper (he's also way too humble to say or think that himself), but I see it everyday – his unbridled delight that the group has become something more than an FB page where people talk about beer.
From his intros of new members, to his sticker designs that are always eagerly awaited, the local businesses he's promoted through the page, and the fact that so many people have met through this group and become friends, he is infectious.
I often joke that he needs a bodyguard or an entourage when we go out as so many people are excited to see him. At Meet the Brewers, I can't count how many people were awestruck and giddy at meeting THE Lance Boyle.
It's so much fun to watch and yet it often makes him uncomfortable. I think he likes to create chaos and watch it, rather than be in the middle of it.
That may be why I've been married to him for 20 years. :) He's quite a catch.