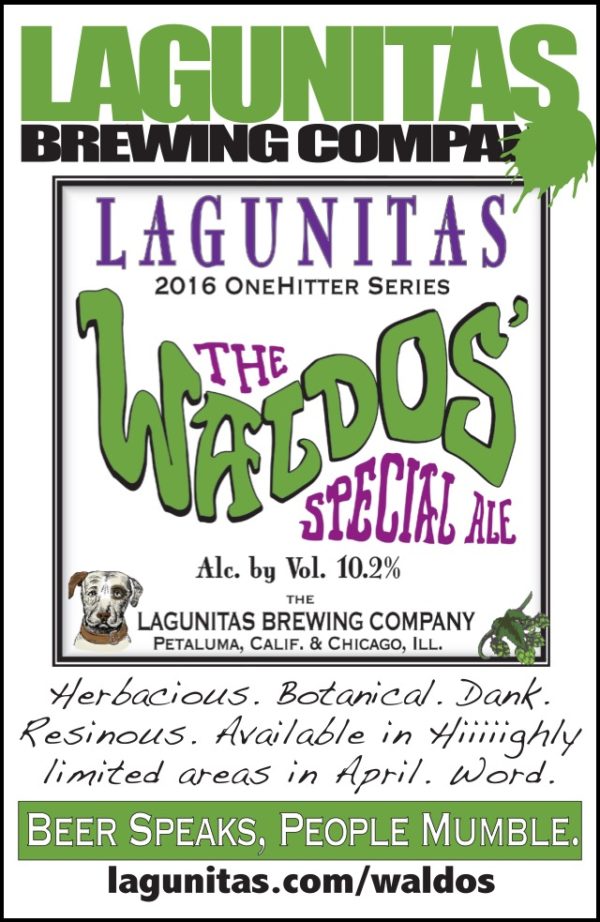 It's that time of year when many beer fans will satiate their thirst for a tasty double IPA by enjoying Waldos' Special Ale from Lagunitas Brewing Company.
Word is already out regarding this year's batch, the latest release from the Onehitter Series of highly limited, experimental offerings. Spoiler alert: This year's Waldos is as hoppy and dank as last year's batch and perhaps even more delicious.
Lagunitas NorCal Specialty Specialist – and South Bay native – Rudy Kuhn chimes in, "It's a refreshing, dank-ilicious hop bomb featuring a full-blown Perrault Assault," adding that Jason Perrault is the mastermind, fourth generation hop grower at Hop Breeding Company responsible for the development of Simcoe, Citra, Mosaic, Equinox and other well-regarded hop varietals.
Official tapping events for the South Bay will take place at venerable craft beer locations Good Karma Artisan Ales & Café in downtown San Jose (37 S. 1st St.) and Harry's Hofbrau in San Jose (390 Saratoga Ave.). From their respective Facebook event pages:
Wed., 4/20, starting at 4:20pm: Good Karma presents Double Dank, Double Down 420 Tapping of Waldos' Special: "It's always an honor to be the official South Bay 4/20 Tapping Party for Lagunitas Waldos' Special! This year's is as sticky and dank as we can remember! 11.5% and hand selected hops by the Waldos themselves – Great vibe, fun takeaways and the greatest gathering of mellow beer heads to share such an awesome beer in the South Bay."
Thurs., 4/21, starting at 4:20pm: Harry's Hofbrau hosts It's Waldos' Time with Lagunitas 4/21 at 4:20: "Brewed every year for 4/20, Waldo is a huge, resiny, dank DIPA! We will be tapping ours for our Thursday event the 21st at 4:20pm along with some other rare and fun kegs from Lagunitas."
Look for Waldos' Special Ale at select establishments throughout the South Bay (currently on tap at Wicked Chicken in Santa Clara).
Check out the entertaining Lagunitas video below to learn about the connection between 420 and the Waldos.