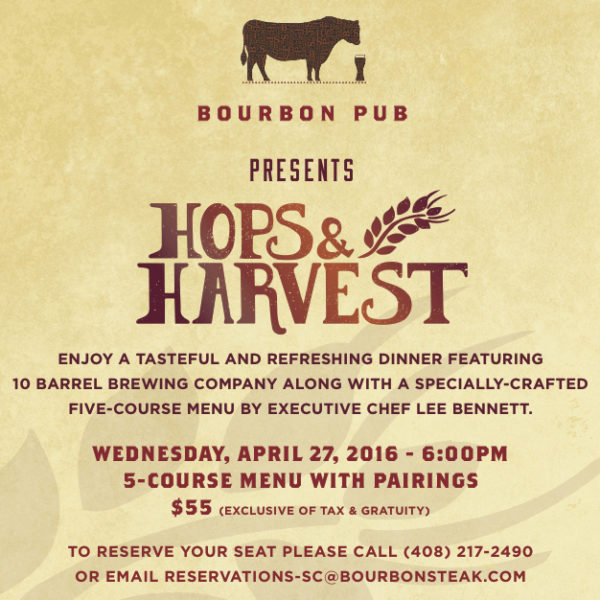 Bourbon Pub, a Michael Mina restaurant located at Levi's Stadium in Santa Clara (4900 Marie P. DeBartolo Way), has unveiled the menu for their special five-course Hops and Harvest dinner – their first beer dinner in a series of upcoming beer-and-food pairing dinners – taking place Wed., April 27 at 6pm.
Executive chef Lee Bennett has designed each course to complement each paired beer, all from 10 Barrel Brewing Co.
The Menu
First Course
Chili & Cilantro Crab Cake
Lemon Aioli
Pairing: Apocalypse IPA
Second Course
Seabass Ceviche
Lime, Sesame, Tempura Nori
Pairing: Riding Solo Single Hop Pale Ale
Third Course
Crispy Chicken Wings
Honey & Sesame Glaze, Liquid Gold
Pairing: Joe IPA
Fourth Course
Pancetta Wrapped Pork Loin
Crushed Herb Potatoes, Broccolini, Cider Jus
Pairing: Dub Double IPA
Intermezzo
Citrus Madeline
Meyer Lemon Creme Fraiche Sherbert, Citrus Lace
Pairing: Swill Fruit Beer
Dessert
Beer Sundae
Dark Chocolate and Malt Ice Cream, Chocolate Covered Pretzels, Sinister Beer Caramel
Pairing: Sinister Black Ale
A representative from 10 Barrel Brewing will be on hand to walk guests through each pairing.
Tickets for the dinner are $55 per person, excluding tax and gratuity. Seating is limited, and reservations can be made by calling 408-217-2490 or emailing sc@bourbonsteak.com.
About Bourbon Steak & Bourbon Pub
Both Bourbon Steak and Bourbon Pub are located at 4900 Marie P. DeBartolo Way at Tasman Drive on the ground floor of the northeast corner of Levi's® Stadium (Gate F) in Santa Clara, California. Valet service is available every day, and additional parking lot is located across Tasman Drive. Welcoming guests six days a week, year-round, Bourbon Pub is open for lunch and dinner Monday–Saturday and Bourbon Steak is open for dinner Tuesday-Saturday nights from 5 – 9 p.m. Bourbon Pub is also open on game day Sundays. Before the start of each home game, the spirited Michael Mina's Tailgate draws hundreds for a member-only experience for 49ers season ticket holders, who are inspired by Chef Michael Mina's elaborate, themed tailgate parties he has thrown with 49ers fans for more than two decades. Reservations can be made through Open Table or by calling 408.217.2490. For additional details on Bourbon Steak and Bourbon Pub's menus and Michael Mina's Tailgate, visit www.BourbonSteakandPub.com.
About Mina Group
Mina Group is a San Francisco-based restaurant management company specializing in creating and operating upscale, innovative restaurant concepts. Mina Group is led by Chef/Owner Michael Mina whose accolades include James Beard Foundation "Who's Who of Food and Beverage" inductee in 2013, Bon Appétit Chef of the Year, Food Arts Silver Spoon Award Winner, San Francisco Magazine Chef of the Year, and International Food and Beverage Forum's Restaurateur of the Year. Operating since 2002, Mina Group currently manages 27 restaurant properties, including MICHAEL MINA in San Francisco (Esquire Magazine's Restaurant of the Year 2011); BOURBON STEAK and CLOCK BAR at The Westin St. Francis on Union Square in San Francisco; RN74 at Millennium Tower in San Francisco and RN74 at the Joshua Green Building in Seattle; PABU and THE RAMEN BAR at 101 California in San Francisco; STRIPSTEAK at Mandalay Bay in Las Vegas; MICHAEL MINA Bellagio at Bellagio in Las Vegas; and more. For a complete list of restaurants, visit http://michaelmina.net.