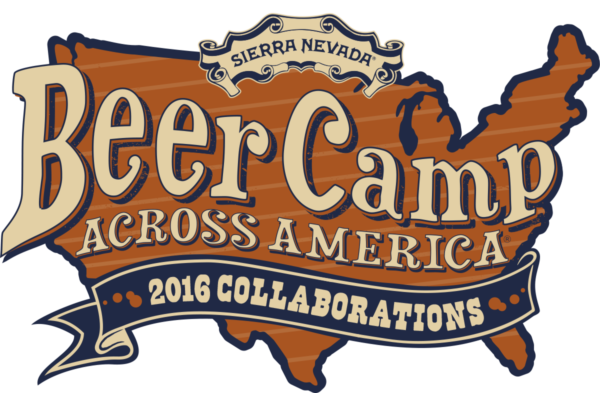 Sierra Nevada Brewing Company has collaborated with 30 breweries – grouped into six regional teams – to create six different, one-time-only beers for 2016's Beer Camp Across America (BCAA), a follow-up to their popular inaugural BCAA endeavor in 2014.
The six offerings come in mix 12-packs (two of each beer) and have been arriving on store shelves this month.
Look for the variety packs at your local craft beer store, including Spread Deli & Bottles, Royal Liquors, Cask n' Flask, Maple Leaf Liquors, Gateway Food & Liquor, Coach House Wine & Spirits, Bobby's Liquors and Santa Clara Liquors, and the bigger stores like Whole Foods, Trader Joe's, Safeway and Costco.
The Six Beers
The six beer styles – along with ABV info., tasting notes and regional brewing teams – include:
West Latitude—Session Rye with Hibiscus, 5.5%: West Latitude combines our Californian Left Coast love of fruity hops with a touch of Hawaiian "aloha" from the addition of hibiscus flowers, all anchored by robust malts and spicy rye. This session beer is light in body but looms large, like the long shadows of a westward setting sun. Brewed by the Norcal region: Bear Republic Brewing, Maui Brewing, Faction Brewing, Magnolia Brewing and Mad River Brewing.
Stout of the Union—Robust Stout, 7.3%: This stout hails from the land of sun, sand, and surf and proves that beach beer doesn't have to be light colored and delicate. Stout of the Union is rich, roasty and full of deep malt flavor, creating a union of like-minded brewers together through beer. Brewed by the Southwest region: Beachwood BBQ & Brewing, Port Brewing/The Lost Abbey, Bagby Beer, Societe Brewing and Smog City Brewing.
Moxee-Moron—Imperial Session IPA, 7.5%: The city of Moxee, WA, is in the heart of the Yakima Valley hop growing region and this Imperial Session IPA—a style contradiction—honors the Pacific Northwest's hop-bomb heritage. Moxee-Moron features hops in the mash, the kettle, the Hop Torpedo, and the fermenter for ultra-complex hop aromas and flavors in an ironically named package. Brewed by the Pacific Northwest region: Bale Breaker Brewing, Barley Brown's Beer, Melvin Brewing, Black Raven Brewing and Odell Brewing.
Family Values—Imperial Brown Ale with Cocoa, 8.5%: Family Values showcases the cooperation and kinship of Midwestern brewers. It features largely Midwestern-grown ingredients: Minnesota wild rice, Indiana honey, Missouri oats, Michigan hops, and cocoa nibs from Illinois as well as Sierra Nevada's estate-grown malt. This is our centrally located collaboration celebrating the best of the Midwest. Brewed by the Midwest region: August Schell Brewing, Dark Horse Brewing, Sun King Brewery, Perennial Artisan Ales and Half Acre Beer.
Pat-Rye-Ot—Revolutionary Pale Ale, 5.6%: Pat-Rye-Ot is an "old-meets-new" take on a pale ale by brewers all located in the original 13 colonies. It features rye and apples, which were among the first ingredients used by American brewers in the colonies, alongside bold American hops—hallmarks of our modern craft beer "revolution." Brewed by the Northeast & Mid-Atlantic region: Dogfish Head Craft Brewery, Devils Backbone Brewing, Lawson's Finest Liquids, Stoudts Brewing and Trillium Brewing.
Sweet Sunny South—Southern Table Beer, 4.9%: The south holds strong to its traditional flavors—tea, honey-sweet peaches and corn grits—so we looked at those culinary cues for this southern-inspired table beer. With a golden grainy malt body and complex tangy finish from the fruit, tea and herbs, Sweet Sunny South is perfect for sultry summer sipping. Brewed by the Southeast region collaboration group: Funky Buddha Brewery, Wicked Weed Brewing, Austin Beerworks, Bayou Teche Brewing and Creature Comforts Brewing.
Local Beer Camp Across America Tap Takeovers
A couple South Bay draft locations have already announced events taking place this week featuring the BCAA collaboration beers on tap.
Thursday, May 12, Starting at 2pm: Stuft Pizza in Milpitas (1426 Dempsey Rd.)
Look for additional BCAA tap takeovers at SmokeEaters in Santa Clara and Cupertino, Fibbar Magee's in Sunnyvale and O'Malley's in Mountain View.
Beer Camp Across America Festival Tour in San Francisco
Sierra Nevada is celebrating Beer Camp Across America with a six-city festival tour, including a Bay Area stop at Pier 35 in San Francisco (1454 The Embarcadero) on Saturday, June 18 from 1pm-5pm. The beer festival features a commemorative tasting glass, 100+ beers from local and regional breweries and live entertainment.
Local breweries currently scheduled include:
Camino Brewing Company (San Jose)
Campbell Brewing Company
Faultline Brewing Company (Sunnyvale)
Gordon Biersch Brewing Company (San Jose)
Hermitage Brewing Company (San Jose)
Red Branch Cider Company (Sunnyvale)
Santa Clara Valley Brewing (San Jose)
Strike Brewing Company (San Jose)
Tickets are $50 for General Admission and $70 for Early Access and available at the BCAA SF festival site.
Video of Sierra Nevada BCAA 2016
ABOUT BEER CAMP ACROSS AMERICA 2016
Presented by Sierra Nevada Brewing Co., Beer Camp Across America (BCAA) is the largest craft beer celebration, bringing together brewers from every corner of the country to create one-time-only collaboration beers and to stage huge beer festivals in craft-centric cities. BCAA showcases the creativity and camaraderie that make American craft beer extraordinary, and everyone's invited—brewers and beer fans alike. Six beers created by 31 visionary breweries, it's an experience craft beer fans won't want to miss.
San Francisco's Beer Camp Across America festival is presented by the San Francisco Brewers Guild. All proceeds from the ticket sales of this festival will benefit this organization, find more information at: http://sfbrewersguild.org/.
ABOUT SIERRA NEVADA BREWING CO.
Founded in 1980, Sierra Nevada Brewing Co. is one of America's premier craft breweries, highly regarded for using only the finest quality ingredients. The pioneering spirit that launched Sierra Nevada now spans both coasts with breweries in Chico, California and Mills River, North Carolina. Sierra Nevada has set the standard for craft brewers worldwide with innovations in the brewhouse as well as advances in sustainability. It is famous for its extensive line of beers including Pale Ale, Torpedo®, Hop Hunter® IPA, Nooner® Pilsner, Otra Vez™, Kellerweis®, Porter, Stout and a host of seasonal, specialty and limited release beers.