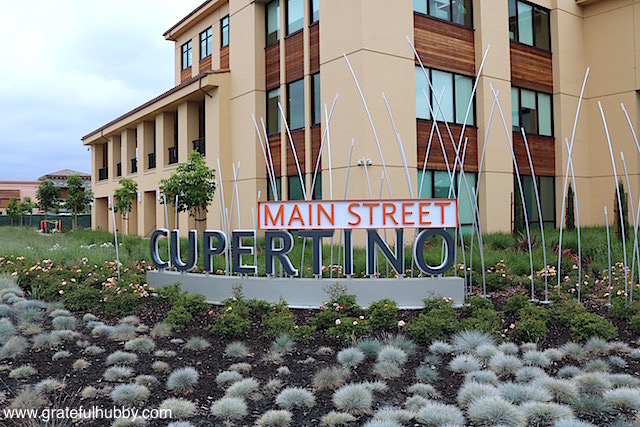 I drive past Main Street Cupertino on most days and from the streets have seen all the construction and development taking place in the immediate and surrounding areas. And it's taken the recent opening of the South Bay's first Eureka! location – Eureka! Cupertino opened earlier last month – to get Andrea and me to go visit for the first time.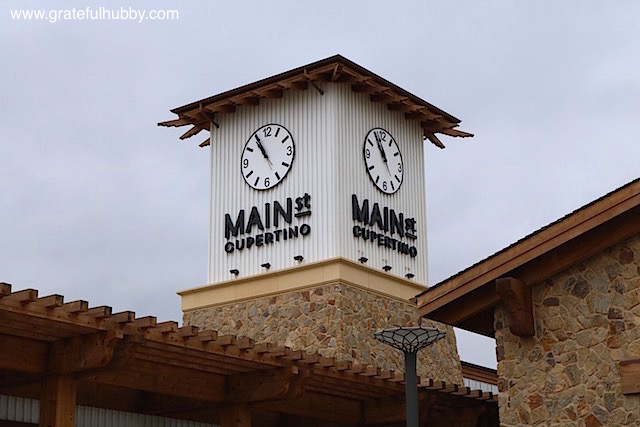 So earlier this month on a weekday, we stopped by Main Street Cupertino to have an early lunch at Eureka! Cupertino.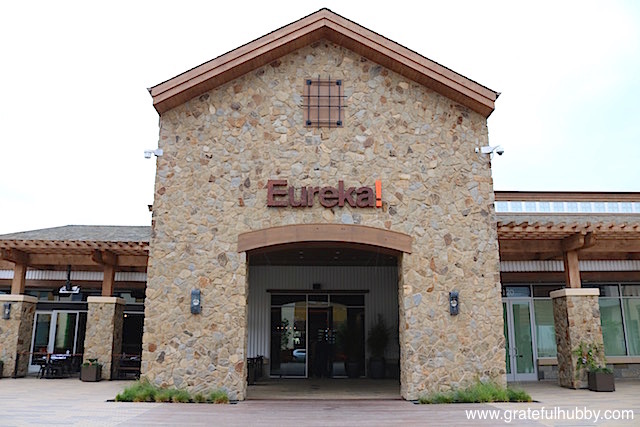 I liked the stylish exterior and interior elements and touches.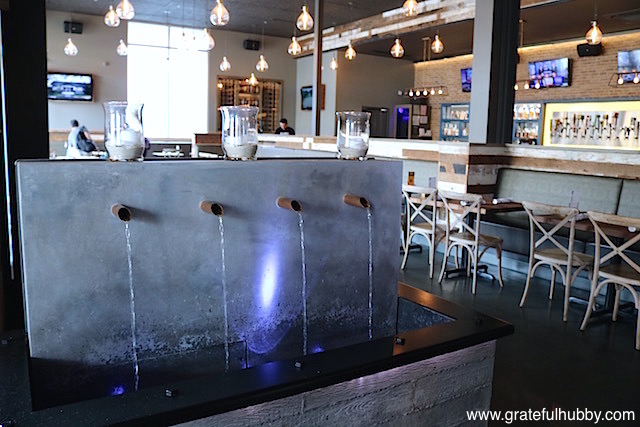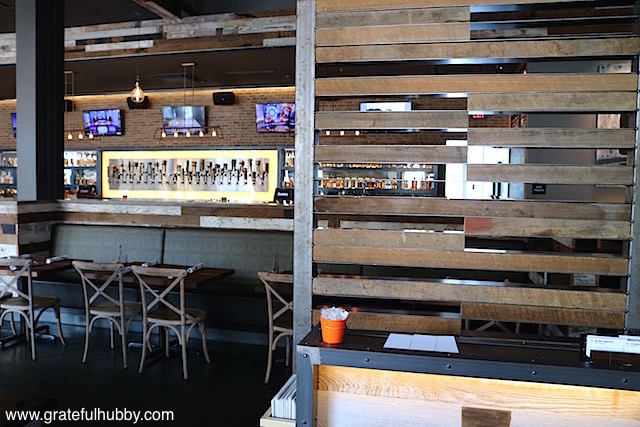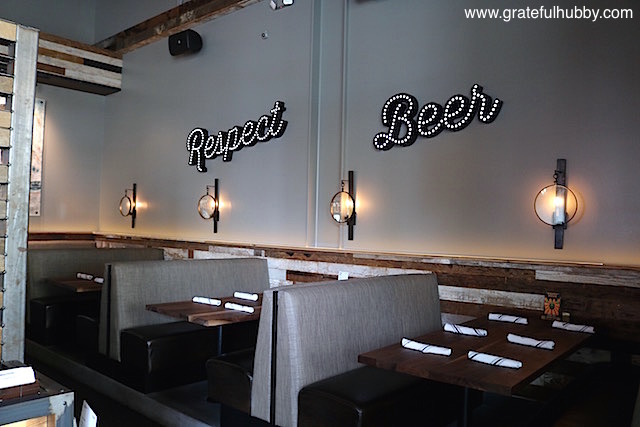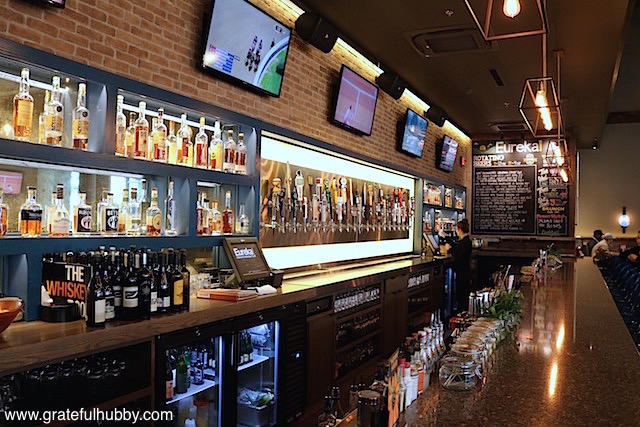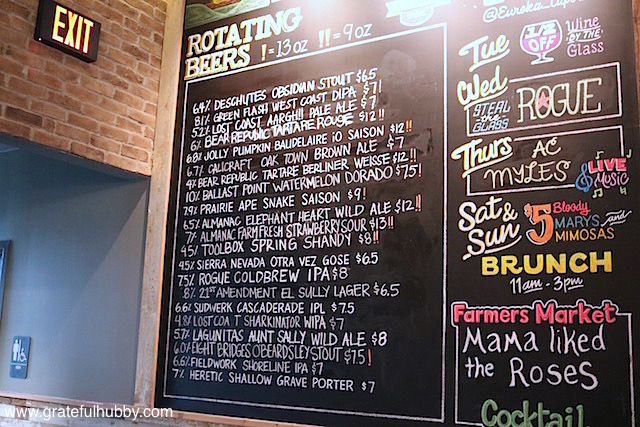 I also really liked seeing the local beers on tap.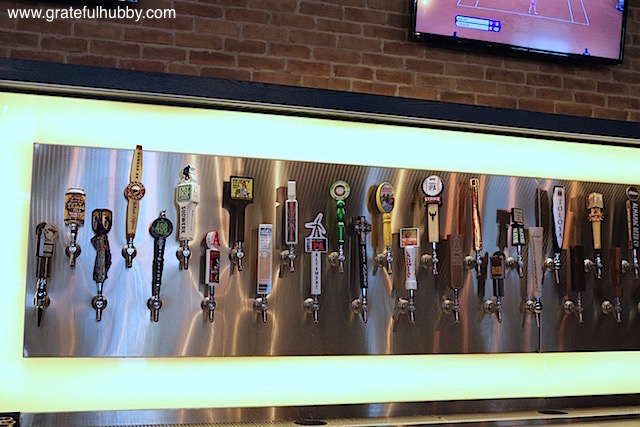 In particular, Santa Clara's Golden State Brewery Heritage Honey Ale, San Jose's Hermitage Brewing Company 408 Session IPA, Palo Alto Brewing Company Hoppy Ending Pale Ale and San Jose's Strike Brewing Company Double IPA.
Each Eureka! restaurant consistently offers well-regarded craft beers made from breweries from all over the country, but I especially appreciate their inclusion of the local breweries from the get-go. Without a doubt, Eureka! is a welcome addition to the local beer scene and will do much to elevate the nascent Cupertino beer scene.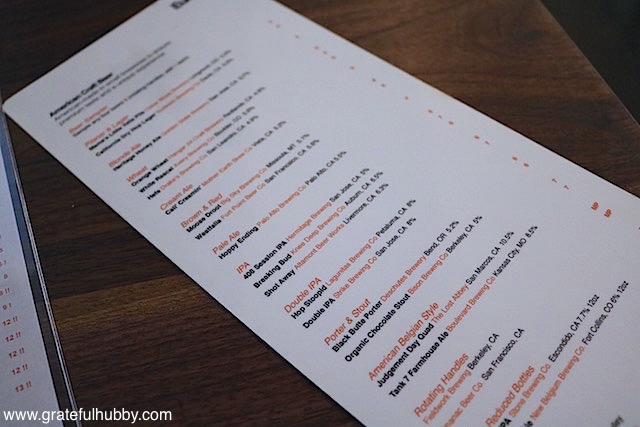 As for our meal, we opted to start with Osso Buco Riblets: sherry braised pork / firecracker aioli.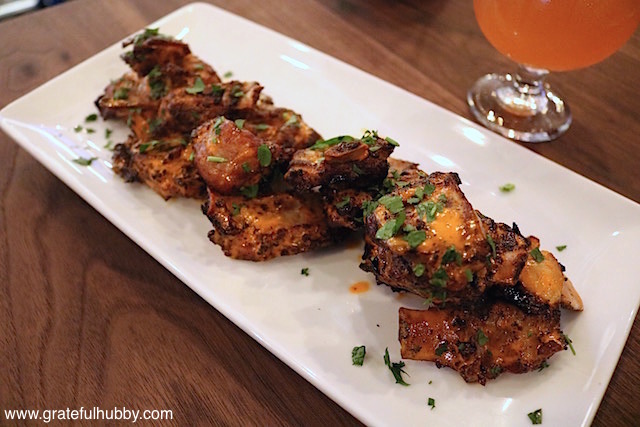 With Almanac Elephant Heart Wild Ale and Tolosa Pinot Noir.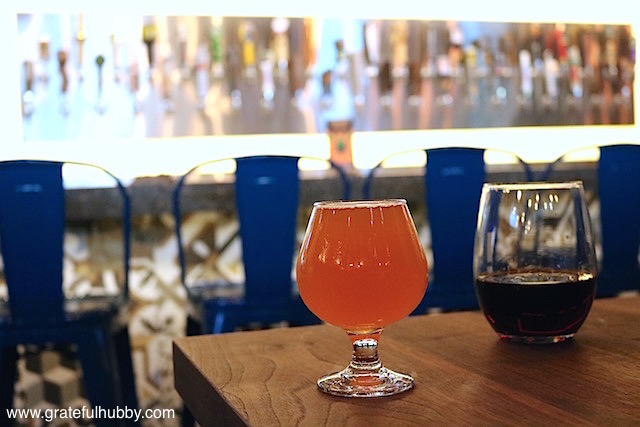 We then ordered Kale Salad: cabbage / roasted garlic / walnuts / cranberries / Parmesan / parsley vinaigrette / chicken.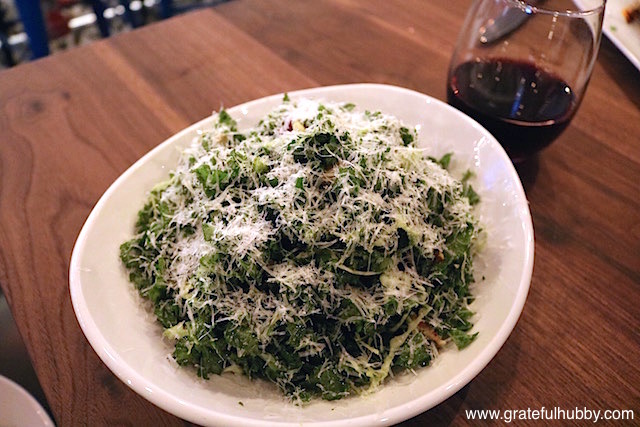 And the 8 oz. New York Steak: red wine jus / crispy crushed potatoes / seasonal grilled vegetables.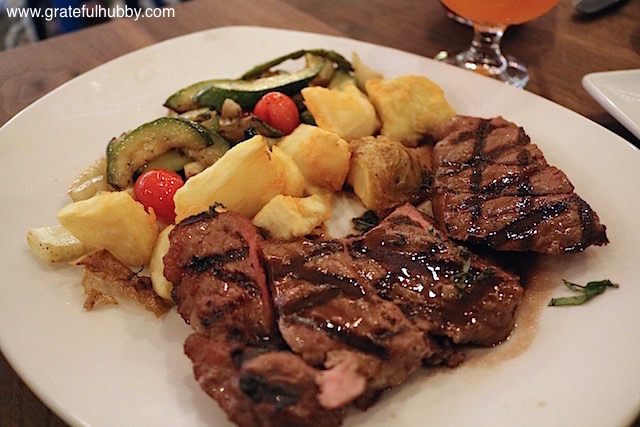 With Rogue Cold Brew IPA.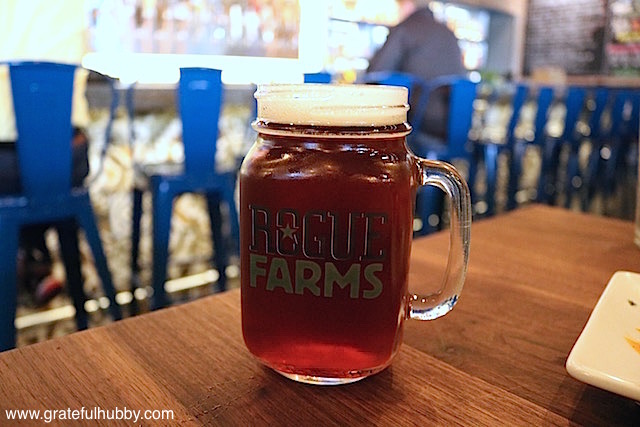 For dessert, we had the Butterscotch Rum Pudding: caramel sauce / whipped cream / sea salt.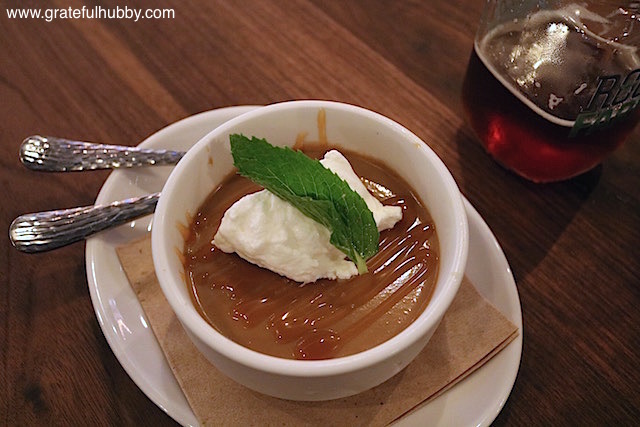 All facets of our lunch were on point, including exceptional service from our server Samantha and manager Crystina Vu, who's also the beer manager.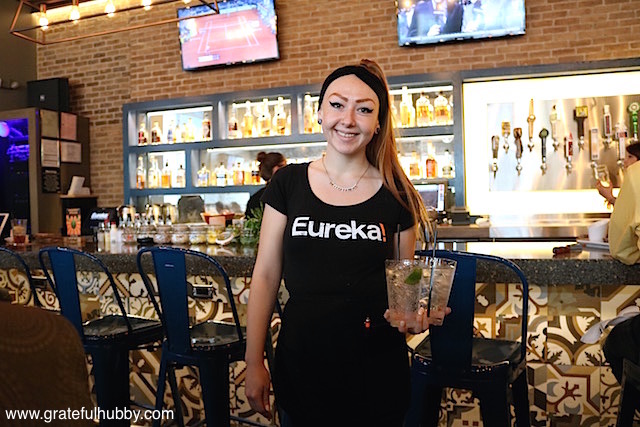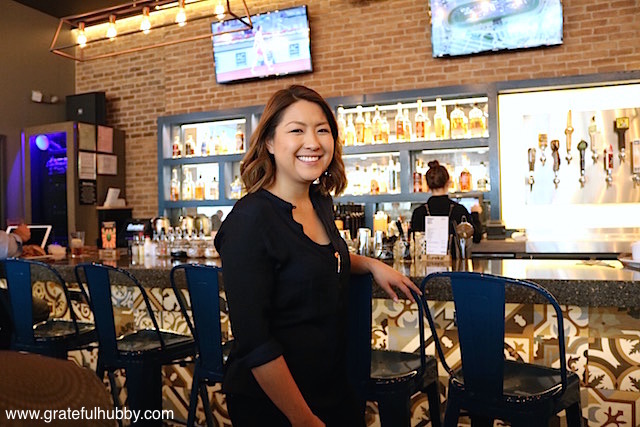 With Mother's Day being a few days later, we returned to Eureka! Cupertino again for lunch, this time walking there with our boys. We arrived before the opening, so we explored Main Street Cupertino some before returning to get in line.
Some pictures from our Mother's Day lunch at Eureka! Cupertino: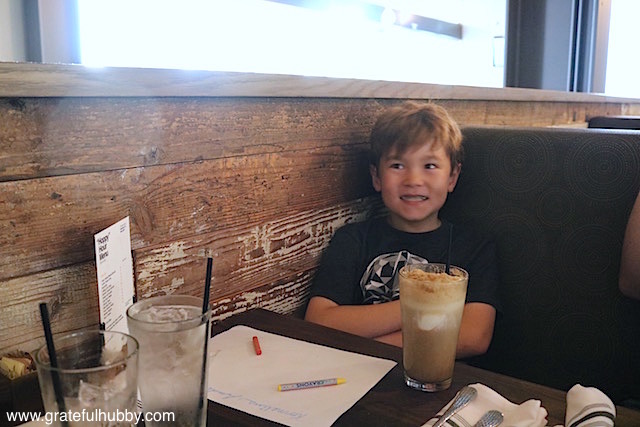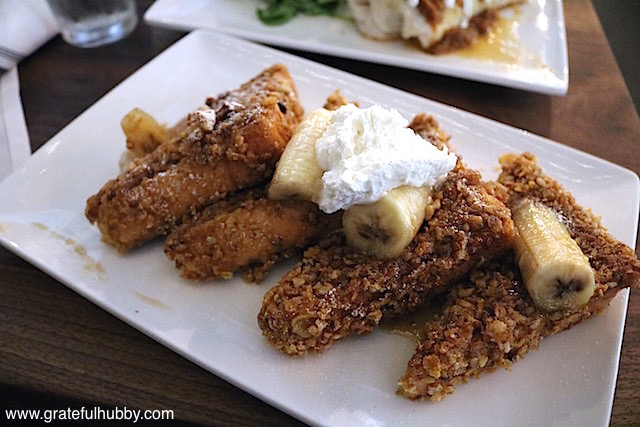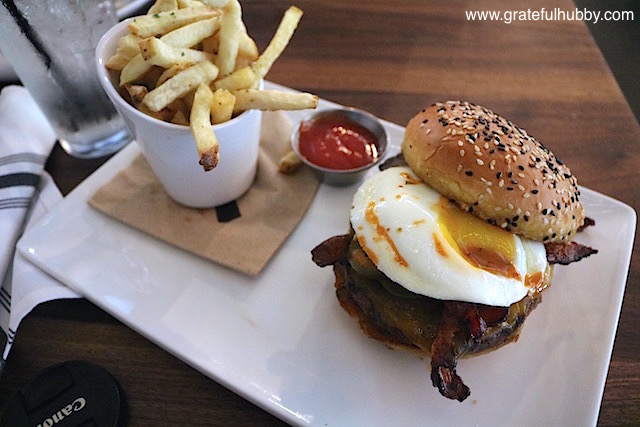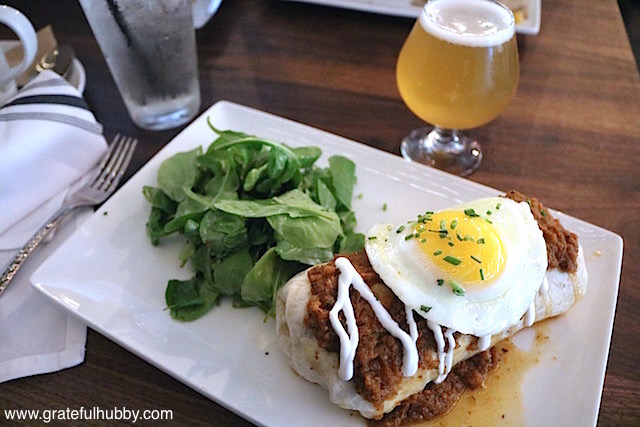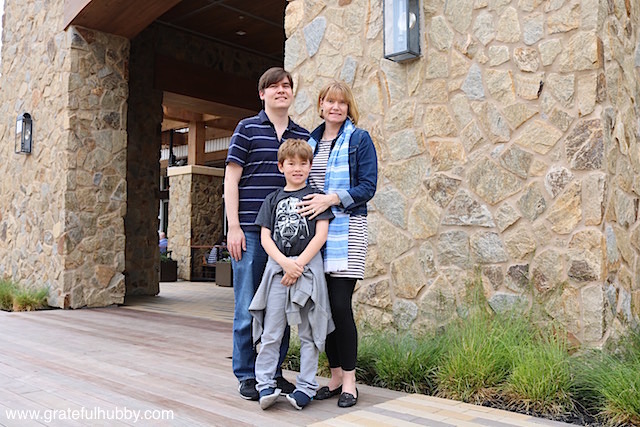 More details from last month's announcement about the opening of Eureka! Cupertino:
WHAT: Cupertino's newest restaurant, Eureka!, an all-American concept is opening Monday, April 4, 2016 at Main Street Cupertino. Eureka! provides one-of-a-kind discovery experiences with weekly events such as local entertainment, Steal The Glass, daily "Hoppy" Hour, an inventive rotating beer and craft beverage program, and a craveable menu.
Each dish is thoughtfully prepared to showcase quality ingredients, locally sourced when possible. Eureka! specializes in American classics with a modern twist with its diverse selection of appetizers, all natural, Angus chuck burgers, signature plates which includes innovative salads, hand-crafted sandwiches, and delectable desserts. Menu highlights include the Truffle Cheese Fries featuring signature handcut french fries tossed in truffle salt, topped with parmesan cheese, green onions, and served with a side of Truffle Cheese Sauce; Veggie Beet Burger with a housemade red beet and kidney bean patty, housemade pickles, red onion, tomato, arugula, topped with lemon vinaigrette, and served with signature handcut fries; Fresno Fig Burger topped with a fig marmalade, goat cheese, bacon, spicy porter mustard, arugula, tomatoes, onions, and served with signature handcut fries; Baby Back Ribs with housemade dry rub, spicy orange glaze, and chimichurri; Watermelon Salad with toasted walnuts, arugula, kale, homemade quinoa mix, watermelon, feta cheese, tossed with lemon vinaigrette and drizzled with balsamic glaze; and Butterscotch Rum Pudding featuring housemade whipped cream, caramel sauce, and sprinkled sea salt.
Weekend brunch is featured on Saturdays and Sundays from 11 a.m. to 3 p.m. Delectable offerings include Huevos Rancheros with turkey chili, fried eggs, ranchero sauce, black beans, Jack and cheddar cheese, avocado, and sour cream; Creole Benedict featuring fried green tomato, Virginia ham, Creole mustard hollandaise, breakfast potatoes; and Bananas Foster Crunchy French Toast topped with pecans. To complement the flavorful brunch and menu options, Eureka! serves Mimosas and Bloody Marys on the weekends for $5.
Eureka! brings guests an inventive beverage program that revolves around the restaurant's commitment to serving all-American craft beer, regional wines, both accompanied by a selection of over 50 small-batch whiskeys and specialty cocktails, ensuring a premium product that is highly sought after. The overall atmosphere combines an alluring blend of rustic charm with chic design elements, creating a look and feel that is simple yet elegant. The building provides a spacious dining experience with three story high vaulted ceilings and an inviting patio for when guests want to enjoy the beautiful weather.
WHEN:
Monday, April 4, 2016 at 11 a.m.
WHERE:
Eureka!
Main Street Cupertino
19369 Stevens Creek Blvd Suite 130
Cupertino, CA 95014
WEEKLY EVENTS:
"Hoppy" Hour Daily 2 p.m. – 6 p.m.
Tuesday: Half-off Wine all day
Wednesday: Steal The Glass at 6 p.m.
Thursday: Live Music
Saturday & Sunday 11 a.m. – 3 p.m.: Brunch & $5 Bloody Mary's & Mimosas all day
HOURS:
Sunday – Wednesday: 11 a.m. – 11 p.m.
Thursday – Saturday: 11 a.m. – 12 a.m.
SOCIAL MEDIA:
Facebook: Eureka Cupertino
Twitter: EurekaCupertino
Instagram: Eureka_Cupertino
ABOUT EUREKA!: Eureka! is a leading family of restaurants that proudly serves only authentic, handmade food with locally sourced produce, all freshly cooked to order. The beverage program features 100% American craft beer, small batch whiskey, house-aged barrels and specialty cocktails sourced only from artisans throughout America to ensure a premium, innovative product that is sought after by those who appreciate the most. For more information, please visit www.eurekarestaurantgroup.com.