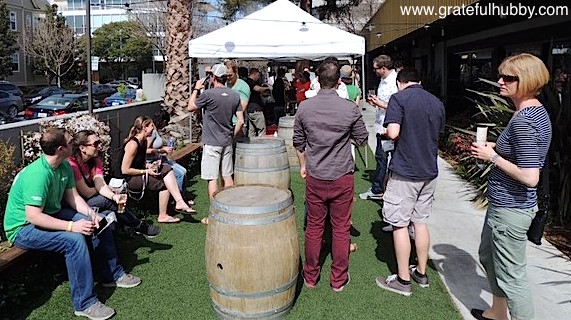 Steins Beer Garden & Restaurant in downtown Mountain View will kickstart "Summer Nights on the Patio" on Thursday, May 26 starting at 5:30pm. It'll be the first of a series of weekly beer events that'll feature tasty offerings from a select brewery to be enjoyed in Steins' outdoor beer garden.
Steins assistant manager Lynna Nguyen chimes in with the following:
"We are excited to be hosting our first out of many brew events this summer! The events will be every Thursday in our beer garden in the back at 5:30pm. Each week will be a different brewery featured, and we will be tapping some of their exclusive and specialty craft brews. There will be one highlighted beer that each brewery will release.
"We came up with this idea last summer. We did a summer brew series outside using our kegerator, which was a huge hit. People loved it! They got to enjoy our beer garden and try new beers. Some breweries may bring in some "swag" for you to take home as well.
"We decided on the name 'Summer Nights on the Patio' to welcome our guests to come in and spend their summer nights with us on Thursday to enjoy delicious food, great brews and awesome company in our beautiful patio outdoors, because we are spoiled with great California weather!
"We want to start off with just doing these events on Thursdays, but if it's a huge hit again and busy, we may add additional nights to have these events."
This Thursday's first Summer Nights event will feature Almanac Beer Company. The beer list was announced earlier today and includes:
Cold Brew Coffee Barrel Noir (Imperial Stout

)

Emperor Norton (Tripel)

Saison Dolores

Tropical Platypus (Sour Blonde Ale)

Lynna provides a sneak peek to the upcoming schedule of Summer Nights on the Patio at Steins:
May 26 – Almanac (Barrel Noir – Imperial Stout brewed with Sightglass Cold Brew Coffee)
June 2 – Evil Twin Brewing
June 9 – Hanger 24 Craft Brewery (Barrel Role No. 4 Wing Over – American Barrel Role)
June 16 – Working Man Brewing Company
June 23 – Altamont Beer Works
June 30 – Ninkasi Brewing Company (Ground Control Imperial Stout vs. Bourbon Barrel-Aged Ground Control)
July 7 – Boulevard Brewing Company (Tank 7  Farmhouse Ale with Brett)
July 13 – Freigeist: Meet the Co-Founder and Head Brewer, Sebastian Sauer
July 14 – Freigeist
Steins will post updates on the Steins Facebook page as events get closer.