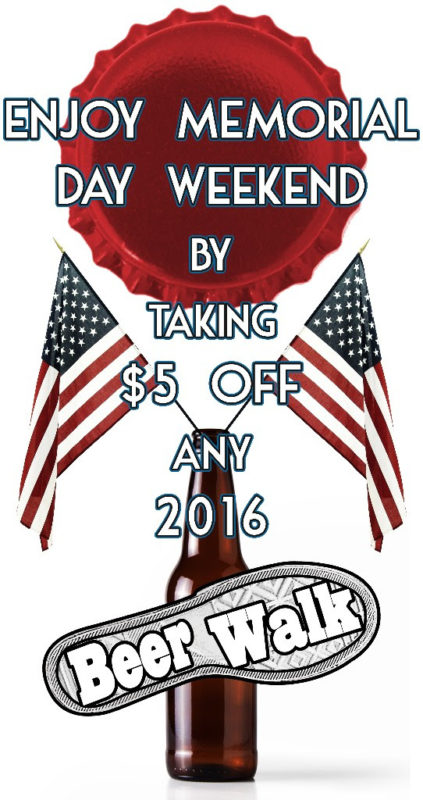 The first Bay Area Beerwalk took place in early 2012 in San Jose's Japantown, which I was fortunate to have been able to attend. Since that inaugural Beerwalk, The Beerwalk series – the brainchild of local gents Charlie Mann and Jordan Trigg – has continued to grow in popularity while maintaining the focus on local South Bay communities and businesses, and local breweries.
The most recent Beerwalk took place earlier this month in downtown Campbell and was a sold-out event, which meant there was a number of disappointed folks who hoped to purchase tickets on the day of the event. There were simply too many who had already purchased tickets in advance.
If you plan to attend one of the remaining Beerwalks this year, you can take $5 off tickets during this Memorial Day Weekend with the promotional code "memorial." Here's the remaining 2016 Beerwalk calendar:
Wed., July 27, 6pm-9pm: The Beerwalk at Santana Row
Wed., Aug. 31, 6pm-9m: Ciderwalk at Santana Row (Inaugural Ciderwalk Event)
Thurs., Sep. 15, 6pm-9pm: Sake Walk at San Jose's Japantown (Inaugural Sake Walk Event)
Sat., Oct. 29, 2pm-6pm: The Beerwalk in Willow Glen (Halloween Edition)
Sat., Dec. 10, 2pm-6pm: The Beerwalk in San Jose's Japantown (Christmas Edition)
Of special note is the launch of The Beerwalk series' first ever Ciderwalk and Sake Walk events, as well as The Beerwalk's Christmas edition in Japantown.
For more details and to purchase tickets (remember the promotional code "memorial"), visit www.thebeerwalk.com.