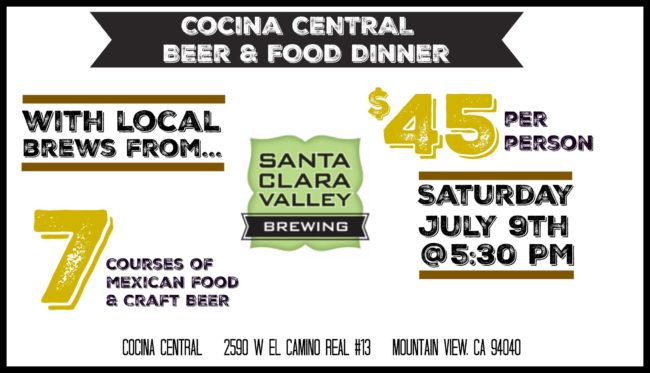 I've heard of 4-course beer-pairing dinners for sure, as well as 5-course dinners and even 6-courses. But I'm pretty sure that 7-course beer-pairing dinners are a rarity.
Cocina Central in Mountain View (2590 W. El Camino Real, Ste. 13) will host just such a beer dinner July 9, 5:30pm-8pm with paired beers – including new releases Alviso Mills Hefeweizen and Dairy Hill Milk Stout – from San Jose's Santa Clara Valley Brewing.
This beer dinner is a result of meetings – and tastings – between SCV Brewing's sales manager Peter Estaniel and Cocina Central's executive chef Elias Cisneros, who recently announced the menu (updated below) – featuring regional Mexican dishes – for the evening.
Tostadas de Aguachile
Sinaloa-Style Shrimp Ceviche
Pairing: Dry Creek Blonde Ale
Poc Chuc
Pre-Hispanic Barbecued Pork Marinated in Sour Orange
Pairing: Alviso Mills Hefeweizen
Tikin Xic
Traditional Yucatan Fish Marinated in Achiote
Pairing: Umunhum Pale Ale
Sopes de Nopales Asados y Chicharron
Pairing: Big Moody Barleywine Ale
Carne Asada
Marinated Skirt Steak
Pairing: New Almaden Imperial Red Ale
Capirotada
Mexican Bread Pudding with Dried Fruits
Pairing: St. Isidore Belgium Strong Ale
Paletas de Banana Horchata
Cinnamon-Rice Ice Cream
Pairing: Dairy Hill Milk Stout
Tickets are $45 – reasonably priced for any beer dinner let alone a 7-course beer-pairing dinner – and available through the dinner's Eventbrite page. With 60 spots available for the event, guests are encouraged to make reservations as soon as possible.
Below is a sneak peek to the 7 courses courtesy of Peter: