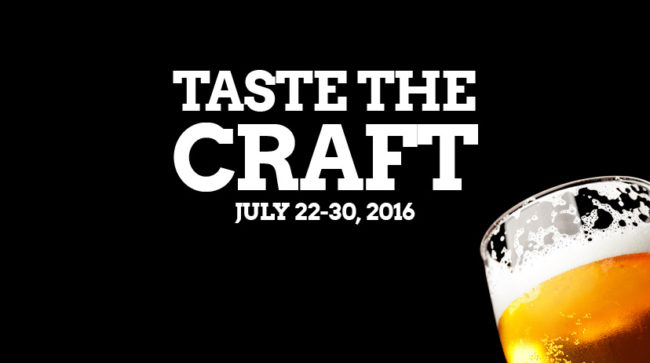 SV Beer Week 2016, July 22 – July 30
The 4th annual Silicon Valley Beer Week starts this Friday night, July 22, with the SV Beer Week Kick Off Party, spotlighting three local breweries – Santa Clara Valley Brewing (101 E. Alma Ave.), Hermitage Brewing Company (1627 S. 7th St.) and Strike Brewing Company (2099 S. 10th St. #30).
The ensuing days through Saturday, July 30, will consist of a myriad of beer-related events – about 145 at last count – hosted by businesses and organizations throughout the region.
SV Beer Week Kick Off Party, Fri., July 22, 5pm-9pm

The three participating breweries – all located within close proximity of each other – will offer Kick Off specials at their respective tap rooms, including 4-beer flights at Santa Clara Valley Brewing for $7, food truck El Burrito Loco at Hermitage and $1 off pints at Strike. Look for limited-release and seasonal offerings at each of the breweries as well.
Silicon Valley Beer Week Collaboration Beer
Santa Clara Valley Brewing, Hermitage and Strike are the founding members of the San Jose Small Brewers Association, established earlier this year. The Association has partnered with SV Beer Week to brew a collaboration beer to commemorate this year's beer week.
Though the specific release date and the beer style have yet to be announced, I've heard through the hop vine that the beer might be a Brett IPA brewed with lots of fruity American hops coming in at a reasonably sessionable 5.5% ABV.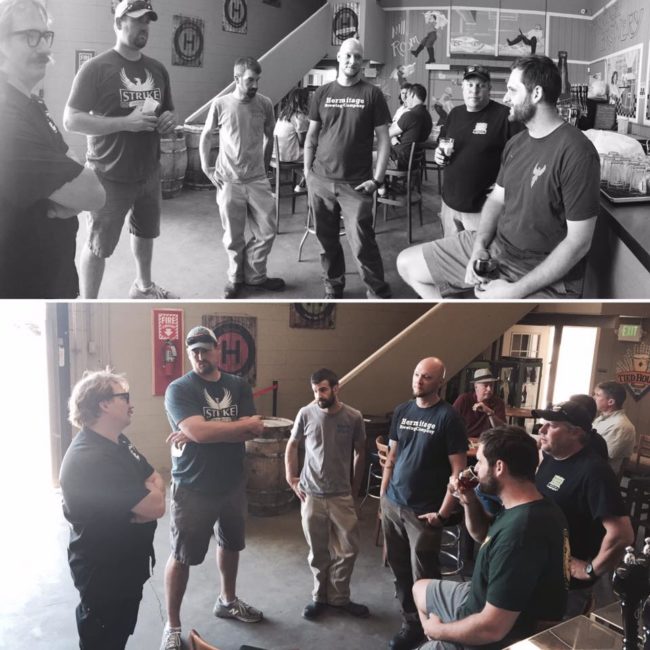 Personal Picks
I'd love to support all the local establishments hosting events during Beer Week and taste all the good beers being offered up. Alas, I lack the time, the funds and the liver power – not to mention a teleportation machine – to be able to attend all the numerous and overlapping events and enjoy all the beers.
I'll certainly make a point, however, to visit the venues that I can't get to during Beer Week after Beer Week ends. After all, with the burgeoning local beer scene, any week can be made into a special beer week.
That said, the Beer Week events listed below catch my eye, and I'll do my best to attend as many of them as possible.
Check out the SV Beer Week Events page for more details and to review all the scheduled events.
Oh, and for those wanting a head start to Beer Week, venerable beer venue Harry's Hofbrau in San Jose will host a 'Barrel-Aged Deliciousness from Allagash' event on Thursday, July 21 starting at 6pm and on the following day – July 22 – will host 'Fieldwork Tap Takeover and Beer Pairing with Head Brewer Alex Tweet' also starting at 6pm.
Sat., July 23
Lost Abbey and Port Tap Takeover at Harry's Hofbrau San Jose, 2pm-11pm
Ruin your Saturday with Stone Brewing at Armadillo Willy's BBQ Los Altos, 3pm-10pm
Walking Tour: Breweries, Bars & Brothels of Downtown San Jose, 5pm-6:30pm
California Brewery Showdown: 6 Brewers go Head to Head (Day 1) at Pizza California in San Jose, 11am-9:30pm (through Saturday, July 30)
Double IPA Release Party at Golden State Brewery in Santa Clara, 12pm-8pm
Los Gatos BrewFest at Jack Rose Libation House, 12pm-5pm
Stuft Bottle Share Vol. 2 at Stuft Pizza Milpitas, 5pm-10pm
Ballast Point 40+ Tap Takeover at O'Flaherty's Irish Pub in Downtown San Jose's San Pedro Square, 4pm-2am (through Tuesday, July 26)
The Maine Event 2 Featuring Allagash at Steins Beer Garden in Mountain View, 1pm-6pm
Wicked Weekend with Lagunitas at Wicked Chicken in Santa Clara, 11am-11pm (through Sunday, July 24)
Fieldwork Tap Takeover at Taplands in Santa Clara, 4pm-12am
Sun., July 24
Taste of Camino Brewing Company at The Farmers Union in Downtown San Jose, 10am-10pm
Strike Tap Takeover at Liquid Bread Gastropub in Campbell, 3pm-9pm
Pints & Poses at Santa Clara Valley Brewing, 10:30am – 11:30am
Cologne in California Featuring Calicraft at Steins Beer Garden, 1pm-5pm
Mon., July 25
Alvarado Street & Original Gravity Collaboration Beer Release and Tap Takeover at Original Gravity Public House in Downtown San Jose, 5pm-10:45pm
Sierra Nevada Special Release Night at Armadillo Willy's BBQ Los Altos, 5pm-9pm
California Pale Ale Battle 2016 at Fibbar Magees in Sunnyvale, 6pm-10pm
Dank Times with Modern Times at Stuft Pizza Milpitas, 3pm-10pm
Beer & Cheese Pairing at Santa Clara Valley Brewing, 6pm-9pm
Tues., July 26
Modern Times Takeover at Harry's Hofbrau San Jose, 6pm-11pm
Firestone Walker Tap Takeover at Burnt Rice Korean Restaurant in San Jose, 3pm-9pm
Strike Tap Takeover at Bourbon Pub in Santa Clara, 5pm-8pm
Donut and Beer Pairing with Psycho Donuts
Santa Clara Valley Brewing Tap Takeover at Liquid Bread Gastropub in Campbell, 3pm-9pm
Humboldt County River Run Tap Takeover at Spread Deli & Bottles in Campbell, 5pm-8pm
Taco Tuesday Cornhole Tournament at Jack's Bar & Lounge in San Jose, 6pm-9pm
Alpha Acid Tap Takeover at South Winchester BBQ in San Jose, 5pm-9pm
Coronado Tap Takeover & Beer Can Chicken Party at The Socialight in Campbell, 5pm-10pm
3rd Annual Official SVBW Bruery Event at Steins Beer Garden & Restaurant in Mountain View, 5pm-11pm
Sierra Nevada Pint Night at Taplands in Santa Clara, 6pm-9pm
Wed., July 27
The Beerwalk in Santana Row, 6pm-9pm
An Evening with Founders Brewer Jeremy Kosmicki at Liquid Bread Public House in Downtown San Jose, 5pm-10:45pm
Buy the Pint and Keep the Slice Vol. 2 at Stuft Pizza Milpitas, 4pm-10pm
Firkin Friends Fest at Freewheel Brewing Company in Redwood City, 6pm-10pm
Lagunitas Tap Takeover at Liquid Bread Gastropub in Campbell, 3pm-9pm
Barrel Aged Tap Takeover at Refuge in San Carlos, 11:30am-9pm
54+ Sierra Nevada Tap Takeover at O'Flaherty's Irish Pub in Downtown San Jose, 4pm-2am (through Sat., July 30)
Anchor Brewing Firkin Tapping and Rock Band Night at 7 Stars Bar & Grill in San Jose, 7pm-11:30pm
Thurs., July 28
Stone Tap Takeover and Meet the Small Batch Brewer at Harry's Hofbrau San Jose, 6pm-11pm
Ballast Point Beer Bash at Armadillo Willy's BBQ Los Altos, 5pm-10pm
Hermitage Tap Takeover at Liquid Bread Gastropub in Campbell, 3pm-9pm
California Craft Throw Down Round 6 at St. John's Bar & Grill in Sunnyvale, 5pm-8pm
An Evening with Founders Brewer at Wicked Chicken in Santa Clara, 6pm-10pm
Who's Your Daddy? at Taplands in Santa Clara, 5pm-9pm
Fri., July 29
Ballast Point 20th Anniversary Party at Harry's Hofbrau San Jose, 6pm-11pm
New Belgium Bonanza and Cruiser Bike Giveaway at Armadillo Willy's BBQ Los Altos, 5pm-10pm
Ice Cream Float Special at 20twenty cheese bar in Willow Glen, 1pm-7pm
Deschutes Ice Cream Social / Cellar Extravaganza at Original Gravity Public House in Downtown San Jose, 5pm-11:45pm
Meet the Brewers – Golden State Brewery & Six Rivers Brewery at Taplands in Santa Clara, 4pm-7pm
Red Branch Cider Company Tap Takeover at Liquid Bread Gastropub in Campbell, 3pm-6pm
Sat., July 30
Sour Fest 7.0 at Original Gravity Public House in Downtown San Jose, 12pm-11:45pm
2nd Annual Beer Can Open Golf Tournament at Santa Teresa Golf Club, 11:30am-5pm (Sold Out)
Pizza Pairing at Oak & Rye in Los Gatos, 2pm-5pm
Sports Night with the Game Day Food Truck at Golden State Brewery in Santa Clara, 4:30pm-7:30pm
Founders Brewing Brunch at Cocina Central in Mountain View, 2:30pm-4:30pm
Taplands Celebrates Local Beer in Santa Clara, 11am-9pm