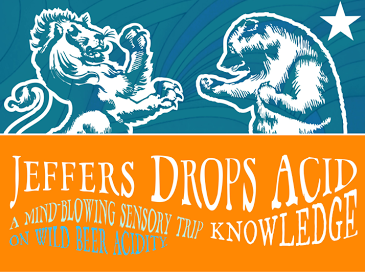 For anyone wanting to learn more about wild or sour beers, then consider signing up for the "Jeffers Drops Acid… Knowledge" seminar coming up at Steins Beer Garden & Restaurant in downtown Mountain View on Thursday, September 8, 6pm-8pm.
"Jeffers" – for those unfamiliar with the name – refers to Jeffers Richardson, the director of Barrelworks in Buellton and an expert on wild beer. Barrelworks is the home to Firestone Walker Brewing Company's much heralded wild beer program.
Jeffers is an excellent speaker – knowledgeable, engaging and articulate. He's also very down-to-earth. I've had the pleasure of hearing him speak at several past events, including the Firestone Walker Roots of Anniversary Ale XVI event held several years ago at Harry's Hofbrau in San Jose.
The "Jeffers Drops Acid… Knowledge" series started earlier last year at Barrelworks, and has since been conducted at various locations throughout the country.
Firestone Walker senior sales manager Tony Riffis, a San Jose native and resident, confirms that the upcoming seminar at Steins is the first such event to take place in the South Bay.
Here are some additional details of this unique beer seminar courtesy of Firestone Walker:
Jeffers Richardson—director of Firestone Walker's Barrelworks wild beer facility—is taking his trailblazing educational show on the road… under the banner of "Jeffers Drops Acid…Knowledge," inviting you to explore how acidity shapes your sensory perception of wild beers.
"When it comes to wild or sour beers, acidity plays more of a role in the taste experience compared to traditional beers, which are more defined by their hop and malt profiles," Richardson said. "This seminar is designed to explore the role of acidity, and to reveal not only what you are tasting in the beer, but also why."
Perception vs. Reality
The seminars delve into the differences between pH and total (or titratable) acidity as well as the sensory relationship between smell and taste. Different concentrations of acetic, citric and lactic acids are tasted, enabling you to discover the signature characteristics of each. Along the way, you learn how each of these acids shapes flavor, mouthfeel and overall perception.
Each seminar then ends on a sour note with a special tasting of limited releases from Barrelworks to test your newfound knowledge and reinforce the lesson.
The "Jeffers Drops Acid…Knowledge" seminar series originated at the brewery earlier [last] year and was met with enthusiasm, prompting Richardson to take it on the road. A recent similar event in collaboration with The Rare Barrel in Berkeley sold out in two minutes.
"The response has been phenomenal," Richardson said. "Many people are new to wild beers, and this is a really fun way to take a crash course."
Jeffers' upcoming talk will include a tasting of 3 Barrelworks beers:
Agrestic (American Wild Red Ale)


Bretta Rosé (Wild Ale Fermented with Raspberries)

Lil' Opal (Barrel Aged Saison)
Steins will be providing appetizers for participants during the class.

Tickets to the event are $50 per person and available for purchase online. Tickets are required for attendance and include the aforementioned tastings and appetizers.