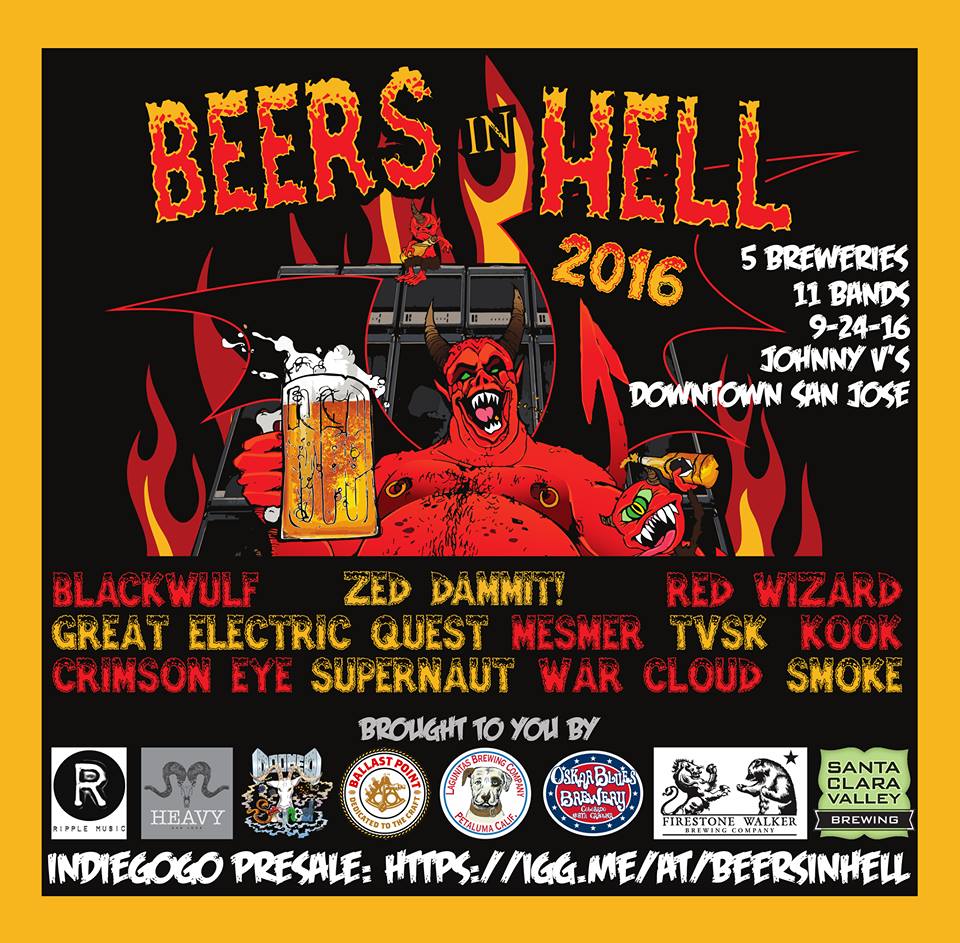 Heavy San Jose recently reached out regarding their upcoming Beers in Hell Fest taking place on Saturday, September 24, 5pm to 2am in downtown San Jose at Johnny V's Bar (31 E. Santa Clara St.).
Beers in Hell Fest is presented by Heavy San Jose, Ripple Music and Doomed and Stoned, with participating breweries Firestone Walker, Lagunitas, Ballast Point and Santa Clara Valley Brewing.
As Heavy San Jose's JD Norton puts it, Beers in Hell Fest is the "first event of its kind in the Bay Area, at least according to [their] not-so-exhaustive research." :)
The event combines craft beer and heavy music. A 12-tap takeover features the aforementioned breweries – brewery representatives will be on hand – along with 11 underground bands that all fall in the genre of metal and heavy rock.
The band lineup features: Blackwülf (Oakland), Zed (San Jose), Crimson Eye (Sacramento), Great Electric Quest (Oceanside), KOOK (San Jose), Mesmer (Oakland), Red Wizard (San Diego), Smoke (Santa Cruz), Supernaut (Santa Cruz), TVSK (Oakland), and War Cloud (Oakland).
Tickets ($20) can be purchased at the event, but presale tickets purchased via the Beers in Hell Heavy Music Fest Indiegogo campaign – which ends Friday, Sep. 16 – include tickets plus a variety of special merchandise options and add-on perks to enhance the festival experience.
These Indiegogo presale ticket and merchandise campaign deals are only available on the website, and 100% of the proceeds will go directly to the bands.
At last check, the Dark Lord's Cellar presale package was still available at the Indiegogo page. That package ($150) is good for tickets, event poster, shirt, pint glass and the following 6 beers:
2002 Rogue XS Old Crustacean Barleywine (are you brave enough to drink a 14 year old beer?)
2009 Alaskan Barley Wine Ale (one of the best ever made)
2012 Deschutes The Abyss Imperial Stout (the standard by which all are measured)
2013 Fifty Fifty Eclipse Black Wax (Evan Williams Bourbon Barrel aged… made by one of the pioneers of modern barrel-aged beer)
2014 The Bruery Black Tuesday Imperial Stout (at almost 20% alcohol, this is the gnarliest of the bunch)
2015 The Bruery/Three Floyds Collaboration-Floyd D'Rue Imperial Porter (Three Floyds is the original heavy metal brewery… and originator of Dark Lord Day)
The beers listed above, including the parenthetical beer notes, are courtesy of Jeff Wilson, the other half of Heavy San Jose. In addition to being the bass player for the band KOOK, he's a craft beer enthusiast. Jeff's the craft beer buyer at Kukar's House of Pizza and for a few of Johnny V's taps as well. He's the reason Kukar's started getting 5-6 rotating taps of great craft choices in the past couple years.
Look for the "Hell Brew" firkin from Santa Clara Valley Brewing – 10 gallons of their Electric Tower IPA with blood orange, mixed with locally grown hot peppers and dry hopped with citra and cascade hops.
JD adds: "Our hope is that this first event will be a huge success and will turn into something we continue to do right here in San Jose year after year going forward."