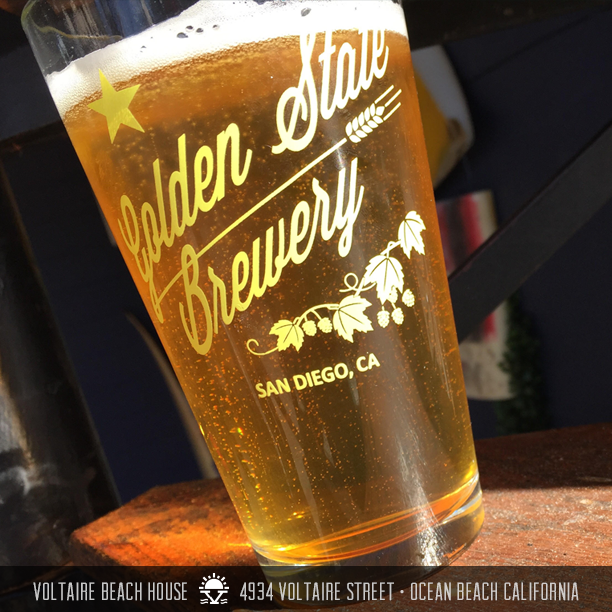 Friday the 13th has turned out to be quite the day for Santa Clara's Golden State Brewery.
Last week, the brewery shared some big news via social media – they would be opening a tap room in San Diego's Ocean Beach neighborhood. And earlier this evening, they offered up the following notice:
"Golden State Brewery is officially flowing in San Diego! Come celebrate the opening weekend with us at Voltaire Beach House, 4934 Voltaire Street, Ocean Beach."
From the Voltaire Beach House website:
"With the opening of Voltaire Beach House we're excited to announce the opening of our 'Tap Room' where we'll exclusively be pouring Golden State Brewing from Santa Clara, California. The Tap Room offers (12) Golden State craft beers on tap in addition to a selection of San Diego's finest including ciders and sours, a selection of fine wine and fresh squeezed crafted cocktails with a limited Voltaire Beach House dining menu with favorites like the Golden State beer battered 'Fish & Chips'!
"Golden State Brewery and their farm-to-draft offerings are made using only premium quality organic produce and botanicals from the Golden State. The result is a beautiful crafted beer that taste uniquely California – authentic, fresh and adventurous…perfect for the coastal community of Ocean Beach!"
When Golden State Brewery's Seth Hendrickson first told me about this development in November, it sounded like such a unique opportunity, and I was very excited for him and the Golden State Brewery team. He was well aware that his beers would be joining the thriving San Diego beer scene and couldn't wait to be a part of the community.
Voltaire Beach House is headed up by San Diego restaurateur David Schiffman who tapped consulting chef Abe Botello to design the restaurant menu. More info. about the restaurant below (from their website):
"Enjoy New Americans eats in the coastal escape paradise otherwise known as Voltaire Beach House. Consulting Chef Abe Botello designed the Voltaire Beach House menu to offer California-inspired eats for all San Diegans to enjoy – with vegan, vegetarian and gluten-free options dotting the menu. Options range from your classic options, like burgers, sandwiches and salads, to more unique offerings, such as fried oysters & shrimp, avocado toast and more."