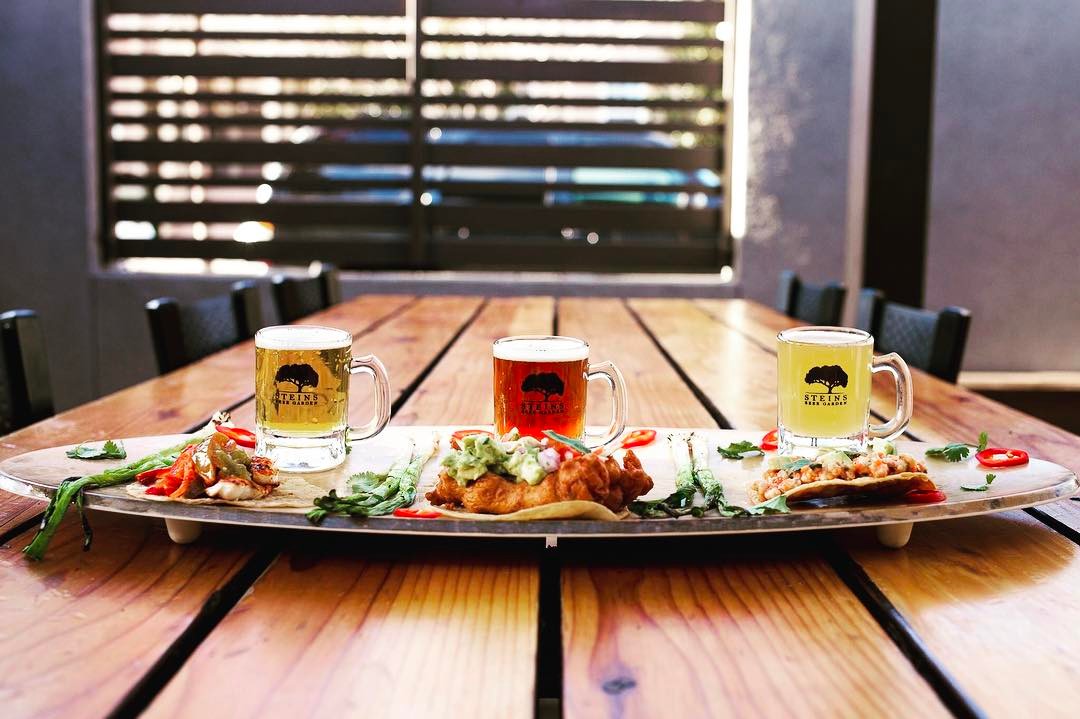 Steins Beer Garden & Restaurant in downtown Mountain View (895 Villa St.) will be hosting their 2nd Taco & Beer Pairing event Wednesday, Jan. 25 at 5pm.
Manager Lynna Nguyen shares, "We had such a great turnout the first time, we thought why not ring in the New Year with another taco & beer pairing event… This time we will be doing seafood."
Made with house-made tortillas, the event features three prix-fixe pairings of tacos and beers (including beer cocktails) selected by bar manager Ryan Hummel:
Shrimp Ceviche Tostada paired with Steins' Michalada
Veracruz Seabass Taco paired with Paloma Cocktail
Fried Rockcod with Chipotle Salsa paired with Moody Tongue Applewood Gold (smoked pilsner)
There'll be a salsa bar as well: Guacamole (mild), Roasted Tomato (medium), Tomatillo (hot).
Simply visit the restaurant and let the host know that you are looking to join the taco event.
SF Beer Week Events at Steins
SF Beer Week is coming up quickly, and Steins has a couple of events scheduled:
Tues., Feb. 14: Fort Point Beer Company "My Bitter Valentine" – Featuring an IPA with Satsuma mandarin and fir tips, Steins will be offering up a salty pork dish to pair with the beer for Valentine's Day. Other Fort Point beers will be on tap as well.
Thurs., Feb. 16: Look for a collaboration beer dinner with Elkhorn Slough Brewery Co.
Steins' 3rd Annual Home Brew Competition and 4th Anniversary Party
For their 3rd annual home brew competition, Steins is inviting homebrewers to craft any beer style within the 2015 BJCP guidelines with the caveat that the beer will be called "Nägar The Destroyer," named after one of their employees.
The drop-off period for home brews is March 11 – 16, and the winner will be announced at the 4th anniversary party to be held on Sat., March 25. Check out the Facebook event page for additional info. regarding the home brew competition.