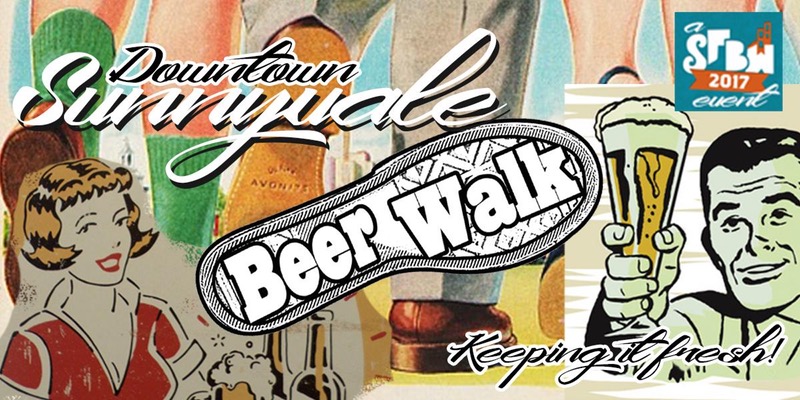 The next Beerwalk is set to take place in downtown Sunnyvale on Saturday, Feb. 11 from 2pm to 6pm, marking the first time that Sunnyvale plays host to the popular Beerwalk series.
Current Brewery List
10 Barrel Brewing
Almanac Brewing
Altamont Beer Works
Anchor Brewing Co.
Ballast Point
Discretion Brewing
Elysian Brewing
Faultline Brewing Co
Firehouse Grill & Brewery
Firestone Walker Brewing Co.
Golden Road Brewing
Golden State Brewery
Goose Island Brewing
Heretic Brewing
Lagunitas Brewing Co.
Lost Coast Brewery
Santa Clara Valley Brewing
Sierra Nevada Brewing
Sonoma Springs Brewing Company
Strike Brewing Co.
Tasting Locations
Aloft Sunnyvale
Beach Hut Deli
Bean Scene Cafe
Coffee & More
Fibbar Magees
Firehouse Grill & Brewery
Flywheel Sports
Il Postale
Isabella Boutique
Leigh's Favorite Books
Lily Mac's
Loft House Apartments
Metro City Restaurant & Bar
Murphy's Law
Nom Burger
Prolific Oven
Solstice Apartment Homes
Status 5
Vino Vino
Tickets are $35 – but can be purchased at early bird prices through this weekend – and include beer samples, custom glass and passport.
Plus, the first 50 to check-in the day of the event receive a complimentary tour at Firehouse Brewery.
Check-in Location
12pm to 5pm – Between Nom Burger and Prolific Oven: 251-259 W. Washington Ave.
For additional information – and to purchase tickets – visit the event's Eventbrite page: www.eventbrite.com/e/the-beerwalk-sunnyvale-tickets-29773428125