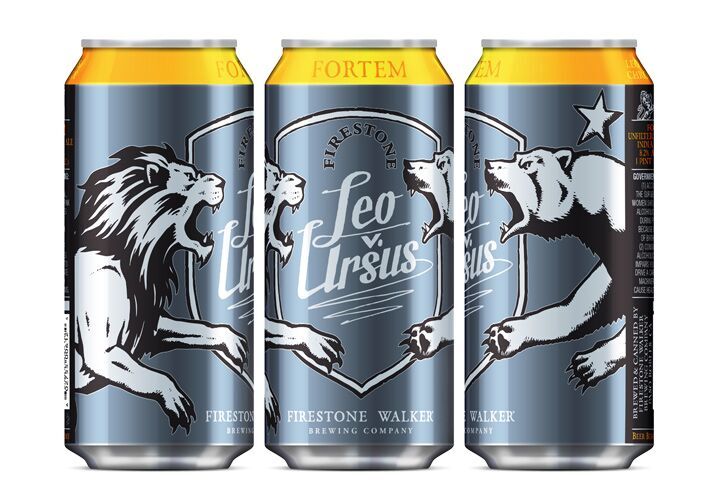 These are certainly hyper creative and experimental times at Firestone Walker. Their most recent beer – Fortem Unfiltered Imperial IPA – is the first beer to come out of the newly launched Leo v. Ursus Chronology program, which will feature the release of a new one-off beer every quarter. More nitty-gritty info. below per a recent press release.
Leo v. Ursus
The name Leo v. Ursus is a nod to the brewery's distinctive culture of purposeful conflict, as embodied by founders Adam Firestone (The Bear) and David Walker (The Lion).
While diverse in style, each beer in the Leo v. Ursus Chronology will exhibit unifying threads – they will be bold, intense and often hoppy but strive for a sense of balance. Many will also address wish lists expressed by loyal fans.
The Leo v. Ursus Chronology was made possible thanks to the recent launch of the Propagator, Firestone Walker's pilot brewhouse in Venice, a state-of-the-art miniature brewery. It's designed to brew small batches, nimble enough to explore new ideas which can be fine-tuned and scaled at the main brewery in Paso Robles.
"Until the Propagator came along, our ability to experiment and go crazy with tiny batches was limited…" says brewmaster Matt Brynildson. "Leo v. Ursus opens the door to increased creativity with new and exciting raw materials – namely, a host of new hop cultivars that do not fit into our established recipes. We will also explore dark malts, experimental hops and alternative grains in this program."
The launch of the Leo v. Ursus series is clearly a big deal for Matt. "This is a new chapter for us. We will go to our graves wishing we had made the perfect beer—but we will give it our best shot with Leo v. Ursus."
Fortem
Fortem (Latin for "The Strong") is a contemporary imperial IPA (8.2% ABV) that draws upon a range of influences while exhibiting DNA from Firestone Walker's own forays into the IPA style, including Double Jack and Luponic Distortion. It'll be available in draft and 16-ounce can (four-pack) formats.
Fortem aims for power through a balance of aromas, mouthfeel and bitterness. It blends newer hop varieties from the Pacific Northwest and Hallertau, Germany, along with pale malt, wheat malt and flaked oats for a full body and a rounded texture.
Look for a mix of aromas, including mango, blueberry, raspberry, lime zest and lychee. After time in the glass, it opens up to reveal stone fruit blossoms and mandarin oranges, finishing with just enough bitterness to encourage your next sip. Fortem has been left unfiltered for a hazy appearance and full hop impact.
Fortem on Tap in the South Bay
With the first keg of Fortem in San Jose, Good Karma Artisan Ales & Cafe will tap the inaugural Leo v. Ursus release Friday, March 3 at 5pm.
On Thursday, March 9 at 6pm, Original Gravity Public House will tap Fortem during their Firestone Walker Milk & Cookies Night event featuring

Nitro Velvet Merlin Milk Stout

and other FW offerings.
Armadillo Willy's BBQ in Los Altos has scheduled to tap Fortem on Thursday, March 16 at 5pm.