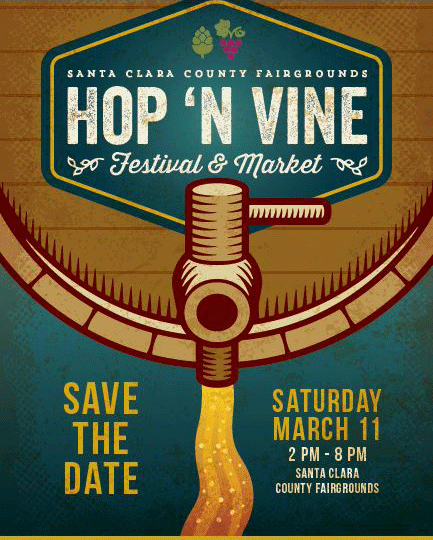 The first annual Hop 'N Vine Festival & Market is set for Saturday, March 11 from 2pm-8pm at the Santa Clara County Fairgrounds in San Jose (344 Tully Rd.).
It's taking place indoors in Pavilion Hall and will feature a number of local breweries and wineries that all produce their beer and wine in Santa Clara County.
Participating breweries:
Campbell Brewing Company
El Toro Brewing Co.
Golden State Brewing
Hapa's Brewing Company
Hermitage Brewing Company
New World Ales
Santa Clara Valley Brewing
Strike Brewing Company
Umunhum Brewing
Participating wineries:
Aver Family Vineyards
Comartin Cellars
Coterie Cellars
Fortino Winery
Guglielmo Winery
Jason Stephens Winery
J. Lohr Vineyards and Wines
La Vie Dansante Wines
Lion Ranch Vineyards & Winery
Medeiros Family Wines
Miramar Vineyards
Naumann Vineyards
Picchetti Vineyards
Sarah's Vineyard
Roudon-Smith Winery
Solis Winery
Sunlit Oaks Winery
The event also features the Hop 'N Vine Market – where you can purchase bottles of your favorites – and the Hop 'N Vine University – a chance to learn about the county's agriculture and history as it pertains to beer and wine making. Presenters include Mark Denari of New World Ales, Umunhum Brewing Company and others.
Tickets are $55 and available for purchase at the Hop 'N Vine Evenbrite page. Tickets to include:
Complimentary parking
15 tastes
Commemorative glass
Light bites
Entertainment and game area (including virtual reality tours of Rome and Machu Picchu)
Educational lectures (including a gallery of current and historical photos of wine and beer production in Santa Clara County)
$15 to apply toward market purchases (three $5 certificates – to use all three you must purchase three items)
For additional info. – and to purchase tickets – visit the event website.