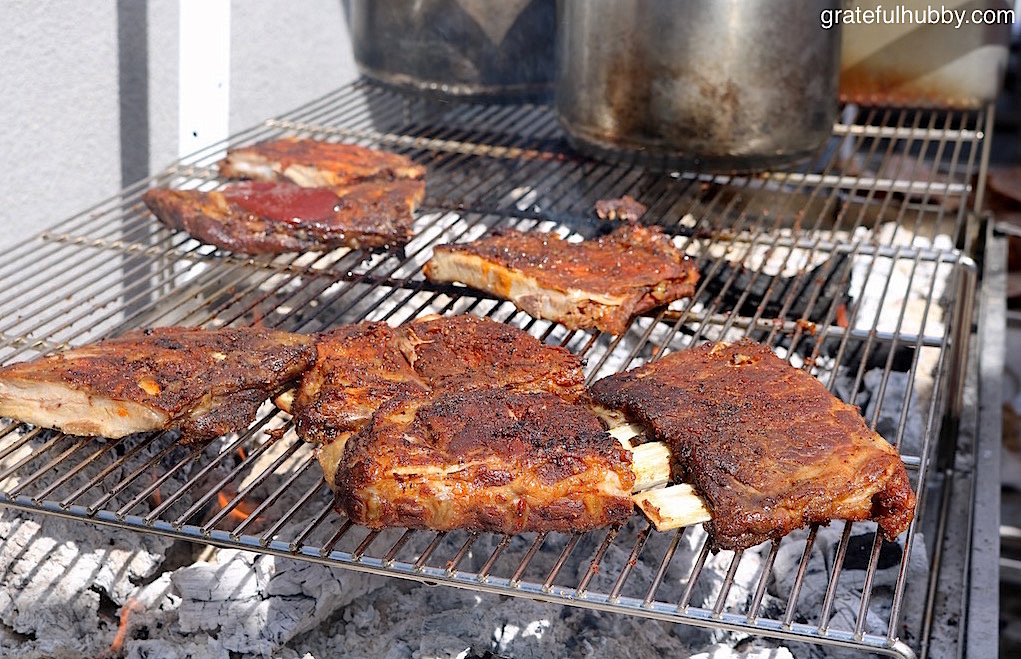 Steins Beer Garden & Restaurant in downtown Mountain is celebrating its four-year anniversary with a BBQ celebration – featuring a pig roast and a slew of special draft beers – on Saturday, March 25.
The BBQ will be available beginning at 11am (Steins opens at 10am with their regular menu as well).
BBQ Menu for Outdoor Patio Guests
There'll be a walk-up window for guests sitting outside.
Choices of meat: Ribs, roast pig, spicy pork sausage
Choices of sides: Baked beans, mac & cheese, cole slaw.
Pricing for outside:
$8: Your choice of one protein and one side
$14: Choice of 2 proteins and two sides
$20: All proteins and all sides
Note: Extra sauces will be available outside only
Pre-Fixed BBQ Menu for Guests Dining Inside
For guests dining inside the restaurant, there'll be pre-fixed BBQ plates available for $16.
Choices include:
Pig and ribs with cole slaw and baked beans OR mac & cheese
Pig and sausage with cole slaw and baked beans OR mac & cheese
Ribs and sausage with cole slaw & baked beans OR mac & cheese
All with housemade Maker's Mark BBQ Sauce
Beer List
Steins manager Lynna Nguyen has provided a sneak peek to some of the beers to be tapped:
Allagash Hibernal Fluxus 2016 Belgian-Style Stout
Avery Oak-Aged Samael's Barley Wine
Cascade Cranberry Sour Ale
Clown Shoes Hammer of the Beast Imperial Stout and Barleywine Ale
Elkhorn Slough Vierra Golden Ale
Goose Island Bourbon County Stout 2015 Imperial Stout
Lagunitas WTFarmhouse Sour Farmhouse IPA
Logsdon Oak-Aged Bretta Farmhouse Ale
The Bruery Poterie Anniversary Ale (Old Ale)
Included on the tap list will be the winner of last year's annual Steins homebrew competition – Lower Ground American Stout brewed by Scott Wilson. All proceeds from this beer will go to a local charity of Scott's choice.
Lynna – who's been with Steins since the beginning – shares:
"We have come so far and worked so hard to make this restaurant what it is today. I am so proud of everyone and all that we have accomplished together. There is actually still a handful of us that have been here since the beginning, too.
"To watch this place develop into what Ted envisioned is amazing. I am so thankful and blessed to be a part of this company. This year is a big year for us. As you know, we are opening our Cupertino location soon, hopefully in Summer 2017! We are so excited for this expansion of our company and are looking forward to the journey."
Q & A with Ted Kim and Colby Reade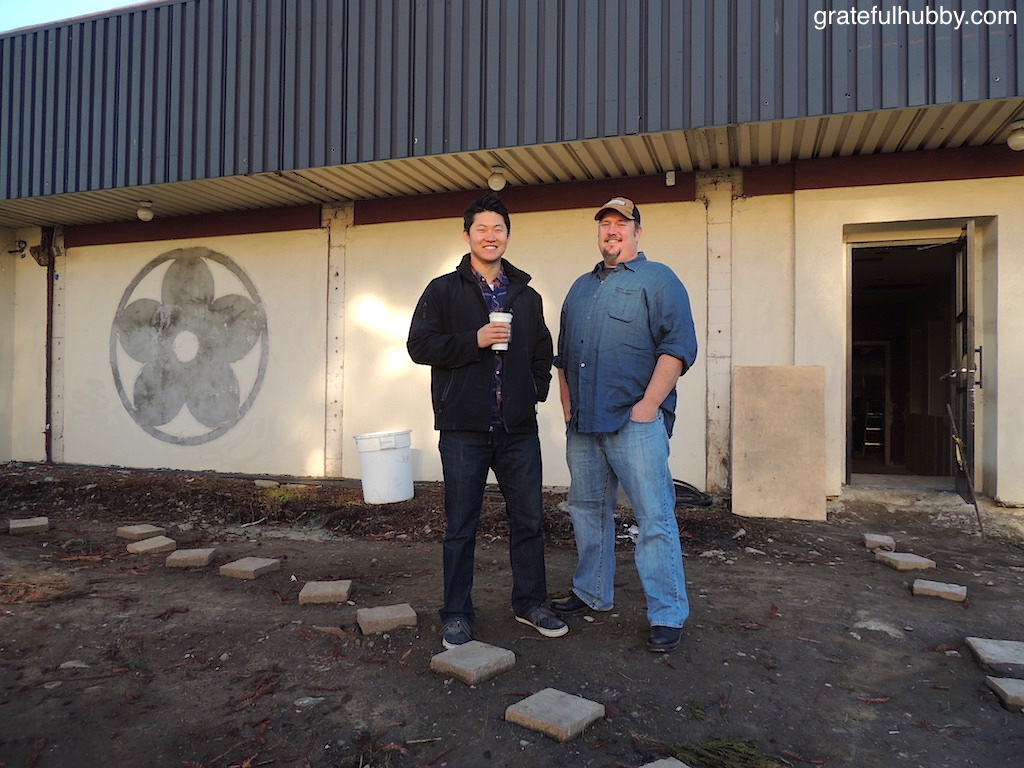 Steins owner Ted Kim and executive chef Colby Reade graciously took time out of their very busy schedules to share some thoughts about reaching the 4-year milestone.
How does it feel to reach the 4-year mark?
Ted Kim: It's a very humbling experience. We started this endeavor hoping for the best but being realistic about the crushing odds that all new restaurants face.
Four years later, to see the success and impact we've been able to have as a business and on the community is nothing short of amazing.
Chef Reade: It's great! You know, Ted and I always joke about it, how it sometimes seems like we just started. It's funny like that, but then we think about certain experiences and memories, and we realize that it was a while ago.
For us, we know that there's always room for improvement, and that's the key that keeps us young and looking forward.
What have been your greatest highlights?
Ted Kim: Steins marriages and babies! Four years in we've seen our first marriages and babies being born from staffers who met and fell in love at Steins. Very, very cool stuff.
Chef Reade: We strive for consistency with our dishes, and one of the things I'm proudest of is the kitchen crew we've built. We have two amazing sous chefs – brothers Paco Guzman and Cheke Guzman. Paco worked at Johnston's Saltbox in San Carlos, and both have worked at Pixar and Google. They've been with us the last couple years, and now they have chefs under them. I couldn't take on our new Cupertino restaurant without them.
I'm constantly amazed by how many dinner items we sell other than burgers and sandwiches. We have a really good spread. Our lamb trio – we go through 3-4 whole lambs a week – steaks, seafood… there's really nothing I want to push more. The burgers are still most popular, but we've tweaked the menu and fine-tuned it enough to sell everything according to our expectations.
What's the latest on Steins Cupertino?
Ted Kim: Coming Summer of 2017. We are hiring key management positions, so interested parties can visit our Facebook page for more info.
Aesthetically, Cupertino will be have an updated modern look. The food menu will be the same but with differing specials.
The beer list will be different as well. Same 30 taps of beer, but the selection will ride heavily on the respective bar manager's preferences. Both are fantastic and I'm looking forward to seeing the varying directions they decide to go. You can definitely count on a great list either way!
Chef Reade: It's coming faster than you think. From a kitchen perspective, we'll open and start with the same menu as the Mountain View restaurant. We'll let that run while taking a look at what the community wants.
Two pigs again for this year's anniversary BBQ celebration?
Chef Reade: Yes, we'll have two 80-pound pigs.
Anything else to add?
Ted Kim: We've officially launched our catering program. We received a lot of requests for it and finally decided to formalize our offerings. The reception has been great so far.
The Mountain View Oktoberfest was another stunning success. Every year seems to grow exponentially, and we're already gearing up for 2017.
We also expanded and offered more hosted events throughout the year – the summer beer series, various pop-up dinners and pairings as well as showcasing some amazing new breweries. We even had a champagne brunch, flower-arranging class!
Chef Reade: Look out for a special spring Asian-French fusion dinner featuring Hitachino. It's set for Wednesday, April 26 at 5:30pm. It'll be our most formal dinner to date with six courses.
The first two courses will feature an unfiltered cold sake followed by a scotch distilled from the well-known Hitachino Nest White Ale. Four Hitachino beers will round out the rest of the dinner.