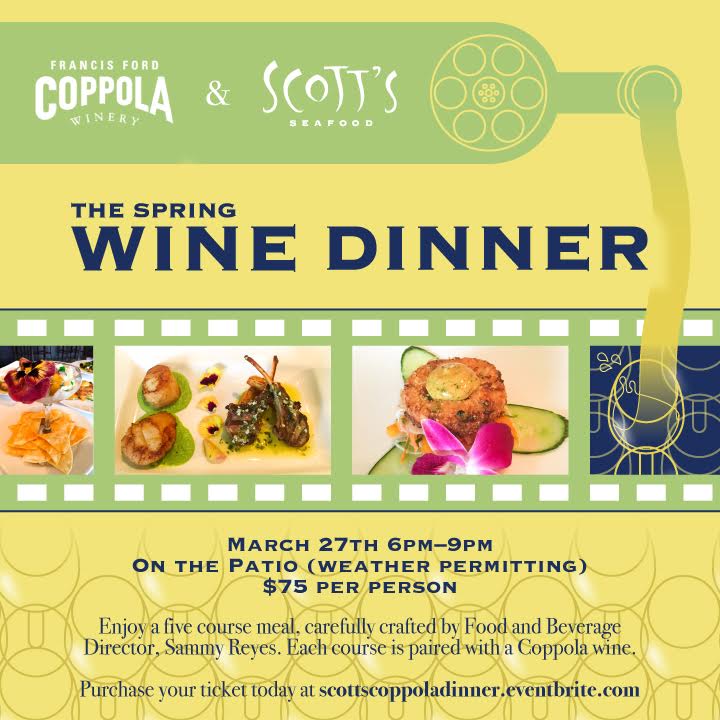 Passing along the details of the upcoming five-course Spring Wine Dinner at Scott's Seafood in downtown San Jose (185 Park Ave.) featuring Francis Ford Coppola Winery.
It's set for Monday, March 27 from 6pm-9pm on Scott's picturesque sixth floor rooftop patio of the City View Plaza.
We've been big fans of Scott's Seafood San Jose and have especially enjoyed their epic beer dinners. Enjoying good beer will always remain a passion, but we certainly enjoy good wine. And I know we're not alone in our enjoyment and appreciation of both.
Dinner and Wine Pairing Menu
The special wine pairing menu crafted by Food and Beverage Director Sammy Reyes:
Opening Reception: "The Cantankerous Ceviche" Tropical Halibut Ceviche
Wine Pairing: Sofia Blanc De Blancs Cocktail
Course One: "The Crabby Deviled Egg" Curry spiced deviled eggs topped with crab meat
Wine Pairing: Sofia Blanc De Blancs
Course Two: "The Solo Crab Cake" Crab Cake with an Asian Persimmon Coleslaw
Wine Pairing: The White Doe (A Virginia Dare wine)
Course Three: "The Earth and Sea" Lamb Chops topped with chimmichurri sauce and scallops surrounded in an English sweet pea puree.
Wine Pairing: Directors Pinot Noir
Course Four: "The Picante Soufflé" Spicy Chocolate Soufflé with Pistachio Ice Cream.
Wine Pairing: Coppola Diamond Claret
Tickets are $75 and available for purchase at the dinner's Eventbrite page.
Guests will learn more about the winemaking history of Francis Ford Coppola Winery and will enjoy an offering from their sister winery Virginia Dare.
As for the next beer pairing dinner at Scott's Seafood? They're eyeing the end of July during Silicon Valley Beer Week as a possibility.