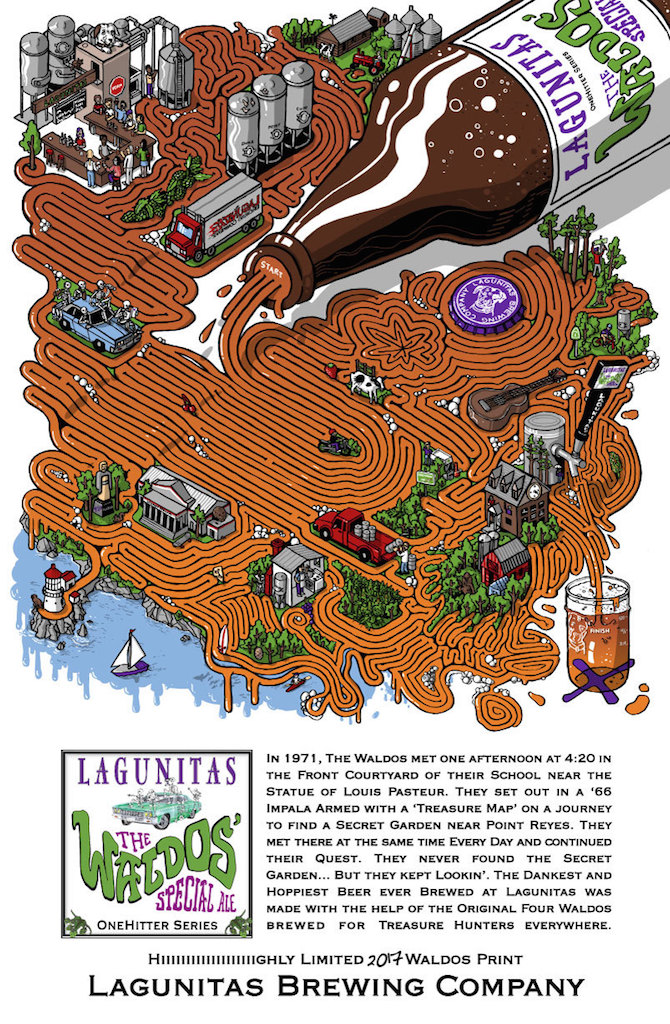 It's that time of the year when those of us into ultra dank and hoppy IPAs go looking for Waldos' Special Ale. Brewed by Lagunitas Brewing Company, Waldos will be featured at a number of upcoming events, including a bunch on Thursday, 4/20. FYI, this year's batch comes in at 11.5% ABV.
Saturday, April 1
Original Gravity Public House in downtown San Jose looks to be the first of the local beer spots to feature Waldos on Saturday, April 1 at 12pm. They'll have other Lagunitas offerings on tap, including PILS, Dark Swan Wild Ale, Davey Murray's Best Scotch Ale and High West-ified Imperial Coffee Stout (2016).
Thursday, April 6
IBU Taproom & Bottle Shop in Milpitas is hosting "The Waldos Get Westified" on Thursday, April 6 at 3pm. The event features 2017 Waldos' Special Ale, 2016 High Westified Coffee Stout Batch 2, 2016 High Westified Coffee Stout Batch 3, 2016 Willet Whiskey Barrel Aged Imperial Stout and Lagunitas IPA.
Thursday, April 20
I just received word that there'll be a "very disorganized pub crawl in downtown San Jose starting at high noon" with stops at Market Beer Company, ISO: Beers, Original Gravity Public House and finishing at Good Karma Artisan Ales & Cafe at 4:20pm. Look for Waldos and other Lagunitas goodies at these stops.
Harry's Hofbrau San Jose will tap Waldos at 4:20pm alongside other Lagunitas offerings.
Finally, a Waldos' Pub Crawl in downtown Campbell kicks off at Spread Deli & Bottles at 4:20pm with Waldo's Special Ale on draft at every stop, along with other Lagunitas beers and beer cocktails:
4:20pm – Spread Deli & Bottles
5:30pm – Liquid Bread Gastropub
6:30pm – The Vesper
7:30pm – Khartoum
Don't forget that you can also pick up Waldos' Special Ale in bottles in the coming weeks at many of the local shops that carry craft beer.