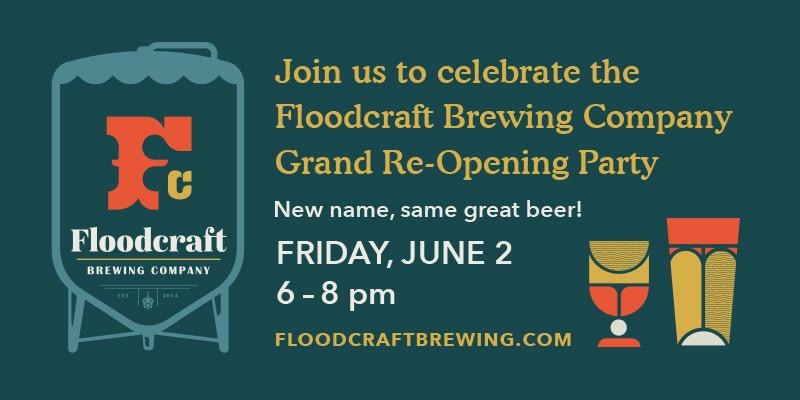 A name change is happening for the popular brewery and tap room Mission Creek Brewing Company, located at the San Jose Whole Foods Market on The Alameda (777 The Alameda).
Brewmaster Guy Cameron recently shared with me the reason for the name change:
"Due to the success of the first Whole Foods Market Northern California brewery here in San Jose on The Alameda, we wanted to create a trademarked brand that could be distributed beyond this location. We chose Floodcraft because it is original and relates to the history of Whole Foods Market.
"People might be surprised to learn that on Memorial Day in 1981, there was a devastating flood that nearly destroyed the first ever Whole Foods Market store in Austin, TX. The inventory was wiped out, and most of the equipment was damaged. There was a question of whether or not this first Whole Foods Market store would ever reopen.
"Customers, neighbors, and team members came together to help clean up and repair everything. Thanks to all these efforts, the store was able to reopen 28 days later.
"If it weren't for that community support, Whole Foods Market might not be what it is today. It's a very important part of the history of Whole Foods Market that continues to be celebrated and honored to this very day."
Grand Re-Opening Party
Floodcraft Brewing Company is celebrating the renaming with special events and activities throughout the weekend.
Kickstarting the festivities is a "grand re-opening party" Friday, June 2, 6pm-8pm to feature:
Bread-breaking ceremony
Four Floodcraft beers
Meet-and-greet with brewmaster Guy Cameron
Classic and local beers from guest breweries on tap to provide a variety of styles
Pop-up food items
To receive a complimentary Floodcraft beer koozie at this Friday's shindig, register on Eventbrite and check-in at the event with a printed ticket or show the RSVP on your phone.
Floodcraft Offerings, including Curry for 3 Triple IPA
Below is additional information regarding the four Floodcraft beers that'll be poured on Friday:
Curry for 3 Triple IPA: ABV: 10.5%; Juicy, orange, tangerine, marmalade, papaya, heavy dank.
Solely Simcoe American Pale Ale; ABV: 6.5%; Orange, passionfruit, peach, grapefruit, pine/resin, light dank.
Nelmo American Pale Ale; ABV 6.6%; Tangerine, papaya, gooseberry, tropical fruit, dank.
Mindfulness American Amber Ale; ABV 6.1%; Citrus, gooseberry, passionfruit, light floral, pine, toast, bread.
The Curry for 3 Triple IPA is a special release tapping brewed just for the re-opening. The three other beers have already been available.
Guy brewed a first batch of Curry for 3 Triple IPA for SF Beer Week earlier this year in February which highly anticipated, given his extensive experience previously brewing big, well-regarded IPAs – including Pliny the Elder and Pliny the Younger – at Russian River Brewing Company.
The first batch lasted only a week and was a standout beer according to many. Guy himself described Curry for 3 as his favorite – a "10.4% Citra orange juice bomb."
As I sadly missed it earlier this year, I'll be sure to enjoy some this time around.
P.S.: Go Warriors!
(Update: Click here for my recap post from the grand re-opening party.)