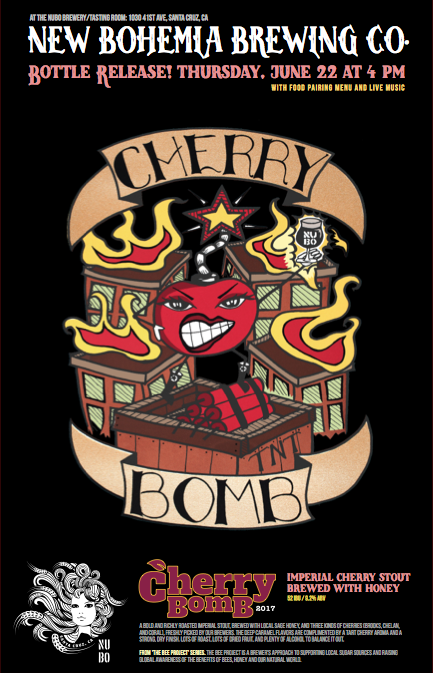 New Bohemia Brewing Company (NuBo, for short) celebrated its two-year anniversary earlier this year in March and will soon celebrate another milestone with the release of their first ever bottled offering.
NuBo's first bottle release features Cherry Bomb 2017, an imperial cherry stout brewed with honey.
The release party is set for Thursday, June 22 at 4pm at their Santa Cruz brewery and tasting room (1030 41st Ave.). Cherry Bomb will be available on tap and in bottles to go. There'll be a food pairing menu plus live music.
Cherry Bomb 2017 – coming in at 9.2% ABV – also marks the first beer from a new series NuBo is calling "The Bee Project."
From NuBo: "The Bee Project is a brewer's approach to supporting local sugar sources and raising global awareness of the benefits of bees, honey and our natural world."
And regarding the beer itself, NuBo has provided the following description:
A bold and richly roasted imperial stout. Brewed with local sage honey and three kinds of cherries (Brooks, Chelan and Coral) freshly picked by our brewers. The deep caramel flavors are complemented by a tart cherry aroma and a strong, dry finish. Lots of dried fruit and plenty of alcohol to balance it out. 52 IBUs, 9.2% ABV.
According to co-founder and brewmaster Dan Satterthwaite, there are only 900 bottles available for purchase, and they'll only be available at the brewery.