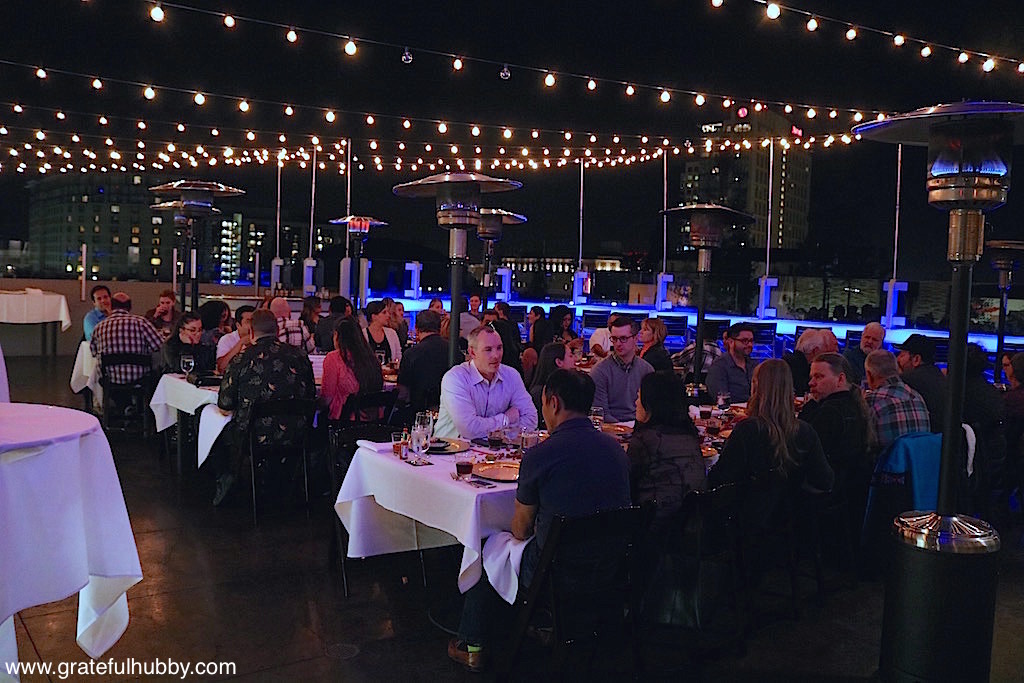 The special beer dinners at Scott's Seafood in downtown San Jose (185 Park Ave.) have proven time after time to be can't-miss events. We're talking consistently excellent food-and-beer pairings, stellar service , warm vibes and the gorgeous outdoor rooftop venue.
Following up their previous beer dinner last fall, Scott's Seafood recently announced their next one – set for Monday, July 24 from 6pm-9pm – featuring San Jose's own Santa Clara Valley Brewing.
The upcoming "Best of Summer" beer dinner will be a truly local, San Jose affair; Santa Clara Valley Brewing is located less than two miles south of the restaurant.
And a quick peek at the weather forecast portends a lovely summer evening.
The Five-Course Menu
Food and beverage director Sammy Reyes and the culinary team have created the following five-course dinner menu:
1st course/opening reception:
Charcuterie and Cheese Platter
Beer Pairing: Dry Creek Blonde
2nd Course:
Scallop Crudo: Thinly sliced raw Sea Scallop served with citrus wasabi soy sauce
Beer Pairing: Alviso Hefeweizen
3rd Course:
Steak Tartare served with arugula and crispy shallots in a citrus dressing
Beer Pairing: Electric Tower IPA
4th Course:
Halibut served with a saffron risotto and a mushroom ragout topped with basil pesto.
Beer Pairing: New Almaden Red
5th Course:
Chefs sweet surprise
Paired with: Loma Prieta Rye Stout
Dinner Tickets
Tickets for the beer dinner are $60 dollars per person and available for purchase at the dinner's Eventbright page.
Consider getting tickets sooner than later as previous beer dinners have sold out.
As is the case with any good beer dinner, brewery representatives will be on hand to introduce the beer pairings and to answer any questions about Santa Clara Valley Brewing and their offerings.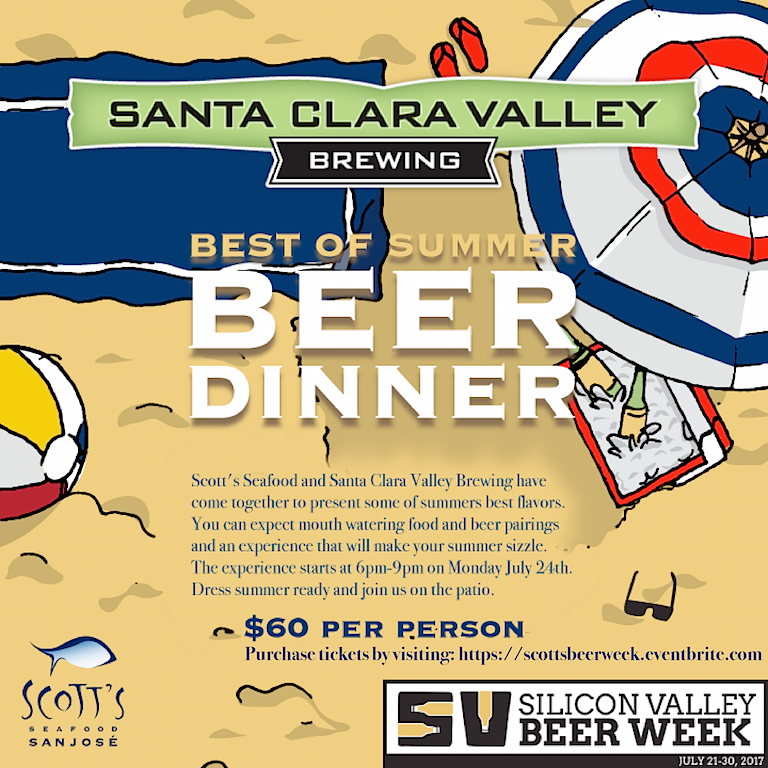 About Scott's Seafood
Scott's Seafood San Jose is a Bay Area tradition in the heart of Downtown San Jose since 1986, offering a diverse dining destination in both cuisine and setting. Experience a friendly and relaxed environment to enjoy an intimate meal or a group gathering. With their modern lounge, stunning patio views, unique menu, and true hospitality, their American regional cuisine features the freshest seafood, pasta, chicken dishes, and USDA prime, aged steaks. Scott's Seafood offers parking validation for its guests.