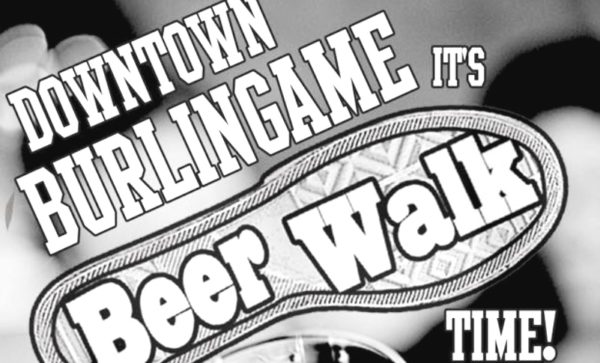 Tickets to the first four Beerwalks of 2015 are currently available online for $30. You can receive a $5 discount on tickets purchased now until Christmas by using discount code "beermas" (without the quotation marks) after visiting thebeerwalk.com and making your Beerwalk selection, which include:
Japantown San Jose, Sat., Feb. 7, 2-6pm
Downtown Burlingame, Wed., Feb. 11, 6-9pm
Downtown Mountain View, Sat., March 14, 2-6pm
Downtown Campbell, Wed., April 22, 6-9pm
Look for tickets to be available soon for:
Santana Row, Wed., July 29, 6-9pm
Willow Glen, Sat., Oct. 24, 2-9pm
About Beerwalks
Founded by long-time friends and business partners Jordan Trigg and Charlie Mann, Beerwalks provide opportunities for "beerwalkers" to stroll through a city's business district, visiting local shops and businesses while sampling craft beers at each location. Beerwalks routinely feature mostly Bay Area breweries, including many from the South Bay and the Bay Brewers Guild. Previous participants have included, in part:
Campbell Brewing Company
Faultline Brewing Company
FireHouse Grill & Brewery
Gordon Biersch Brewing Company
Hermitage Brewing Company
Los Gatos Brewing Company
Rabbit's Foot Meadery / Red Branch Cider Company
Rock Bottom Brewery Campbell
Santa Clara Valley Brewing Company
Strike Brewing Company
Tied House Cafe & Brewery
Firestone Walker Brewing Company
Lagunitas Brewing Company
Drake's Brewing Company
Almanac Beer Company
21 Amendment Brewery
Speakeasy Ales & Lagers
Anchor Brewing
Santa Cruz Ale Works
Uncommon Brewers
Hangar 24 Craft Brewery
Stone Brewing Company
Sierra Nevada Brewing Company
The first Beerwalk took place in Feb. 2012 in Japantown San Jose. Since then, the Beerwalks have continued to expand and grow in popularity. Case in point, the Burlingame Beerwalk on Feb. 11 marks the first Beerwalk to take place outside the immediate South Bay region.
According to an update this past spring, 10 Beerwalks had taken place with a total of over 7,000 attendees, over 500 volunteers, over 200 different beers and, perhaps most importantly, over $30,000 raised for local non-profit organizations. Experiencing early success, Metro Silicon Valley newspaper singled out the Beerwalks as the "Best Community Showcase" in the 2013 "The Best of Silicon Valley" issue.
"Things are going full speed ahead here," Trigg recently told me. "We had great success with the four Beerwalks last year; we had a few more we wanted to do, but they were pushed back to 2015. We are hoping to have six to eight this coming year. We have had numerous downtown business districts reach out to us over the past year. We would love to accommodate everyone, but we've had to stick with our already established districts and add only a few new ones.
Trigg adds, "Now with official non-profit status, our goal for 2015 is to double the amount of money raised for local non-profits. It is definitely a labor of love, but we believe the Bay Area is an extremely diverse and amazing place. Each downtown district we visit offers something different and unique. The Beerwalk is a great way to introduce the Bay Area downtowns and their small businesses to their local community, all while introducing them to local and national craft beers. It is really about creating stronger communities through beer and for good causes."
Discount Code
Receive $5 off tickets at thebeerwalk.com by entering discount code: beermas.
[This post was shared on Examiner.com.]