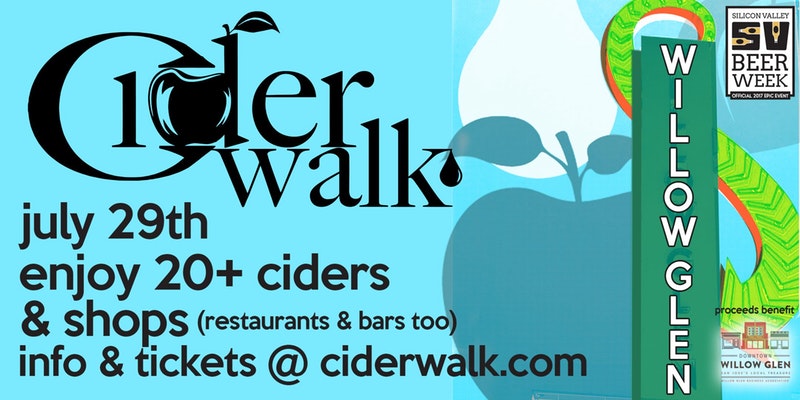 This year's Ciderwalk – a follow-up to last year's inaugural event – is set for Saturday, July 29 from 2pm to 6pm in downtown Willow Glen.
A quick peek at the weather forecast calls for a bright, sunny day, a perfect backdrop for sampling ciders while visiting the local businesses in the area.
A partial list of the participating cider companies and tasting locations was recently announced:
Cider Companies
101 Cider House
Angry Orchard
Far West Cider Company
Golden State Cider
Rider Ranch Ciderworks
Red Branch Cider & Brewing Company
Stella Cidre
Troy Cider
Krazy Farm Cider Company
Mission Trail Cider Co
South City Ciderworks
Strongbow Cider
Wildcide
And more…
Tasting Locations
20twenty cheese bar
Bay Area Phone Doctor
Bella James Women's Boutique
Bruni Gallery
Details Clothing Co.
Eye Luv Lucy
Goosetown Lounge
Gold Star Jewelers
Main Street Burgers
Mariette – Premium Chocolate
Ohana Board Shop
Park Place Vintage
Round Table Pizza
Three Sisters/Our Secret
Vin Santo
And more…
Early bird tickets for Ciderwalk are available through this week for $30 and go up to $35 next week. Tickets include a custom glass, passport and cider tasting at each location. A limited number of tickets will be available for $38 at the event.
For additional information – and to purchase tickets – visit the Ciderwalk Evenbrite page.
And check out my previous post from last year to learn about the origins of Ciderwalk.