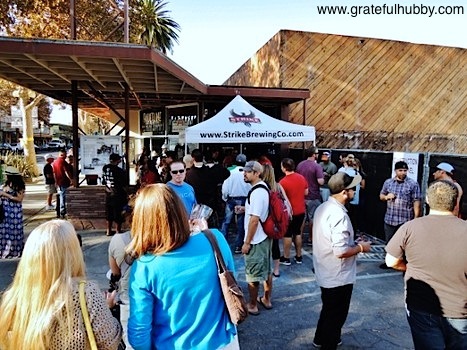 SF Beer Week is nearly upon us, and there are many, many events taking place throughout the greater Bay Area. Below are the 30 or so events, including the event descriptions (or parts thereof), that are taking place in San Jose.
SATURDAY, FEB. 8
The Beerwalk in Japantown San Jose, 2 p.m. – 6 p.m.
$30 in advance at www.thebeerwalk.com or $35 at the door.
The Beerwalk is hitting the streets of Japantown San Jose again for SF Beer Week!
Tucked away minutes from Downtown San Jose, sits the charming Japantown business district.
Stroll the streets and discover all the unique boutique shops, art studios, and great restaurants you cannot find anywhere else in San Jose.
All while sipping on great beers and enjoying the social enthusiasm of shopkeepers and beer lovers alike…
Ticket includes beer samples, custom glass, and passport.
Plus first 60 to check in the day of the event receive a complimentary tour at the Gordon Biersch Bottling Plant.
Wine Affairs: Double Blind Double IPA Tasting, 4 p.m. – 8 p.m.
Join us for our FOURTH Annual Double Blind Double IPA Tasting! 8 fresh and hoppy Double or Imperial West-Coast-Style IPAs on draft.
Why Double Blind? We want to make it less of a guessing game and more about the flavors, aromas, and over-all finished product of each beer. Once the results are revealed you may be shocked at your favorites!
Why Double IPA? With so many delicious styles of IPA we decided to even the playing field by featuring only Double or Imperial West-Coast-Style IPAs.
Tasting available from 4pm-8pm and results will be revealed as soon as scores are calculated after 8:30pm.
Original Gravity Public House: An Evening with The Bruery, 4 p.m. – 11:30 p.m.
Orange County's The Bruery is one of our favorite producers of extremely diverse and complex craft beer.
Come explore some of the most exquisite brews around as we let The Bruery take over 10 of our taps.
From sour to strong, sweet to spiced you will definitely find something to ponder and appreciate this evening.
Pouring: Breyian Batch 1000, White Oak (2013), Six Geese-A-Layin, Oude Tart, Oude Tart w/ Cherries, Rueuze, Tout Mais Le Coller, Melange 3, Tart of Darkness (2013), Humulus Lager
SUNDAY, FEB. 9
Original Gravity Public House: Walker Wild Ride, 12 p.m. – 1:30 p.m.
Known simply as the Lion, David Walker is Co-Founder of the infamous Firestone Walker Brewing Co. in Paso Robles, CA.
David brings the British elegance and Old World authenticity to their wonderful California inspired beers.
Come join us for a lunch and Q&A session with Mr. Walker and Jeffers, head of their Barrelworks program.
We will be tapping Velvet Merkin (2013), Lil' Opal as well as other stand outs and surprises from their extremely diverse portfolio on draft. We will also be releasing a very limited quantity of XVI Anniversary and 2012 Double Double Barrel Ale in bottles for on site consumption that day as well.
Come join us for the only stop in the South Bay for Walker's Wild Ride!
Pouring: Lil Opal, Velvet Merkin (2013), Velvet Merlin, Double Jack, DBA, Pivo
Wine Affairs: Dogfish Head: Fresh Hops & Fresh Beats, 12 p.m. – 4 p.m.
***Vintage: A Vinyl Swap***
Presented by Fat Headphones & On The Corner records. Come dig for records: everything from Funk, Soul, Jazz, Rock, Hip-Hop, Latin, and Afro-Funk!
Featuring Dogfish Head musically inspired brews! Tapping kegs of Miles Davis' Bitches Brew Imperial Stout and Robert Johnson's Hellhound and much more!
DJ Jeff Jagged and DJ Fat Headphones will be spinning worldwide rare grooves and all that is strange, funky, and soulful.
[Update 2/7/14: Unfortunately, it was announced earlier today that the following San Jose Co-op Brewpub event has been canceled.]
Hermitage Brewing Company (location) and San Jose Co-op Brewpub (host): Brewing Startups in Silicon Valey: Incubation, Entrepreneurship and the Cooperative Movement, 2 p.m. – 6 p.m.
Are you… a homebrewer interested in starting your own brewery, … a beer geek that has thought about opening their own taproom, … interested in participating in a democratically run business? Come hear about the newest generation of local brewers to join the local craft beer scene.
The San Jose Cooperative Brewery & Pub, Inc., as a guest of and partnering with Hermitage Brewing Company, invites you to beer tasting and panel discussion of brewery entrepreneurship in Silicon Valley.
Panelists include representatives from Hermitage Brewing Company, Santa Clara Valley Brewing, Clandestine Brewing, Lincoln Court Brewing, and the San Jose Cooperative Brewery and Pub. The event will end with a brief discussion of San Jose Cooperative Brewery and Pub's efforts to open California's first cooperatively owned brewery (membership shares available on site).
Your $25 "tuition" includes drink tickets good for two beers or a paddle of four six oz. tastings, a brewery tour, live music, one complimentary taco, and food available for purchase from the No Way Jose food truck.
Attendees who become a member who join the co-op on site will be entered into a raffle for a selection of awesome beer swag!
Harry's Hofbrau San Jose: Getting Vertical with Deschutes, 2 p.m. – 11 p.m.
Tapping some special kegs for this event with Deschutes.
Starting with a vertical of Abyss 2013, Abyss 2012, Black Butte XXV, Black Butte XXIV, class of '88 Goose Island collab, and much more!
MONDAY, FEB. 10
Wine Affairs: Chimay Red White & Blue, 4 p.m. – 1 a.m.
Showcase Chimay's Red, White, and Blue with Trappist Cheese brewed/made by Trappist Monks in Belgium.
Back in 1862, those monks developed the production of Belgian beers and Trappist cheese in order to provide for their needs and those of their foundations, as well as to support employment in their region. Today monastic tradition of natural brewing still is part of those monks' life and Chimay beers are sold only for financial support of the monastery, community needs and good causes.
Showcase three Chimay Trappist Cheeses each washed with different Chimay beers (the RED, WHITE, and BLUE).
Join us to have a taste of those fantastic Chimay Ales and Cheese! $18pp
Good Karma Vegan Café: Sante Adairius and Prairie Artisan Bet the Farm!, 6 p.m. – 10 p.m.
We're honored the folks from Prairie will be around this year to team up with what we believe to be the BEST brewery in the Bay Area, Sante Adairius Rustic Ales!
Rumors of West Ashley, Cask 200, BA Cellarman, BOMB!
Variations and more are likely to bless the palates of beer lovers who make the journey to downtown San Jose for an unforgettable evening of incredibly authentic farmhouse ales- a light tapas menu will support the tap list, incorporating the artistry of many of the brews.
Original Gravity Public House: Port/The Lost Abbey Night with Tomme Arthur and David Johnson
Come meet Tomme Arthur the award winning Co-Founder & Director of Brewery Operations and David Johnson Director of Distribution for The Lost Abbey!
We will be pouring some exceptional beers for this event including the infamous Cuvee de Tomme! Here is the lineup, we are excited to see you there!
Pouring from Lost Abbey: Deliverance, Cuvee de Tomme, Red Barn, Devotion, Judgment Day, Serpents Stout
Pouring from Port Brewing: Mongo, Wipe Out, Board Meeting, Midnight Expression
The Table: Brewmaster Dinner: Los Gatos Meets Santa Clara, 6:30 p.m. – 9:30 p.m.
$65 (excluding tax & gratuity)
Join The Table at 6:30pm on Monday, February 10th when the Los Gatos Brewing Company's Kent Wheat and Santa Clara Valley Brewing's Steve Donohue host an exclusive dinner for 50 guests featuring 4 courses of unique micro brews paired with a seasonal, farm-to-table menu as local as these two breweries. Reservations are required: www.thetablesj.com/the-menu/. Limited Seating.
First course: Los Gatos Brewing Company 'coquettish blond' kolsch, potato terrine, pickled spring onions
Second course: Santa Clara Valley Brewing Company 'electric tower' ipa, mustard green dumplings, mandarin butter
Third course: Los Gatos Brewing Company seasonal firkin, braised veal belly, stinging nettle velouté
Fourth course: Santa Clara Valley Brewing Company 'peralta' porter, chocolate pot du crème, coffee bean saltine
TUESDAY, FEB. 11
Wine Affairs: 21st Amendment Presidential Debate, 4 p.m. – 10 p.m.
What's more American than Chicken & Waffles and a good ol' fashioned Presidential Debate?!
In honor of President Washington born 2/22/1732 and President Lincoln born 2/12/1809 we are featuring 21st Amendment's Sneak Attack Saison and Brew Free or Die! IPA.
And for those who can't stand politics, we'll have Bitter American Pale Ale. Come vote for your fave prez by drinking beer!
PLUS the Waffle Roost food truck will be parked outside from 5pm-9pm.
Gordon Biersch Brewery Restaurant: Gordon Biersch Pale Ale Tapping Party, 5 p.m. – 7 p.m.
Come celebrate the tapping of the Brewers Select Pale Ale.
First ever pale ale done at GBSJ there will be live music, donations for local charity, raffle prizes, and meet the brewers.
Good Karma Vegan Café: Get High-Westified & SF Fusion 20 Release Party!, 6 p.m. – 10 p.m.
The Bay Area's biggest Lagunitas Tap Takeover for SF Beer Week!
Showcasing the release of SF Fusion 20 (we can't wait to try it, we helped make it!) as well as High-West Bourbon Barrel Aged Cap-Stout, 2013 So-Co Sour Stout, 2012 Brown Shugga, 2013 Hairy Eyeball, Fresh Fresh Fresh Maximus, Sucks, and IPA!!!
Steal the glass and make merry!!!
WEDNESDAY, FEB. 12
Original Gravity Public House: Ballast Point 25 Tap Takeover, 12 p.m. – 10 p.m.
Ballast Point is doing the honors of taking over all 25 of our taps for SF Beer Week 2014! This is the first time we have let anyone have all of us and we couldn't be happier to host them.
Variations on Sculpin and the infamous Barrel Aged Victory at Sea are here as well as staples and other rarities from their amazing liquid catalog!
Raffles for glassware and brewery swag, food specials and a meet and greet with the ever so charming guys from the brewery Sam Loeffler and Matt Wilson!
Pouring: Sculpin, Habanero Sculpin, Sculpin w/ Grapefruit, Sculpin (Nitro)
Pouring: Victory at Sea, Victory at Sea (Barrel Aged)
Pouring: Sextant (Nitro)
Pouring: Big Eye, Big Eye w/ Ginger
Pouring: Calico, Calico w/ Guajillo
Pouring: 3 Sheets (2012), Sea Monster (2012)
Pouring: Wahoo, Black Marlin, Fathom, Longfin Lager, Pescadero Pils, Reef Rye, Tongue Buckler, Pale Ale, Dorado, Piper Down, Black Steamboat, Even Keel
Wine Affairs: Vintage! Vintage! Vintage!, 4 p.m. – 10 p.m.
Can beer age just like the wines? Find out yourself with Fuller Vintage Ale from 2010, 2011, 2012, and 2013.
2010, 2011, 2012 Tasting notes from Fuller:
2010 – An initial fruit aroma with notes of Pears and Orange giving through to some more floral notes is followed by a clean, full, almost liquored initial palate. The finish is dark orange, satisfying and alcohol warming.
2011- Early tasting of the beer as recently bottled has been most encouraging; an opening fruit aroma of Maraschino cherries is underlaid with some Mandarin Orange notes. These are carried through to the initial palate before being enhanced with a fruit malt and alcohol warming after palate. Already this beer could be drunk but we expect it will continue to develop into another Classic Fuller's Vintage.
2012-The early initial tasting notes for this rich brew are already revealing what we hope will be another truly Vintage beer. An initial aroma of ripe autumnal fruits with slight notes of Rosehips leads on to a smooth almost lush middle palate with just a hint of spice. There is a pleasant hop bitterness which is then finished with a satisfying alcohol warming on the after palate.
Good Karma Vegan Café: Almanac Farm to Barrel – South Bay Home Turf Tap Takeover!, 6 p.m. – 10 p.m.
We are proud to showcase San Jose's best brewery and barrel program, from sweet to sour!
Almanac will be sharing their extensive Farm to Barrel projects from early numbered sours, to fresh releases through 10 taps!
Fruited sours, spiced barley wines, and aged stout come together under one roof to blow minds!
Harry's Hofbrau San Jose: Knee Deep Showcase, 6 p.m. – 11 p.m.
Meet Jeremy and the crew from multi GABF award winning Knee Deep Brewery in Auburn CA.
We will be showcasing the entire lineup of great hoppy beers, some darks, and maybe some new favorites.
Kukar's House of Pizza: Santa Clara Valley Brewing Tap Takeover and Secret Barrel, 6 p.m. – 11:30 p.m.
Join us for a night of beer and pizza with home-grown head brewer Steve Donohue from Santa Clara Valley Brewing.
Only blocks from the Peralta Adobe and the original site of San Jose's famous electric tower…
We'll have Electric Tower IPA, Peralta Porter, Little Orchard Saison, and New Almaden Imperial Red, with a [special] appearance by Steve's new Oyster Stout and a super-secret one-off 8-gallon Woodinville Rye Whiskey Barrel-Aged Peralta Porter spiked with who-knows-what.
Grapevine: Beer, Wine, Cheese, Fruit and Chocolate Pairing, 7 p.m. – 11 p.m.
Join us for a golorious evening of beer, wine, cheese, fruit and chocolate from Mariette – Premium Chocolates.
THURSDAY, FEB. 13
SmokeEaters: Double IPA Tap Takeover, 12 p.m. – 11:30 p.m.
Smoke Eaters will be featuring some of the best Nor Cal and So Cal Double IPAs. Tapping with "Keep the Glass," Hopocalypse, Pliny the Elder, Palate Wrecker, Denogginizer, Ruination, Double Jack.
Harry's Hofbrau San Jose: Roots of XVII Anniversary with Matt Brynildson, 5 p.m. – 11:30 p.m.
Beer nerds rejoice!!! Firestone Walker is bringing back its wildly successful "roots of" Festival at Harry's Hofbrau.
We will be deconstructing Firestone Walker's Anniversary beer, with all the components on draft. That's right Stickee Monkey, Parabola, Helldorado, and several other rare beers will be on draft.
This year in addition to the mind numbing line up of beers from Firestone Walker, the Wizard himself Brew Master Matt Brynildson (AKA Merlin) will be in attendance.
Matt will be holding a seminar during the event where he will be going over Firestone Walker's coveted Barrel Aging Program, the blending of XVII, which will then be followed by a Q&A session.
Only the first 150 people will be admitted to this seminar.
So be sure to join us for an epic night of beers, live music, information, and fun!!!!
Beers will start pouring at 6pm and the seminar will start at 7pm.
Jack's Bar: Specialty Beer Cocktails, 5 p.m. – 2 a.m.
Join us for a night of merriment! 3 signature beer cocktails crafted by Jack's amazingly talented bar tenders.
Wine Affairs: Allagash and Tapa Pairing, 6 p.m. – 9 p.m.
The day before Valentine! Beat the crowds and treat that special someone or stir up a new romance. Featuring a four course Prix Fixe Tapas and specialty Allagash pairing.
Now taking Reservations: 408-977-0111
$55/person includes four courses each with Allagash pairing
FRIDAY, FEB. 14
Original Gravity Public House: Pucker Up! Valentine's Day Sour Fest 3.0, 4 p.m. – 11:30 p.m.
Back by popular demand it is our biannual Sour Fest at Original Gravity! Grab your sweetheart and come indulge yourself in 15 diverse and rare offerings from around the world.
Whether it's the fruity funk of brett to the dry and citrusy lacto we will have whatever your sour little heart desires.
If you are in the mood for sweet as well, be sure to head across the street that day to our good friends at Good Karma for their Sweet Beer Fest and the ultimate sweet and sour experience!
Pouring: Allagash – Midnight Brett, Anderson Valley – Featherleggy Bulrusher, BFM – SQRT 225th Anniversary Sour Historical Saison, The Bruery – Sour in the Rye (2013), Heretic – Miscreant, Freigeist – Rhubarb Gose, Mikkeller – SpontanSeabuckthorn, Brouwerij Van Honsebrouck N.V. – St. Louis Gueze Fond Tradition, Struise – Weltfreude (2011), Trois Dames – Oud Bruin
Specialty Timed Tappings: Almanac – Valley of the Hearts Delight (5pm), The Rare Barrel – Shadows of Their Eyes (5:45pm), Specialty TBA – (6:30pm), Russian River – Temptation (2013) (7:15pm), Extremely Rare/Specialty TBA (8pm)
Good Karma Vegan Café: St. Valentine's Barrel Aged Sweeties!, 6 p.m. – 10 p.m.
On Valentine's Day, we pull out ALL the stops! Big, sweet, burly barrel aged beers are on parade!
Across the street, OG will rock the sours, and we rock the sweet- it's the best way to experience both profiles!
We'll have a host of yummy desserts to pair with such sugary concoctions, and we guarantee, you WON'T be disappointed!
Pours of Grey Monday, Black Tuesday, Mocha Wednesday, ECLIPSE Variants, as well as a host of Aged Firestone Barrel Projects, Deschutes, Lost Abbey and MORE!
SATURDAY, FEB. 15
Hermitage Brewing Company: Meet the Brewers, 1 p.m. – 5 p.m.
Our 5th Annual Meet the Brewers beer festival is upon us. Join us for the best local breweries from Silicon Valley to the Monterey Bay, as well as San Jose's best food trucks.
$35 in advance, $40 at the door. Tickets at www.meetthebrewers2014.eventbrite.com
Tickets get you unlimited beer tasting.
All ages welcome.
Dogs allowed on lease, outside of brewery only.
Designated Driver (NO tasting): $5
**Proceeds benefit Can Do MS, a non-profit dedicated to empowering those living with Multiple Sclerosis.**
Breweries Attending (Updated November 21, 2013): Discretion Brewing, Uncommon Brewers, Strike, Campbell Brewing, Faultline, Rabbits Foot Meadery / Red Branch Cider, Los Gatos Brewing Company, Santa Clara Valley Brewing, The Rare Barrel, Peter B's, Seabright Brewing, El Toro, Hermitage Brewing, Tied House
Harry's Hofbrau San Jose: 2nd Annual Stone Tap Takeover, 3 p.m. – 11 p.m.
Last year we had a KILLER taplist for this event and this year it is looking even better!
Come enjoy some never before released Stone brews and meet the Stone crew.
It's an all day event so grab a spot and hangout a while!
SUNDAY, FEB. 16
Harry's Hofbrau San Jose: Annual IPA Day with Younger and Black Label, 11 a.m. – 11 p.m.
By now you know the event, 28 IPA, DIPA, and 3XIPAs on draft all day long! It's a hop head's paradise.
Pliny the Younger tapping, Black Label Hopocalypse, Boneyard, local IPAs, we promise a full out palate attack of hops. Check our facebook for Younger and Black Label tapping details.
Given the plethora of interesting, one-of-a-kind options taking place not only in San Jose but throughout the South Bay and the nearby regions, who else wishes for the ability to be at two (or more) places at the same time?
[This post was shared on Examiner.com.]