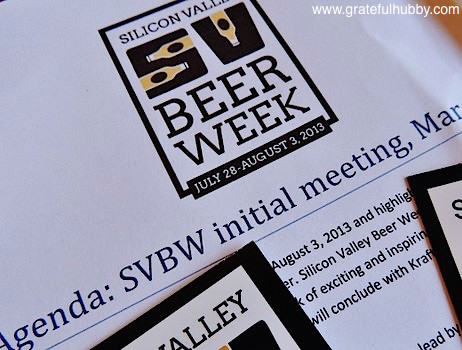 With the plethora of beer-related events set to take place this month, punctuated with the First Annual Silicon Valley Beer Week starting on Sun., July 28, July is certainly one for the South Bay record books in terms of both quantity and quality. Some might think of July as Silicon Valley Beer Month.
The festivities include brewery nights and other special events taking place throughout the region, like the Santa Clara Valley Brewing Peralta Porter Release Party at Market Beer Co. (Tues., July 9), Original Gravity Public House's One-Year Anniversary Party (Sat., July 20), the 2nd Annual Los Gatos Brewing Company Firkin Fest (Sat., July 27), and the aforementioned First Annual Silicon Valley Beer Week (Sun., July 28 to Sat., Aug. 3), which currently has 80 scheduled events with still more to come. A number of South Bay establishments will host beer events every day during Silicon Valley Beer Week.
Onwards to the event listings. Most if not all of these dates and events have been culled from Facebook, Twitter, and emails.
MONDAY, JULY 8
6 p.m. – 8 p.m., Wine Affairs Weekly Beer Tasting: This week's weekly beer tasting features German styles. "While it's not Oktoberfest yet, we do love the lighter side of German beers as a great escape from this heat! Both classic and unusual styles from the traditional lager to the super-sour Berliner-Weisse. $10 per person or free for members!"
TUESDAY, JULY 9
5 p.m. – 7 p.m., Gordon Biersch Brewery Restaurant Blonde Bock Tapping Party: It is another tapping party, this time the Blonde Bock in honor of their 25th anniversary – a smooth malty lager with balanced bitterness from Hallertau hops and a kick from its 7% ABV. This event features a silver anniversary national toast, complimentary cake, live music, passed appetizers, and a raffle benefit. Join Gordon Biersch for $2.50 Tuesdays on July 9, 16, and 23, to enjoy fresh pours of their handcrafted beer at a throwback price.
6 p.m. – 8 p.m., Santa Clara Valley Brewing Release Party – Peralta Porter – at Market Beer Co.: "Brewer and all around nice guy Steve Donohue will be at Market Beer to release Santa Clara Valley Brewing latest beer, Peralta Porter. We will have draft and bottles on hand that are being kegged and bottled on the same day as the event. Also former San Jose mayor and local historian Tom McEnery will be there to give a brief history of the Peralta Adobe (the oldest building in San Jose). Hope to see you all there!"
8 p.m. – 9:30 p.m., 54 Tap Launch Party at O'Flaherty's Irish Pub: – O'Flaherty's celebrates having both the largest craft beer selection in downtown San Jose and winning "Best Irish Pub" 10 years in a row in Metro Newspaper's annual Best of Silicon Valley survey. "Be sure to join us for $1 beers (all taps) Tuesday, July 9th from 8-9:30 pm for our 54 tap launch party! And here is your chance to win a one month Beer Club membership and an O'Flaherty's gift basket filled with Jameson, Guinness, O'Flaherty's gift card, and much more!"
THURSDAY, JULY 11
Starting 5 p.m., Jolly Pumpkin Tap Takeover at Original Gravity Public House: "Featuring seven incredible offerings from Dexter, Michigan's very own Jolly Pumpkin Artisan Ales, this night will be an absolute delight for lovers of truly hand crafted beer. Come on out and taste the difference oak aging and bottle conditioning can do to the complexity of a beer. Starts at 5pm, see you then!"
Set to be poured: Calabaza Blanca, Bam, Bam Noire, Madrugada Obscura, Oro de Calabaza, IO, and Maracaibo Especial.
FRIDAY, JULY 12
4 p.m. – 7 p.m., Hermitage Brewing Company Tap Room Grand Opening: San Jose's Hermitage Brewing (1627 S. 7th Street) will be opening their own tasting center on site. "You've waited and the day has finally come – the Tap Room Grand Opening is here! Come join us as we celebrate the newest addition to our brewery. As a part of the Grand Opening, the Firkin Friday event normally held at Tied House will be tapped at the Tap Room at 5pm." And "The Tap Room will feature HBC's award winning beers along with rotating local guest beers."
SATURDAY, JULY 13
Santa Clara's Wicked Chicken Wings (2565 The Alameda) has been offering up good beer and they will host a Stone Tap Take Over event on this day: $6 and keep the glass plus $5 refills.
9 a.m. – 4 p.m., Silicon Valley Sudzers Homebrew Club Brew Day at MoreBeer (991 N. San Antonio Rd., Los Altos): "For the MoreBeer summer sale, the Sudzers will be doing a brewing demonstration on the  'Death Star' brewing system. Good beer, good food, good fun!"
SATURDAY, JULY 20
12:30 p.m. – 11 45 p.m., Original Gravity Public House One Year Anniversary Party: It is time to celebrate San Jose's first establishment to open with craft beer as its focus. "We can't believe it either, but I guess time flies when you're pouring beer. Come out and celebrate this special day with us starting at 12:30pm. We just updated the [Facebook] event page with the anniversary beer list (which in our humble opinion is something to behold). Commemorative T-Shirts, food specials, a panel with Jeffers from Firestone Walker, patio firkin pours and On The Corner Music spinning all vinyl on the back patio, this is going to be one for the ages. Hope to see you there!
Specialty tapping times:
1pm (music starts on the patio): Drake's – Aroma Coma/Prieta
2pm: Very special TBA
3pm: Stone – French/American Oak Smoked Guardian
4pm: Evil Twin – Imperial Biscotti Break
5pm: Panel and Q&A w/ Jeffers from Firestone Walker
6pm (music resumes): North Coast – Barrel Aged Old Rasputin
7pm: Russian River – Supplication
8pm: Firestone Walker – Parabola
SATURDAY, JULY 27
2 p.m. – 6 p.m., 2nd Annual Los Gatos Brewing Company Firkin Fest: "Come check out our 2nd Annual Firkin Fest being held at the Los Gatos Brewing Company at San Pedro Square in Downtown San Jose. Come out, support and drink some firkin beer! Hope to see you all there! For more info. and to purchase tickets: http://lgbcfirkinfest2013.eventbrite.com/."
"A firkin is a cask which holds nine imperial gallons. Firkins hold cask-conditioned beer. Cask is the container and this was the original method of storing and serving beer. The beer's ingredients are allowed to mature naturally in the firkin, leaving the beer unfiltered and containing live yeast. The living yeast conditions the beer through a process called secondary fermentation and produces the CO2 naturally. No artificial carbonation allows you to taste the true flavor of the beer. The beer is dispensed either by gravity or by a beer engine/hand pump.
Firkin Fest celebrates this method and allows you to try unique, one-of-a-kind beers from your favorite local breweries!"
Participating breweries include: LGBC, Seabright Brewery, Rock Bottom Brewery, Faultline Brewery, Firehouse Brewery, Strike Brewing Co, Hermitage Brewing Co, Tied House Brewery, Magnolia Brewery, Santa Clara Valley Brewing, Boulder Creek Brewing Co., Drake's Brewing, Peter B's, Two Rivers Cider, Lagunitas, and more.
SUNDAY, JULY 28
Sun., July 28 – Sat., Aug. 3, First Annual Silicon Valley Beer Week: The week-long Silicon Valley Beer Week will see many events and activities where good beer will be the focus. It is set up to really be "the region's ultimate beer-lovers event," highlighting "all venues, restaurants and breweries that are passionate about craft beer." At last check, there are currently 80 events listed on the Silicon Valley Beer Week website.
"The week will kick off with an exclusive opening party on July 28, feature five days of hosted events throughout the valley and close with the very popular Summer KraftBrew Beer Fest on August 3.
During the five days, beer-lovers can experience a variety of activities featuring their favorite craft beers including tap takeovers, food pairings, seminars, demonstrations, brewmaster's dinners, new release nights and other exclusive events.
Silicon Valley Beer Week is a celebration of all the vibrant brewing and culinary traditions that the region has to offer. You're invited to join in the celebration and spread the word about this exciting event to your friends, family and co-workers."
Keep in mind that there are other South Bay establishments that host ongoing events and specials; the information just is not in the public sphere yet. And keep in mind the many South Bay brewpubs, beer bars and stores that sell good beer.
[This post was shared on Examiner.com.]