With its friendly vibe and service, Spread Deli & Bottles in downtown Campbell has become a go-to spot for folks needing their sandwich fix, with 14 signature sandwiches plus the option to create your own.
Offering good beer has been a priority since day one at Spread. The 20 beers on tap reflect a wide variety of beer styles, so there's bound to be a fresh offering to satisfy both beer enthusiasts and those new to craft beer. Over 200 bottles beers are available as well.
Spread Deli & Bottles Proprietors
Spread was started three years ago by owners Jordan Trigg and Charlie Mann, both of whom possess extensive hospitality experience. Jordan and Charlie – South Bay natives and all-around good guys – have also done much to elevate the profile of the local beer scene.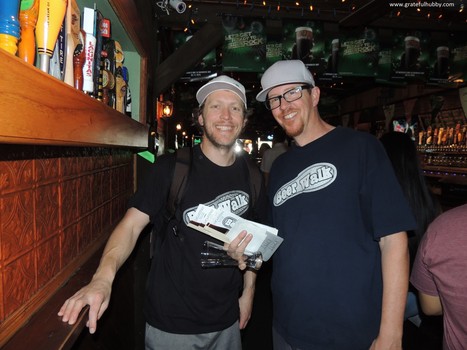 In part from Spread's website, Jordan entered the restaurant and bar industry right out of high school and gained a broad range of experience from barista to server to banquet coordinator to bartender. With a bachelors in business economics and finance from the UC Santa Cruz, he opened his first place, Jack's Bar & Lounge, in San Jose's Japantown in 2006. Looking ahead, Jordan started the restaurant group Dipsomania, Inc., which has since created a unique array of venues focused on community and unmatched social and dining experiences.
Charlie has been in the restaurant and bar industry since the age of thirteen. He started managing restaurants at the age of seventeen and has since run various establishments. Charlie has a well-rounded and knowledgeable background in the hospitality industry, having held positions from dishwasher to district manager. He is also the co-founder of Beerwalk and marketing consultant for Liquid Bread Gastropub and Jack's Bar & Lounge, where he is currently the operating manager handling all aspects of the business.
3-Year Anniversary Celebration
Jordan and Charlie – and the staff at Spread – invite all to come out on Thursday, June 30 as they celebrate their 3-year anniversary with a raffle drawing starting at 6pm. Guests will receive 1 raffle ticket for each and every sandwich and beer purchased throughout the day. Note that Spread will open at 11am with happy hour at 5pm.
Raffle drawings will start at 6pm and feature numerous prizes, including beer, gift cards and other swag. Drawings for raffle prizes will take place every 30 minutes until 8pm.