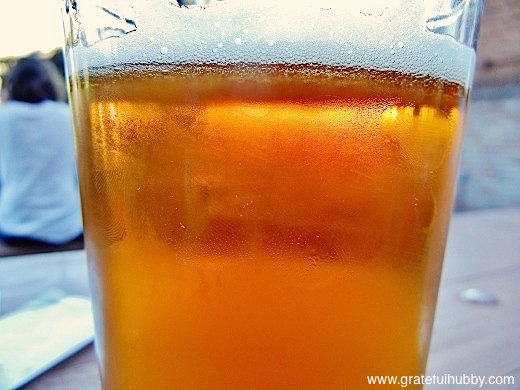 The following is a collection of craft beer events in San Jose and the greater South Bay for the upcoming week and beyond. As events and beer lineups may change from time to time, please do check with the establishment directly, especially if you are extra excited about a particular event and/or beer.
Beer events this upcoming week
Mon., Oct. 22, 2012: San Jose's Wine Affairs hosts their weekly beer tasting event, this time entitled "Attack of the Pumpkin (Beers)!" 1435 The Alameda, 408-977-0111. From their recent newsletter: "We welcome back one of our all-time favorite breweries: Lagunitas! We are doing this in style. Tapping of Fusion 10 at 4:20 p.m., plus get a Lagunitas mason jar while supplies last. Then from 6 p.m. – 8 p.m. taste 6 incredible beers with the amazing Rudy from Lagunitas. Tasting 6 p.m. – 8 p.m. $12/person or free for members."
Tues., Oct. 23, 2012, 4 p.m. – closing: The Counter Santana Row, offers a "Mix-It-Up" 4 mini burger & beer pairings, including Devil's Canyon Full Boar Scotch Ale and Lagunitas IPA. 3055 Olin Ave., 408-423-9200.
Wed., Oct. 24, 2012, 6 p.m. – 9 p.m.: Catch live music and good beer at Poor House Bistro with "Blues & $2 Brews" featuring Bear Republic Brewing Co. 91 South Autumn Street, 408-292-5837.
Wed., Oct. 24, 2012: Palo Alto's Rose and Crown hosts an all-day Lagunitas Brewing Company event. 547 Emerson Ave., 650-327-7673. From a recent Twitter update: "All Wednesday we will be having a Lagunitas party, pouring Brown Sugga, Fusion 10, Daytime and IPA. Lagunitas crew will arrive at 4:20 p.m."
Thurs., Oct. 25, 2012, starting at 6:00 p.m.: Harry's Hofbrau in San Jose hosts their weekly Pint Night. Check the Harry's Hofbrau Facebook page for updates. 390 Saratoga Ave., 408-243-0434. From a recent Facebook update: "Now get ready for [the] annual Schneider takeover! Ceramic handmade mugs will be available for you to take home and a lineup of amazing German beers. Eisbock, Edel, Original, Hopfen, Aventinus, and a tap X Nelson keg refermented in the keg 6 months. We will have Bavarian Pretzels made in-house to purchase. Get your lederhosen ready mein friends. Prost!"
Thurs., Oct. 25, 2012, starting at 6:00 p.m.: California Cafe in Palo Alto hosts a Lost Coast Brewery brewmasters dinner.
Thurs., Oct. 25, 2012, 5 p.m. – 10:30 p.m.: It is an Original Gravity Public House pumpkin patch event in downtown San Jose. 66 South First St. From the Facebook event page: "Come out Thursday for the Original Gravity Pumpkin Patch! We will be hold a pre-carved jack-o-lantern contest. The top three will be selected to haunt our back patio leading up to Halloween. Winners will also be given 2 free beers of their choice and fed! We will also be tapping some really cool specialty pumpkin ales. Sound like fun? Thought so. Hope to see you all there pumpkin heads! Pouring Uinta – punk'n, Timmerman's – Pumpkin Lambicus, Shipyard – Smashed Pumpkin, Dogfish Head – punkin, Midnight Sun – Treat, The Bruery – Autumn Maple."
Thurs., Oct. 25, 2012, starting at 6 p.m.: Jack's Bar & Lounge in Japantown offers up their weekly $2 Pint Night. Check the Jack's Bar & Lounge Facebook page for updates. 167 East Taylor St., 408-287-5225.
Fri., Oct. 26, 2012: BevMo! stores host weekly Beer Tasting events on Fridays. Check your local BevMo! store for details.
Sat., Oct. 27, 2012, 4 p.m. – 8 p.m.: O'Flaherty's Irish Pub in downtown San Jose hosts their monthly beer event featuring Deschutes Brewery. 25 North San Pedro Street, 408-947-8007.
Looking ahead: Save the date
Sat., Nov. 17, 2012: The next SJ Beerwalk takes place in downtown Willow Glen.
Sat.-Sun., Nov. 17-18, 2012: Left Bank Brasserie Santana Row hosts a prix fixe meal paired with beers from Drake's Brewing Company as part of their Left Bank Santana Row Summer Beer Pairing Series, La Fête de la Bière. 377 Santana Row, Suite 1100, 408-984-3500.
Sun., Dec. 9, 2012, 6 p.m. – 9 p.m.: Morocco's Restaurant in Mountain View hosts a beer dinner featuring Strike Brewing Company. Check out this Facebook event page for the details.
[This post was shared on Examiner.com.]