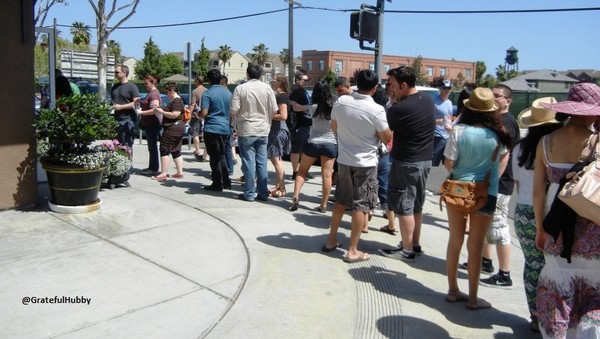 SF Beer Week kicks off this Fri., Feb. 6 with the Opening Gala at SF's Fort Mason Center, Herbst Pavilion, where over 80 Bay Area breweries will be pouring their finest offerings. As a testament to the Opening Gala's popularity, tickets sold out in just twelve days back in December. Participating South Bay breweries include:
Campbell Brewing Company
El Toro Brewing Company (Morgan Hill)
Gordon Biersch Brewing Company (San Jose)
Hermitage Brewing Company (San Jose)
Palo Alto Brewing Company
Santa Clara Valley Brewing Company (San Jose)
Strike Brewing Company (San Jose)
SF Beer Week runs through Sun., Feb. 15 and features hundreds of beer-related events, over 700 at last count. As in years past, there is a plethora of beer-related events taking place in the South Bay.
The following is a list of some of the standout, predominantly South Bay-centric events scheduled throughout this opening weekend. These are the events that I would love to attend if I could clone myself.
Note: Some of the events will require tickets to be purchased ahead of time. Visit the SF Beer Week website for the complete schedule of events.
SATURDAY, FEB. 7
Fibbar Magees, 156 South Murphy Ave., Sunnyvale: Lagunitas Extravaganza, 11am-11:30pm. A tap takeover features 15 Lagunitas offerings, including a vintage Imperial Stout (2013) and the release of their annual special SFBW Fusion beer (Fusion 27).
Market Beer Company, 100 N. Almaden Ave., San Jose: Walker's Wild Ride, 11:30am-1:30pm. Market Beer Company, located inside the San Pedro Square Market, is the first Bay Area stop for Firestone Walker co-proprietor David Walker and barrelmeister Jeffers Richardson. They are bringing their collection of specialty Barrelworks sour beers.
Rose & Crown, 547 Emerson St., Palo Alto: Sour Sunday in PA (Part 1), 11:30am-11:30pm. Get pucker faced with Rose & Crown yet again at their annual sour beer event, with offerings from Russian River, Bear Republic, Palo Alto Brewing, The Bruery, plus more on tap and in bottles.
Beerwalk: Japantown, Jackson St., San Jose: Japantown Beerwalk, 2-6pm. The award-winning Beerwalk series returns triumphantly to Japantown, the site of the first ever Beerwalk three years ago, and will feature offerings from a number of local breweries, including Hermitage, Santa Clara Valley Brewing, Strike, Gordon Biersch, Faultline, FireHouse and more. The first 60 to check in the day of the event will receive a complimentary tour of the nearby Gordon Biersch bottling and production facility. Tickets are $30 if purchased in advance at Jack's Bar & Lounge or online.
Wine Affairs, 1435 The Alameda, San Jose: 6th Annual Double Blind Double IPA, 2-8pm. Always a fun event, come out and blind taste 8 Double IPAs and help determine the best in show. Admission is $15 per person.
Devil's Canyon Brewing Company, 935 Washington St., San Carlos: Mavericks Brewing Tunnel Vision IPA Release, 2-5pm. Devil's Canyon Brewing Company hosts the 2nd Annual West Coast Craft Can Invitational (16 confirmed breweries) which will showcase some of the Bay Area's finest canned beers. A special beer launch features Half Moon Bay's Mavericks Brewing and their newest canned beer Tunnel Vision IPA in 16-oz. cans. Tickets are $40 and can be purchased online.
Harry's Hofbrau, 390 Saratoga Ave., San Jose: Annual Stone Tap Takeover with Secret Ruination Firkin! 5-11:30pm. A special tap list of Stone beers will include a cask of Ruination conditioned with secret ingredients for which you will have to come out to find out.
SUNDAY, FEB. 8
Mission Creek Brewing Company, 777 The Alameda, San Jose: Bangers and Beer: An Ode to the Perfect Pair, 12-4pm. Mission Creek Brewing, California's first Whole Foods store with in-store brewery, looks to honor the perfect pairing that is sausage and beer by pouring their own Mission Creek beers, along with other local beers, to be paired with items from an exclusive menu highlighting their made-in-house sausages.
Oak & Rye, 303 N. Santa Cruz Ave., Los Gatos: Pizza & Beer Pairing, 12-3pm. The popular and well-regarded restaurant Oak & Rye will be making special pies (all you can eat) to pair with offerings from Firestone Walker, Oskar Blues and Ballast Point. Tickets are $30 and gets you unlimited food and 8-oz. pours of up to 9 beers. Tickets can be purchased online.
Bierhaus, 383 Castro St., Mountain View: Meet the Brewers: Clandestine Brewing, 1-5pm. Meet the founders of Clandestine Brewing and enjoy an afternoon of their beers. Plus there will be raffle prizes.
San Pedro Square Market, 87 N. San Pedro St., San Jose: Lagunitas Beer Parade, 1-4:30pm. Enjoy offerings from Lagunitas inside the Market or out in the patio as you roll through the Market Bar (1-2pm), Garage Bar (2-3pm) and Market Beer Company (3-4:20pm) for special releases that are typically available only at the brewery. There will be live music and giveaways.
The Brew Hub inside Whole Foods Market Cupertino, 2099 Stevens Creek Blvd.: Sierra Nevada Off-Flavor Tasting Panel, 1:30-6pm. Expand your skills towards understanding beer flavors and aromatics by participating in this sensory training event. Registration is $35 and includes beer for the flavor tasting and two Sierra Nevada beers: barrel-aged Torpedo and barrel-aged Narwhal (6 oz.). Tickets can be purchased online.
Santa Teresa Golf Club, 260 Bernal Road, San Jose: Meet Strike Brewing – A Talk and Tasting, 3-5pm. Come learn more about Strike Brewing Company, including how they built their business and what the future holds. A $5 tasting fee includes 4-oz. samples of 5 of their beers. There will be $4 pints and bottles of their beers as well.
WEEK-LONG SPECIALS
Several establishments are celebrating SF Beer Week with week-long specials. Highlights include:
Mixx, 420 Castro St., Mountain View: Mixxing with Firestone: 4 Course Pairing Menu. Chef Joel Whitaker will prepare four courses to pair with four of Firestone Walker beers, including Pale 31 baby crab cake with Pale 31, butter lettuce wedge with mustard vinaigrette with Double Barrel Ale, salmon with Thai curry with Union Jack IPA and a scoop of housemade Wookie Jack sorbet with spiced cake bite with Wookie Jack. $40.
Half Moon Bay Brewing Company, 390 Capistrano Rd.: Beer and Dessert Pairing. Each dessert bite created by chef Gaston Alfaro has been paired with one of brewmaster James Costa's seasonal beers (4-oz.), including Mavericks gingersnap mascarpone tart paired with Brown Ale, mini bleu cheese cheesecake with candied bacon and a maple bourbon reduction paired with Double Bore IPA, spiced poached pears paired with PaPa Juice Barleywine and beeramisu paired with Calf-eine Coffee Milk Stout. $20.
Psycho Donuts, 2006 S. Winchester Blvd., Campbell: A Psycho Donut Walks into a Firestone… Firestone Walker, Hella Hot Hot Sauce and Psycho Donuts are teaming up to create an 805 Apricot Blonde Ghost, Union Jack Glazed and Chocolate Merkin.
As you can see, there are options galore. What SF Beer Week events do you plan to attend this weekend?
[This post was shared on Examiner.com.]