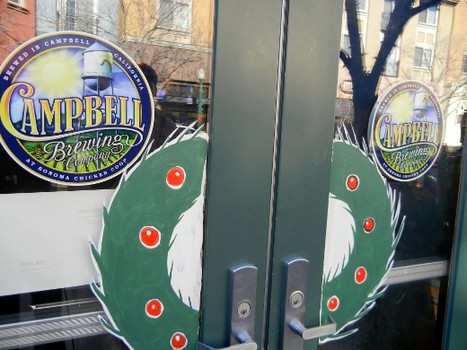 The following establishments are the prevailing sources for craft beer in the San Jose and South Bay areas. By visiting them, you get to experience quality beers and help support local businesses.
For hand-crafted beer, check out the websites of the following San Jose area breweries and brewpubs (as well as a meadery) for overviews on their respective craft beer offerings:
Tied House Brewery & Cafe/Hermitage Brewing Company. 954 Villa Street, Mountain View. 650-965-2739; www.tiedhouse.com.
FireHouse Brewery. Sunnyvale location: 111 S. Murphy Ave., Downtown Sunnyvale. 408-773-9500; www.firehousegrill.com. Note: There is also a location in East Palo Alto.
Campbell Brewing Company. 200 East Campbell Ave., Campbell. 408-866-2699; www.facebook.com/CampbellBrewingCompany, Campbell. Note: Located inside the Sonoma Chicken restaurant, their beer offerings on tap (not listed on their website) include: Kolsch, Hefeweizen, Pale, ESB (Extra Special Bitter), Scottish Ale, and a seasonal Barleywine (10% ABV).
Gordon Biersch Brewery Restaurant. 33 East San Fernando Street, San Jose. 408-294-6785; www.gordonbiersch.com. Note: There is also a location in Palo Alto.
Los Gatos Brewing Company. 163 W. Santa Clara Street, Downtown San Jose. 408-292-9928; www.lgbrewingco.com. Los Gatos location: 130 N. Santa Cruz Avenue. 408-395-9929.
These following locations make up the San Jose restaurants and bars that serve compelling beer:
Wine Affairs. 1435 The Alameda, San Jose. 408-977-0111; www.thewineaffairs.com. Notes: Craft beer fans of this place know not to be fooled by their name. There are special beer tastings that occur on Monday nights.
Harry's Hofbrau. 390 Saratoga Ave., San Jose. 408-243-0434; www.facebook.com/pages/Harrys-Hofbrau-San-Jose/143417649033860. Note: Their "Thursday Pint Nights" featuring a particular craft beer/brewery have become increasingly popular, as this San Jose location has ramped up its craft beer offerings this past year.
Yard House. 300 Santana Row, San Jose. 408-241-9273; www.yardhouse.com/CA/san_jose. Note: With this location opening earlier this year in April in Santana Row, this place continues to be very popular, thanks in part to the over 130 beers on tap.
Teske's Germania Restaurant and Beer Garden. 255 N. First Street (at Devine), San Jose. 408-292-0291; www.teskes-germania.com. Note: German dining featuring German draft and bottled beers.
The Naglee Park Garage. 505 East San Carlos Street (at 11th Street), San Jose. 408-286-1313; www.nagleeparkgarage.com. Note: A small, respectable craft beer selection on tap.
Tee Nee Thai Cuisine. 1423 The Alameda, San Jose. 408-947-7927. Note: Their Yelp page offers the best online source of information for this place, which offers a quality section of Belgian beers in bottles.
Lastly, there is a cluster of San Jose area bottle shops and stores that carry an array of top-notch craft beer selections:
Bobby's Liquors. 2327 El Camino Real, Santa Clara. 408-984-1120; www.bobbysliquors.com. Note: For what it's worth, they have a growing number of highly rated Yelp and BeerAdvocate customer reviews.
Artisan Wine Deposit. 400 A Villa St., Mountain View. 877-WINE-730 (Toll Free); 650-969-3511 (Local); www.artisanwinedepot.com.
[This post was shared on Examiner.com.]